Hands-on Glass Studio
When it comes to the marvels of glass, few places can compare with the small town of Corning, NY, home to Corning Incorporated, a world-leader in glass innovations for scientific and technological applications of glass, but also to The Corning Museum of Glass, the world's premiere museum devoted to glass.
But it wasn't The Corning Museum of Glass that started the hands-on movement in Corning. It was soft-spoken glass artist Rodi Rovner, who founded Hands-On Glass Studio in 1990, for she wanted everyone to experience the wonder of glassmaking and she took it upon herself to make it happen.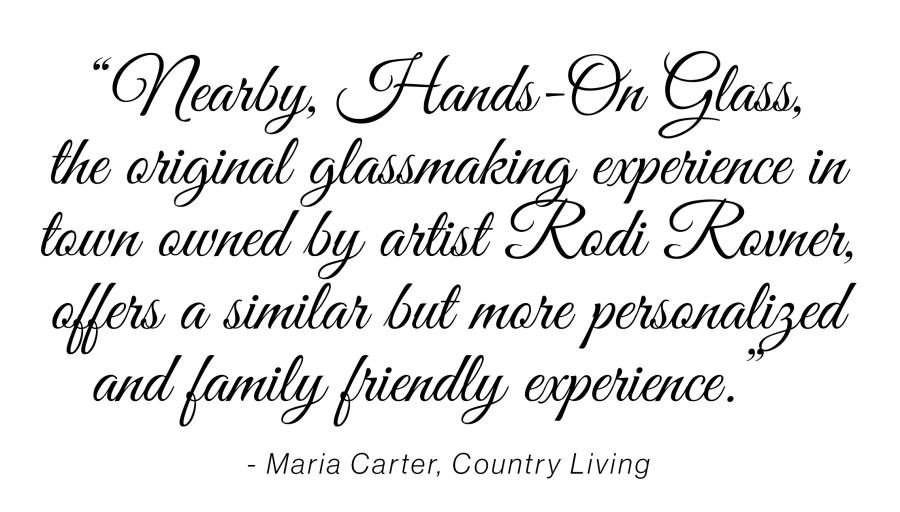 A Glass Studio
While visiting her brother at college in Vermont back in the 1970's, Rodi ducked into the school's glass studio simply to warm up. Hot glass has been part of her life ever since.
Despite an artist's individual talents and artistic vision, despite years spent developing skills and mastering techniques, "working with a material that is constantly changing can be quite humbling," says Rodi. "You bring to it your own skills, but most of working with glass is dealing with an element of surprise."
Rodi, who developed the hands-on glassmaking experience in Corning, sees glassblowing as a collaboration between artist and medium. It's the combination of engaging that creative part of herself while touching that place inside someone else that she finds most rewarding.
While hundreds-of-thousands of people visit The Corning Museum of Glass every year, most have no idea there's a small glass studio less than a mile-and-a-half away, hidden off the beaten path, on a quiet alley known as Crystal Lane. There, children as young as two can blow a glass ornament.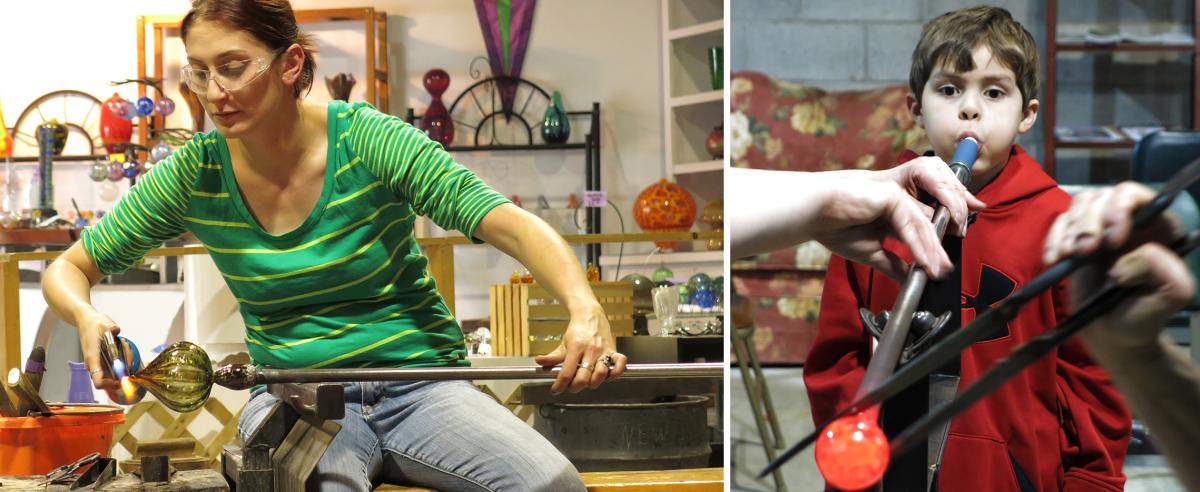 ---

Hands-on Glass Studio doesn't have grand exhibits and massive magnificent objects from around the world. This is a working glass studio where Rodi and the artists who work with her make products for various folks ranging from sun-catchers to glass mushrooms, from pumpkins and glass ghosts to ornaments, snowmen, and more. Several artists also rent furnace time at the studio to experiment, practice, or create their own line of products.
Hands-on Workshops
One of the most interactive and engaging activities offered is the chance to make a paperweight (round shaped or heart shaped) which involves blowing like an ornament, but also hands-on manipulation of molten glass with sundry tools. Rodi, or her staff, work with you one-on-one, explaining the process in detail, and guiding you on your creative journey.

In Corning today, glassmakers at Hands-on Glass create wonderful collectible pieces and offer hands-on workshops, sharing some of the secrets of glass with everyday folk. To learn more about Rodi and her Hands-On Glass Studio, or to set up a glassblowing class, visit HandsOnGlass.com.