Erlacher Steuben Glass Shop
Imagine creating a work of art so astonishing it found its way into the Smithsonian. Yeah, that Smithsonian. THE Smithsonian!
Now imagine that being just one of the remarkable accomplishments of your career. Such is the life and artistry of Master Engraver Max Erlacher. In a town known for glass (and aptly named "America's Crystal City" due to the exceptional skills of engravers during the late 1800s and early 1900s), it takes a rare level of skill to become a living legend. In most cases, folks hear about master artists as a testament to the past. As an homage to uncommon talent and skill that was once shared with the world. In the case of Max Erlacher, the magic is still happening in the here and now.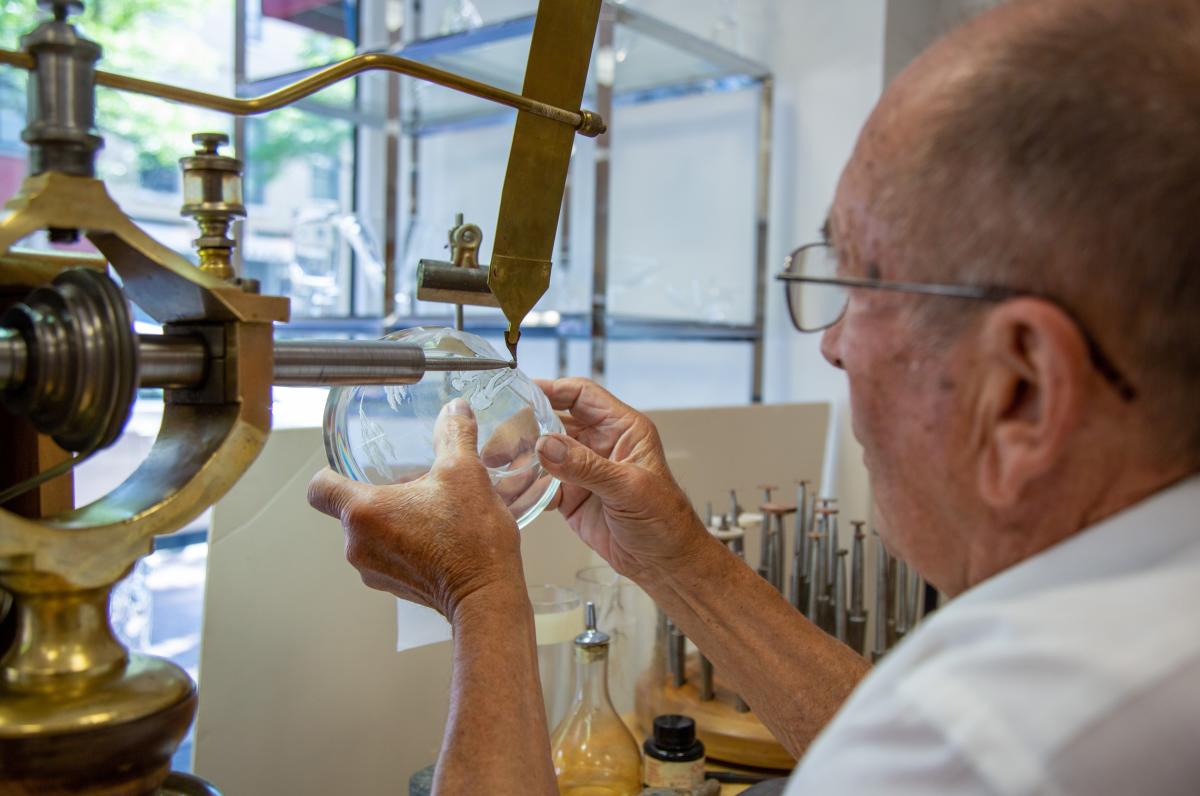 Max Erlacher Engraving courtesy Samantha Brown's Places to Love
 

The name and location of the shop in Corning's Gaffer District might have changed a few times over the years, but one thing has always remained constant, the glass is absolutely exquisite!

By his early 20's, Max was a Master Engraver with a growing reputation. At 24, he came to Corning to work for world-renowned Steuben Glass where he created one-of-a-kind pieces for world leaders, European Royalty, and American Presidents including the official wedding gift from President and Mrs. Regan to Prince Charles and Lady Diana Spencer, a special PT109 piece for President John F. Kennedy, and more. 
---
For two decades, Max worked for Steuben, a name long synonymous with the finest glass in the world, and then he started his own business in Corning which he ran for 28 years before being called by Steuben and asked to come back which he did for three more years before returning to "doing his own thing." You can learn more about Max and hear stories about his work, including some of the famous pieces in this video interview.
See full interview here: Max Erlacher: Rakow Research Library Conversation Series
In 2019, travel icon Samantha Brown explored Steuben and spent some time with Max and visited his shop, she had this to say, "The Erlacher Glass Collection is part history lesson, part artisan marvel, and part love story." The love story is that of Max and his wife, Kitty, but also of their shared love for glass. Kitty is the dynamo who runs the gallery in town which features "one-of-a-kind exhibition pieces and Max's engraved works (he's been engraving for 65 years on a machine that's one hundred years old!). The shop features vintage and modern Steuben Glass, as well as Lotton Art Glass." - Samantha Brown, Places to Love Season 3
Samantha Brown's Visit: So Much To Be Thankful For

Samantha Brown Explores the Innovation Center at The Corning Museum of Glass courtesy Samantha Brown's Places to Love
---
Max has collaborated on magnificent pieces with others artists like Kiki Smith, Erik Hilton, and Debbie Tarsitano and he has taught for The Studio at The Corning Museum of Glass sharing his significant knowledge and perspective with other glass artists.

Max Erlacher at The Studio photo by Amanda S for The Corning Museum of Glass

 

While he does his engraving in his private studio, you can see some of Max's latest creations and vintage pieces on display at the Erlacher Steuben Glass Shop on Market Street where the rare glass pieces are also available for purchase. Have your own collection or thinking of starting one? This is the place to go for that unmatched addition.

As you explore historic Market Street, be sure to stop by the other shop Kitty runs called This & That Collectibles where you can find vintage Carder Steuben glass and other wonderful glass collectibles. And stop by Erlacher Steuben Glass Shop to meet Kitty, hear fascinating tales about Max's work, and view for yourself the work of a master artist.


Check out these great video of Max creating his masterpieces!