The Spirit of Spring
More than any other season, spring is the one we anticipate most. Trees bud. Flowers push up through the soil, blossom in vibrant color. The air fills once again with birdsong and laughter. Streams flow with wild abandon and the world comes alive.
Our spirits soar as we get outside, move again, explore. Such is spring, the season of new beginnings.

Courtesy of The Gaffer District
Savor the spirit of spring with rejuvenating hikes or scenic bike rides followed by a little slow-down-and-sip time at Steuben's exciting craft distillers where mad scientists and culinary wizards are making exceptional gin, vodka, whiskey, moonshine, and more. Discover for yourself the latest ways our creative tastemakers tantalize the tongue.
---
HIKING
With hiking trails ranging from paved paths through town (like Fallbrook Park Loop Trail in Corning) to hilltop meanderings like Spencer Crest and Houghton Land Preserve (both are located just minutes from Corning's Gaffer District), there is a trail for all skill levels.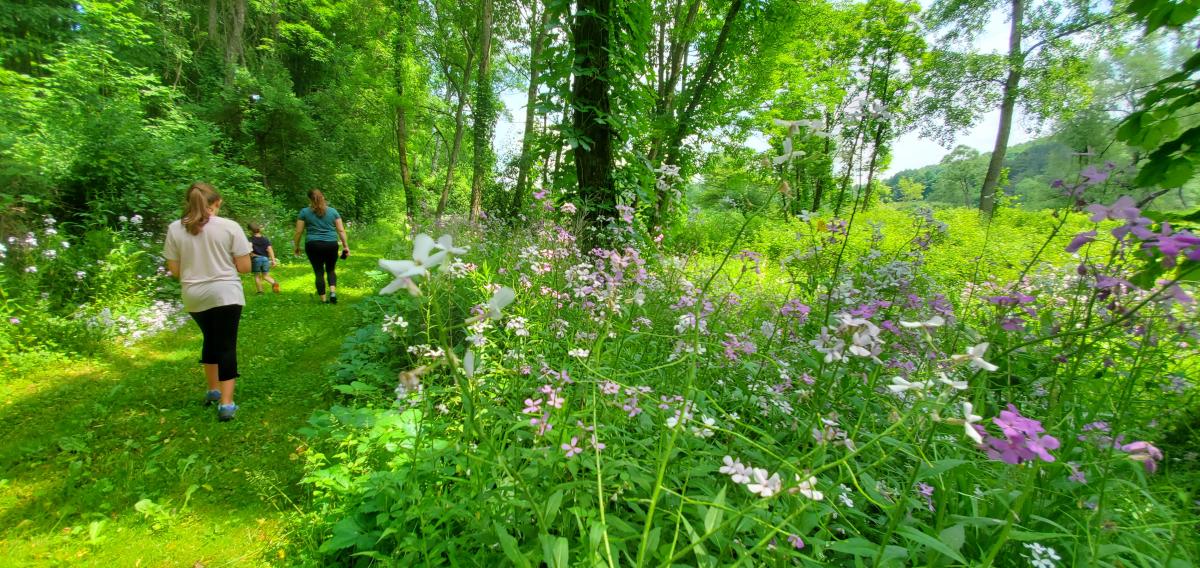 ---
Spencer Crest Nature Center is a 250-acre community nature center, including over 7 miles of color-coded trails (including a section that is wheelchair accessible), two ponds, and an environmentally-sensitive Museum of Natural Systems. Hidden on a wooded hilltop just minutes from downtown Corning, Spencer Crest is great for self-guided hikes, seasonal fishing, and cross-country skiing.
Learn more about the two miles of trails at Houghton Land Preserve and six other hiking trails in 7 Best Spring Hikes.

Photo courtesy Evan Williams

Typically in mid-to-late May, state parks like Stony Brook and Watkins Glen open their gorge trails to visitors. The state park services put in a lot of time preparing these popular trails after the winter: removing fallen tree limbs, loose rocks, as well as navigating around the often raging streams that welcome the spring thaw which can make the majestic waterfalls powerful indeed.
There are several other wilderness footpaths and hiking trails offering everything from thru-hikes on the expansive Finger Lakes Trail to day hikes on branch trails connecting the region to other parts of the country like Huckleberry Bog Nature Trail.
". . . if you plan to spend time exploring other parts of the region on your visit, such as nearby Keuka Lake, experiencing the Finger Lakes Wine Country, or hiking at some of the Finger Lakes waterfalls, you should visit between late spring to early fall."
- Anna, Come Join My Journey
---
CYCLING
Of course, while diehard cyclists have been at it all year long, some of us prefer warmer weather. And with spring coming, now is the time to plan those rides.
Mountain Biking
Mountain bike enthusiasts love to hit the trails at Erwin Wildlife Management Area. This nearly 2,500-acre tract of land located approximately 5 miles west of Corning, features two man-made ponds stocked with bass, panfish, and bullhead, as well as trails for hiking and bird watching.
Another great option to challenge yourself is at Mossy Bank Park.

Coming in May, the creator of the Durty Bike Gravel Series in partnership with Steuben Brewing Company are bringing gravel bikers an all new race, The Keuka Lake Gravel Classic! With two new courses, bikers near and far will be excited to check it out!
Road Biking
Folks who prefer scenic byways and country roads will find an assortment of options in the region like the Hammondsport Circle Tour and the American Treasures Scenic Byway.
While these two tours have their own maps, please note the status of some of the food and attractions mentioned might have changed.
For more ideas on cycling fun, check out How to Experience New York's Wine Country by Bike.

---
Spring also means more paddling and fishing opportunities, including guided excursions on Keuka Lake, as well as on Waneta and Lamoka lakes, with guides like Summit to Stream Adventures and Finger Lakes Adventure Center.

Photo courtesy of Summit to Stream Adventures
---
SPIRITS
In Steuben, the Spirit of Spring also signifies one of the most fun ways to get a truly local taste for the region. Visiting our creative craft distilleries.
Yeah, we're talking vodka, moonshine, and crazy good gin. Perfect blend of botanicals.
This farm distillery is devoted to producing serious hand-crafted, small-batch spirits made from locally sourced ingredients while also offering a fun experience in the spacious tasting room or on the large porch overlooking Keuka Lake.
Taste the many ways they've created to enjoy their award-wining gins. Like the Pucker Up Buttercup concoction with Lemon Bitters and Lemon Sour Mix. So good!

"Those who tend toward the boozier side of things will enjoy imbibing at Krooked Tusker Distillery. This distillery's got the hooch."
- Malerie Yolen-Cohen, Huffington Post
---
Using the largest hand-crafted copper still ever made by renowned Hillbilly Stills of Kentucky, Barrelhouse 6 features an expansive tasting room and production facility. No, you can't move in, but no judgment if you feel the urge to spend a lot of time on the massive deck overlooking Keuka Lake. Boldly named spirits with even bolder taste, you'll soon see why they hired a private mixologist to devise the best drink combinations. At Barrelhouse 6, they are Serious About Having Fun.

Hyperlink - https://www.corningfingerlakes.com/steuben-stories/post/getting-serious-about-having-fun/
---
Corning's oldest distiller crafts small batches of quality spirits. A farm distillery, Four Fights sources the best New York State ingredients to create uniquely-flavored spirits like their Crystal City Vodka. While they also make gin and moonshine, they've really established themselves with their take on traditional bourbon. It's not going to taste like any you've had before. And that's the point. Smooth and unusual. Talk about a great combination.

---
The colors, the sounds, the sheer spectacle of Spring unfolding make it one of the most anticipated times of year in Steuben. Between the lushness of the landscape and increased outdoor activities, there are many ways to celebrate the season of rejuvenation and rebirth in style.
Here are more exciting things to do and see when in Steuben during Spring!