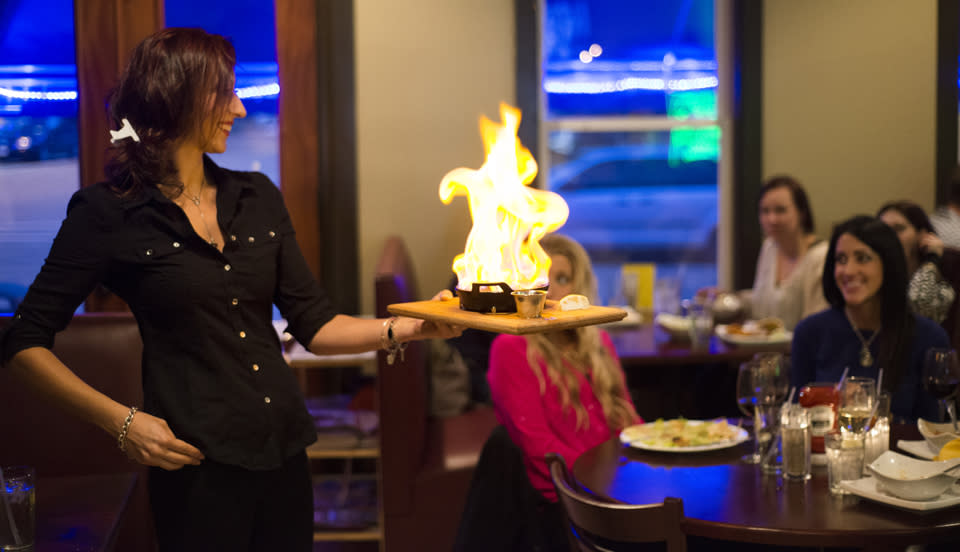 Flaming Saganaki Cheese at Luna Mezza Grille courtesy of Stu Galagher
Whether you're entertaining for Super Bowl Sunday or you're simply looking to experience a fun, delicious new treat, you'll want to try Chef Joe Rotsell's recipe for Flaming Saganaki Cheese.
Prepare to hear your friends gasp in awe. Prepare to have your family clap (how often does that happen over a meal). Oh yeah, and prepare to enjoy a dish that tastes amazing!
Saganaki Cheese
Just say, "Cheese," and the corners of your mouth turn up, your cheeks lift, and your teeth show.
That's the effect the word has when spoken - a simulated smile. Taste some cheese, though, and that smile becomes real.
Did you know the average Americans gobbles up about 23 pounds of cheese each year? But seldom do they do it with as much pizzazz as we're about to reveal.
Corning and the Southern Finger Lakes was built on innovation, the kind that changes the world, especially when it comes to aviation, glass, and wine. But it was also built on hard work and on farming. One thing our farmers specialize in is dairy. And that means cheese.
Cheese is also one thing our chefs know how to use in a million different ways. Okay, maybe we haven't officially counted them all just yet, but that's only because there are so many.
Chef Joe Rotsell has a special cheese dish you can try making at home. One that combines equal parts showmanship and culinary wizardry. That's right, you can dazzle your friends with this one - the visual presentation and the absolute deliciousness.
At Luna Mezza Grille in Hammondsport, Chef Joe specializes in creating authentic Mediterranean cuisine, including Greek favorites like spicy lamb, grape leaves, and the crowd-pleasing Saganaki Cheese.
Chef Joe has agreed to kick off our new series of Master Crafted blog posts featuring a different local culinary guru each month sharing a favorite recipe that you can try at home. Have fun with it!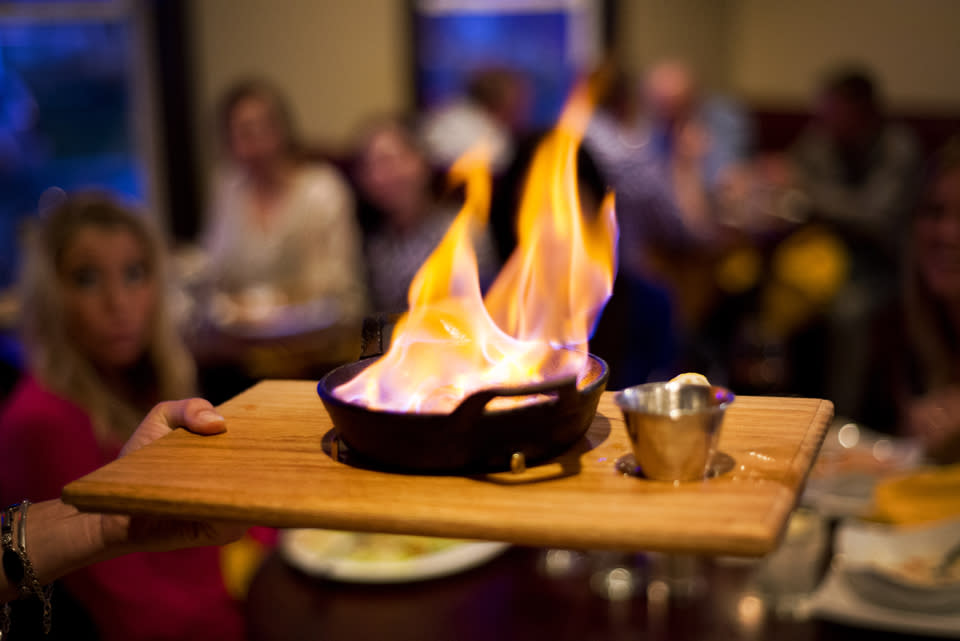 Luna Mezza's Flaming Saganaki Cheese courtesy of Stu Gallagher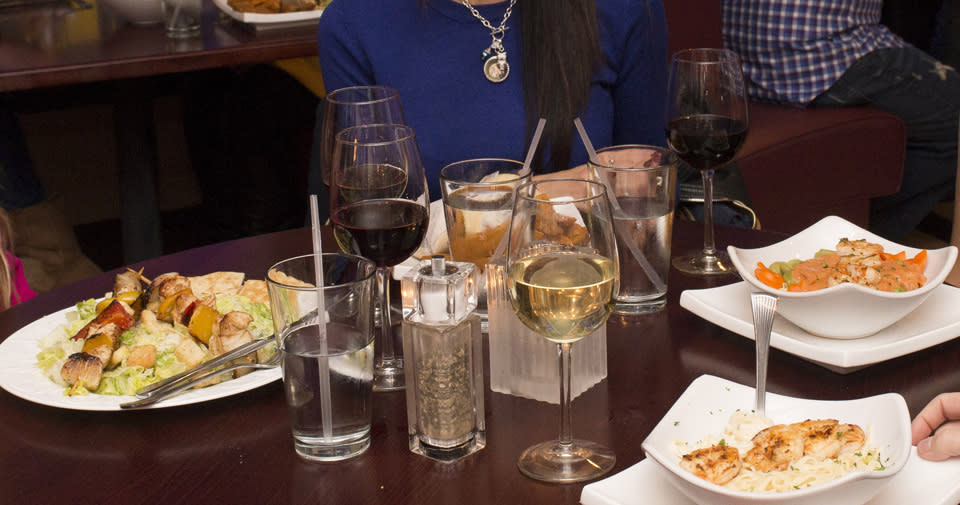 Friends Enjoying a Meal at Luna Mezza courtesy of Stu Gallagher
In our busy everyday lives, think about how often you eat a meal without slowing down, without really spending any time thinking about it, savoring it. The Saganaki Cheese dish isn't just one of flash. It's also one of substance – as a reminder to be aware of the people you're with, and to savor the moment (and to savor the cheese - it really is that good). It's also a reminder to celebrate – the meal itself, but also those with whom you've gathered to share it.
Various versions of this popular Greek dish are sometimes made using Graviera, Kefalograviera, Halloumi, Kasseri, Kefalotyri, or other regional Greek cheeses.
The Saganaki Cheese dish is one that is prepared in the kitchen at Luna Mezza Grille, but it's presented tableside. That means the chefs in the kitchen never get to see all the smiling faces when the flame ignites. But they do always know when it happens.
"You can tell when it gets lit," says Chef Joe. "It's rewarding," he adds, "to hear the Ooohs and Ahhhs out on the floor. To give customers that wow factor. And to know they're enjoying their meal."
Joe Rotsell is an Executive Chef. He's also an artist - a glassblower which seems fitting given that he grew up in Corning and the Southern Finger Lakes which is famous for the fire arts. And his passion for being creative is one of the things that led to his career as a chef.
"I've been cooking ever since I was fifteen," he says. "I started out working in this small hotdog and hamburger joint in Corning that was a favorite spot for the after-hours crowd. I was young, so I got the midnight shift. I must have weighed about 80 or 90 pounds back then. Guys from the bars were always coming in," he adds, "grabbing you by the arm and gruffly asking, 'where's my meal?'"
Young Joe was trying to save money to buy himself a car, but that first job started him on a path he probably didn't expect at the time. The next summer he got a job at a bigger restaurant and he's been at it ever since, working his way up to line cook, and eventually to chef at several places. He spent over a decade working as the Executive Chef for a Fortune 500 company and during that time he went to the Greystone Culinary Institute in Napa. He later worked as an Executive Chef at a private club, but he left the corporate world and the high society club behind and ventured back to the realm of the public restaurant bringing decades of experience and training with him.
He's been the Executive Chef at the Gaffer Grille and Taproom in Corning for the past four years and owners Dave and Karin Fice brought him with them when they decided to open Luna Mezza in 2014.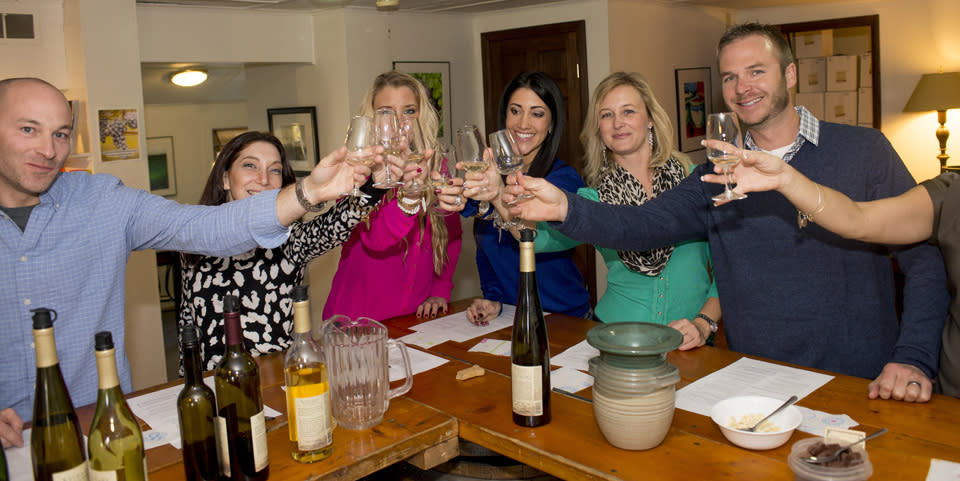 Friends Toasting Wine at Keuka Lake Vineyards courtesy of Stu Gallagher
"They're great owners," says the chef. "They use top of the line equipment and ingredients." They engage with their staff and are suportive. "Running a kitchen is all about organization," adds Chef Joe. "It's about being prepared. All our chefs are cross trained so they know how to do every job." They enjoy changing things up and switching stations to keep things interesting. They also enjoy making excellent food.
For Luna Mezza's Flaming Saganaki Cheese, Chef Joe uses a Kefalograviera cheese they buy at a special Greek store. "Dave tried several authentic Greek cheeses and that's the one that he finally selected."
If you don't have access to Kefalograviera cheese, try another Greek cheese. Of course, as with any artist, experiment (though cheese out of a can doesn't really qualify as cheese in this instance - I say that in memory of my college roommates who loved spray cheese on anything - we're talking real authentic cheese here, folks). Try the sort of cheese you enjoy, though you'll probably find the cheeses mentioned here work best, as different styles will cook differently, will taste differently after being heated.
Take Chef Joe Rotsell's recipe, play with it, add to it. Mostly just enjoy it. But please use caution when playing with fire. Avoid lighting your saganaki cheese dish near curtains, for example. And, as tempting as it might be once you have that flame dancing in your hands, don't run around the room like some aspiring torch bearer.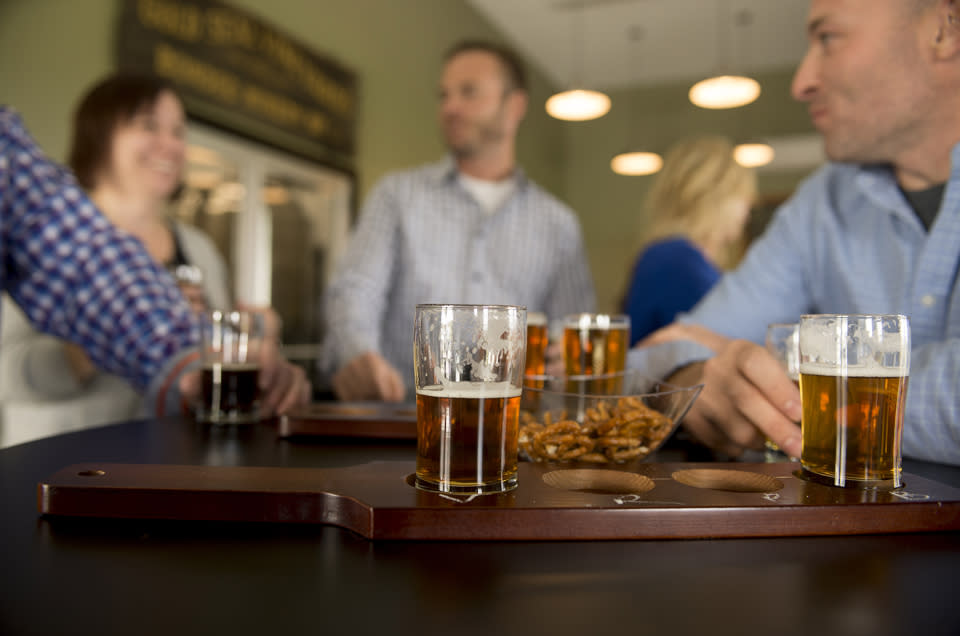 Friends Enjoying Brews at Steuben Brewing Company courtesy of Stu Gallagher
Of course, if you don't want to make the Flaming Saganaki Cheese dish yourselves, stop up to Luna Mezza Grille on the Village Square in Hammondsport (maybe after wine tasting or after sampling some craft beers) and have Chef Joe make it for you. Tell him we sent you. He's always glad to create a dish that puts a smile on the customer's face. And his cheese dish will leave you smiling.
Oh, and remember, everyone yell, "OPA!"