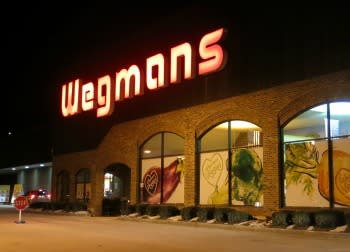 Wegmans Corning Finger Lakes
I have a confession to make. I think Wegmans is just about the greatest place on earth. *Cue angelic music.* I'd probably put it in my top five "destinations" (you read that right), immediately following Italy, Ireland, Hawaii, and the Finger Lakes, of course! I know what you're thinking... Wegmans is a chain grocery store!? Oh, but it's so much more. Trust me.
To back up my argument right off the bat, BuzzFeed recently compiled a list of the "25 Reasons Wegmans is the Greatest Supermarket the World Will Ever Know," noting things like adorable cupcakes and inspirational cheese-related messages. Yeah, you'll probably want to check that out.
Wegmans Cupcakes Corning Finger Lakes
I tend to frequent Wegmans, sometimes visiting multiple times a day. I inevitably forget about 14 must-have items for the week. Don't judge. My husband thinks I do it on purpose, just so I can go back to Wegmans all week long!
Now, I realize Wegmans is a popular place. That's easy to see from the crowded parking lot and hordes of happy shoppers inside. The more my love affair with Wegmans continues to blossom, the more I'm realizing I'm not the only one. 
I host a lot of journalists each year, showing them the wonders of Corning & the Southern Finger Lakes. They visit Keuka Lake wineries, make their own glass at The Corning Museum of Glass, and shop the quaint downtowns of Corning and Hammondsport. But it never ceases to amaze me how excited they sometimes get to discover we have a Wegmans - especially if they're visiting from a southern state. A few years ago, I took a writer from North Carolina to Wegmans to pick up some medicine, and she spent more than 45 minutes wandering the aisles, transfixed with her beautifully-organized surroundings. We even took part in the "micro-stretch break" when it was announced over the loudspeaker!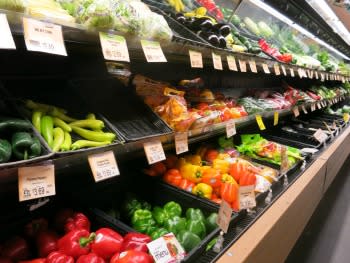 Wegmans Corning Finger Lakes
It's funny how Wegmans has become more than a supermarket. A small grocery business that started in the Finger Lakes, Rochester, to be exact, nearly a century ago, has morphed into what one industry analyst dubbed "the best chain in the country, maybe in the world."
Wegmans is consistently in FORTUNE magazine's list of the 100 Best Companies to Work For. It is one of only 13 companies that has been on the list since it began in 1998. This year, Wegmans ranked #12. In 2005, it claimed the No. 1 spot!
But it's not just the employees that are happy. In 2013, Wegmans was inundated with more than 4,000 requests from people asking the company to bring a store to their community. An additional 7,000 letters poured in from customers saying how much they enjoyed shopping at Wegmans, highlighting products, services and Wegmans employees.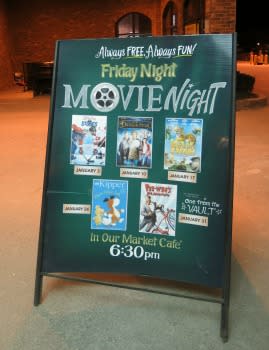 Wegmans Corning Finger Lakes
It goes without saying that this northeast grocery store chain has raised the bar when it comes to customer service, locally-sourced, quality goods, and beautiful stores. There are plenty of little "extras" that simply enhance an already fantastic shopping experience. Rarely is there a day when I don't see a sandwich board outside my Corning Wegmans advertising an upcoming event they're hosting. Every Friday night, Wegmans hosts a movie night for children and their parents in the gorgeous café. They also have a "Kids in the Kitchen" series where families can sign up and make seasonal creations like gingerbread houses. And who doesn't love taking their kids trick-or-treating through the aisles at Halloween?
Also, they're a big supporter of the local community and its events. If you've ever run the Wineglass Marathon, chances are you've enjoyed Wegmans' chicken noodle soup post-race!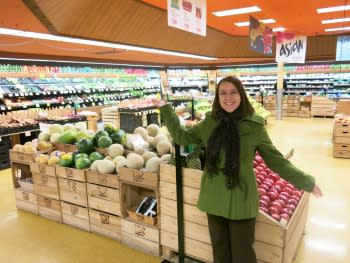 Wegmans Corning Finger Lakes
All things considered, it's no wonder so many people realize the Wegmans difference. For me, as crazy as it may sound, it's my retreat. There's something almost therapeutic about spending a little time in the produce section - or hanging out near the freshly-baked desserts (certainly not guilty there!)
So, now I need to know, have you "experienced" Wegmans? If not, perhaps you should plan to stop during your next visit to Corning & the Southern Finger Lakes! It's definitely not something we typically recommend our visitors weave into their itineraries, but trust me, you won't be disappointed!