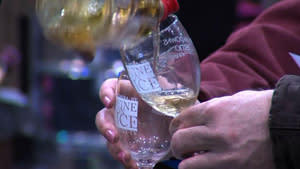 Courtesy Wine On Ice
Each year around the last week of January, Elmira's First Arena hosts one hot event on its ice rink. Instead of the Elmira Jackals hockey team skating to victory, the ice vanishes and the rink becomes one giant tasting room, allowing visitors to sample many varietals from more than 30 wineries.
In its 12th year, Wine On Ice has become a staple event, helping to chase away those wintertime blues. Not surprisingly, winter isn't exactly the time lots of people think of going on a wine tour. It's cold, the lakes are snowy, and the vineyards are sleeping. If you can't make it to the wineries themselves, fantastic events like this bring lots of tasting rooms to one convenient location.
Attend one of three sessions of the event: Friday, January 25 from 6-9 p.m., Saturday, January 26 from 1-4 p.m., or 6-9 p.m. Visit the Wine On Ice website for ticket information.
Wine On Ice gives you the opportunity to taste not only regional wines, but gourmet cheese and fare from local restaurants. You can also shop for unique gifts and treasures from local craft businesses. Need help getting all your purchases to your car? No problem... they'll carry your wine and gifts out for you!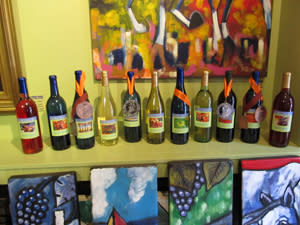 Lime Berry Wine
When you attend Wine On Ice, you'll be able to sip and sample from more than 30 wineries, including Keuka Lake wineries Pleasant Valley Wine Company and Lime Berry Winery.
"We always look forward to the Wine on Ice Festival in January! This is our third year already," said Melissa Carroll, wife of winemaker Joe Carroll, and owner of Lime Berry Gallery in Hammondsport. "We love seeing all the Finger Lakes' wine locals at the event. It is a great time to reconnect and share Lime Berry wine with 1000s of wine tasters!! It is also a perfect way to break the ice of winter with lots of wine and fun!"
Lime Berry will be opening its tasting room on the East side of Keuka Lake early this summer.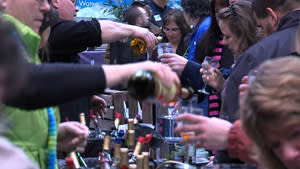 Courtesy Wine On Ice
There will be many wineries from neighboring Seneca Lake, including Fulkerson Winery, Glenora Wine Cellars and Hazlitt 1852 Vineyards. The complete list is on Wine on Ice's website.
If tasting at 30 wineries isn't enough to keep you entertained, perhaps Virgil Cain will be able to! Cain has had a lifelong passion for music, which has culminated in a highly woven, professionally-produced show. Cain has over a decade of recording experience, and live performances under his belt, all adding up to one spectacular show you won't want to miss.
With superb wine, fabulous shopping, and excellent music, there are so many "Rieslings" to attend Wine On Ice! For more information, visit: http://www.wineonice.com/.