Wine and Design Corning
There's a new business owner on Market Street, and she's prepared to paint the town! Walking into Wine and Design, you see the paintbrushes waiting to be used, the blank canvases waiting to be decorated, and the colorful paintings hanging on the wall as a testament to the finished product. Inspiration literally surrounds you. It can be a little overwhelming. Some of those paintings look pretty complex. And then, of course, you remember you've got wine in your hand - and the opportunities suddenly seem endless, and a whole lot of fun!
Sure, the paintings may seem a little challenging, but there is absolutely no previous experience required. Owner Kylene Kiah wants to stress that fact. "The majority of people have never touched a paintbrush in their life," she said. "You can have no experience, sign up for a class, and take the painting home with you. There's nothing else like it here."
Wine and Design is a "painting party" concept that started in the 2010 in Raleigh, NC. There are now 24 franchises, and Kylene is the first to open a store anywhere in the Northeast. So how did she go about opening the store here in Corning, you ask? Kylene has a friend who moved and interviewed for a marketing position with Wine and Design. Knowing Kylene loved art, she told her about the unique concept of the store.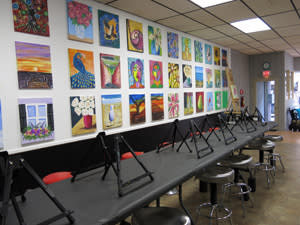 Wine and Design Corning
"I don't know where I'd be today if she hadn't told me about Wine and Design," Kylene said. "This will sound corny, but I always felt like I was meant to do something more."
Kylene studied art at Alfred University, but has been working in an office for the last few years. She knew she wanted to apply her knowledge of art, and Wine and Design was just what she'd been waiting for. "I went down and talked with them, and six months later, here I am!" she said.
Although Wine and Design has been open for a few weeks, the official ribbon cutting ceremony will be held this Friday, March 8 at 11 a.m. Customers are more than welcome to start signing up for classes and private parties right now, however! View the online calendar to see which paintings will be done on which nights, and sign up! The 2-hour painting experience costs $35, and canvas, brushes, paint and aprons are provided. The class is taught by the studio artist stroke by stroke. Customers are free to bring refreshments - yes, including wine - to enhance their painting experience!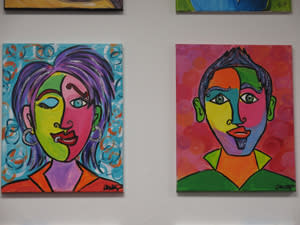 Wine and Design Corning
Wine and Design is applicable to so many different types of events. Whether it's a team building exercise with your co-workers, a bachelorette party, or a baby shower, the possibilities are really endless. And it gets even easier with "Wine and Design on Wheels," which offers a class at your location. Enjoy Wine and Design with your kids, too, with special programs like Art Buzz for Kids, which offers classes on weekends and also day camps in the summer season.
Look for special events like "Paint Your Pet Night" where you send a digital image of your pet to Kylene, and she'll set it up for you to paint a picture of your furry friend during your session. Other fun themes include "date night" where you sit across the table from your significant other and paint them in Picasso style. Wine and Design also has a fundraising night where a portion of the proceeds will be donated to an organization.
Check out the calendar and make sure you sign up to get your own art buzz on! Like Wine and Design of Facebook for all the latest information.