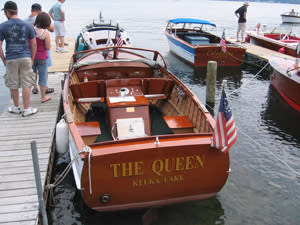 Wine Country Classic Boat Show - "The Queen"
This year marks the 30th annual Wine Country Classic Boat Show and 29th annual regatta on Keuka Lake in the Finger Lakes. Each year, visitors flock to Hammondsport's Depot Park one weekend in late July to see dozens of antique boats line the shores of the sparkling, Y-shaped lake. This year's July 21-22 event will be no different.
"We expect to have 40 to 50 antique wood and fiberglass boats in the water this weekend along with another dozen or so boats displayed on land," said Jack Young, chair of the Wine Country Classic Boats committee.
Spend the weekend in America's Coolest Small Town and enjoy a variety of boating activities and events in the Finger Lakes. Boats launch at 8 a.m. Saturday morning, and visitors may view the boats and vote on their favorites. Judging will take place throughout the morning. Young said he anticipates a few boat owners will be offering rides to the public. There is no charge, but some owners are open to contributions to help offset the cost of fuel.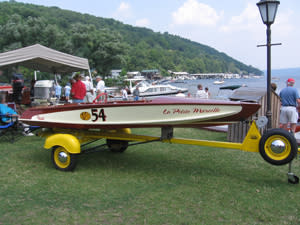 Boats on Land at the Wine Country Classic Boat Show
When you're not admiring or riding in a boat, make sure to check out the antique "woodie" cars on display. These are essentially station wagons with wood on the sides, which owners have restored to original condition. Vendors will also be on-site, offering arts and crafts, and nautical items. Want a refreshing treat after having been out in the afternoon sun? You'll find just what you need when you stop by the 4th Day Homemade Ice Cream Co. stand. According to Young, it's their first year at the boat show, and should "prove to be quite the attention getter!"
At 3 p.m., you'll delight in watching the Parade of Boats, as all your favorites meander the lake in procession. Make sure to bring your camera!
On Sunday, the Display of Boats will begin at 9 a.m., gearing up for the Regatta at 10:15 a.m. "This is always a favorite and brings many people back every year," said Young.
There will be two heats for the short course: one which is for the antique wood boats, and one for those made of fiberglass. Both he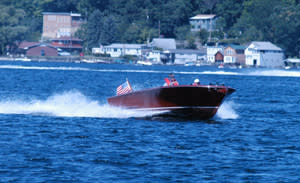 Rides at the Wine Country Classic Boat Show
ats follow the same course: heading north up the east side of Keuka Lake, turning toward Snug Harbor Restaurant & Inn and back to Depot Park. Repeat. Heat three is when the boats are in for the "long haul," according to Young. The course begins in Hammondsport and follows the east side of Keuka Lake to the Bluff, and back down the west side to Hammondsport.
The Regatta concludes with a chicken barbecue, during which awards are distributed.
For more information about the Wine Country Classic Boat Show, visit WineCountryClassicBoats.com.
Looking for other ways to beat the heat this weekend? Here are some Finger Lakes summer activity suggestions we have for you!