So much fascinating history belongs to Corning & the Finger Lakes. So many "firsts;" so many amazing people and places. For this week's blog, I wanted to share some fun Corning & the Finger Lakes trivia. Please leave a comment telling me which one you found most surprising.
The oldest county fair held in the United States is the Steuben County fair in Bath, NY. First held in 1819, it has been held every year since then without interruption.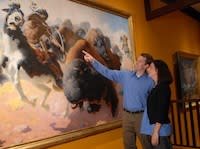 Rockwell
med after local art collector Bob Rockwell, (no relation to Norman Rockwell). However, the collection does include one Norman Rockwell piece. Children 19 and under are free!
The Rockwell Museum of Western Art is housed in the former Corning City Hall. It was home to Corning's horse-drawn fire department in the early 1900's. What is now the elevator shaft was originally where fire hoses were hung to drain. The ground floor level of the museum once stabled horses of the fire department.
The first air show in America was held on a field in Pleasant Valley (near Hammondsport) on July 4, 1908 when Glenn H. Curtiss flew his aircraft named the "June Bug" for one mile up the valley in front of hundreds of spectators.
The first pilot's license ever issued in the United States, Pilot's License No. 1, was issued to Glenn Curtiss of Hammondsport, NY.
"RV" enthusiasts have Glenn Curtiss to thank. He built the very first "travel trailer" in 1917, a luxury fifth wheel trailer complete with a toilet, kitchenette, Pullman-style beds, and a built in radio.
The National Cemetery in Bath includes 72 African Civil War veterans whose headstones bear the designation "USCT", member of the United States Colored Troops. Also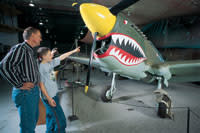 Curtiss
interred there are twenty-eight unknown soldiers from the War of 1812.
Steuben County was named after Baron Von Steuben, a Revolutionary War hero who served under General Washington at Valley Forge. The Baron never lived in Steuben County. Steuben glass was named after the county.
Blanch Stuart Scott, the first American female pilot, was trained by Glenn Curtiss in Hammondsport in 1910.
 Ruth Viola Tice Davis of Hammondsport made the first parachute jump from an open cockpit airplane in 1918.
Established in 1860, Great Western Winery at Pleasant Valley Wine Company proudly bears the designation of "US Bonded Winery #1" (First Winery in the US to receive this US Government designation allowing them to produce and sell wine on premises).
The world's premier collection of glass containing over 45,000 objects covering over 3,500 years of the art and history of glass is contained in The Corning Museum of Glass. The museum is dedicated to the art, history, research, science and exhibition of glass and glassmaking. Children 19 and under are free!
 Each piece of exquisite Steuben Crystal is a unique piece of art created by hand at only one location in the world- Corning, New York. It is a well-known gift to United States presidents and international dignitaries.
 Corning Community College has its own planetarium and observatory complex, offering shows to groups and to the public.
 Historic Market Street in Corning is the model for a national program aimed at revitalizing historic downtown districts.
Corning boasts over 40 buildings designed by world renowned architects, (remarkable for a town of its size). Corning's many historical and modern buildings have won prizes and received honors.
 The city of Corning was devastated by a flood in 1972, as a result of Hurricane Agnes. Parts of the downtown area were briefly submerged under as much as 7 feet of water.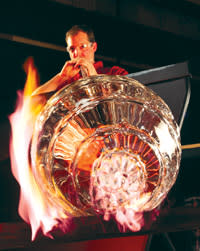 Corning Museum of Glass
The Corning landmark affectionately known as the "Little Joe" Tower was used to produce thermometer tubing using the "vertical draw" process. Hot glass was pulled by cable 196 feet to the top, creating a continuous tube. It was cooled and cut to length. Today, thermometer tubing is made automatically in a "horizontal draw".
Benjamin Patterson Inn, (formerly Jenning's Tavern in Corning), is the oldest frame structure in the valley, a 2-story Federal style frame building built in 1796. Now called the Benjamin Patterson Inn Museum, it depicts life in the early 1800's and includes a settler's cabin, a schoolhouse, a blacksmith shop, and an agricultural exhibit in addition to the inn.
Arthur Erwin (1726-91), an aide-de-camp to General Washington and first landholder in Steuben County, provided the boats for Washington's famous crossing of the Delaware River.
Thomas J. Watson (1874-1956) a native of East Campbell, just outside of Corning, was the founder of International Business Machines Corp. (IBM) and donated his family farm to create what is now Watson Homestead conference and retreat center.
Keuka Lake is 19.6 miles long and approximately ¾ mile wide. It is one of the very few "Y" shaped lakes in the world. Native Americans named it Keuka Lake meaning "Crooked Lake".
 The first light bulbs were blown by hand in Corning for Thomas Edison's company in the 1890's. Corning developed the automated production of light bulbs and, in 1926, began producing 15,000 bulbs an hour.
Corning invented and developed fiber optic cable in the 1960's and 70's.
Route 54A, which runs along the west shore of Keuka Lake, has been chosen by British Airways Highlife as one of the 15 most scenic highways in the world.
 The Tasting Room at Heron Hill Winery has been named one of the Top 10 Most Spectacular Tasting Rooms in the World by Travel & Leisure Magazine.
The Finger Lakes has been named one of the Top 10 Lakeside Retreats in the World by the editors of Shermans Travel.
One can see historic artifacts such as a mastodon tusk at the Painted Post - Erwin Museum.
 Visitors to Corning can create their own glass memento of their trip. The Studio at the Corning Museum of Glass and Hands-on Glass studio both offers the opportunity for making your own very special memento.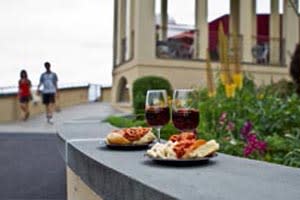 Heron Hill
 Steuben County has a very high white-tail deer population. Year after Year, this county boasts the highest deer "take" in the state during deer hunting season.
 The Chemung Basin River Trail - a recreational waterway with access sites in southern Steuben County - links with a network of water trails which ultimately flow into the Chesapeake Bay.
 The City of Corning was named after Albany financier, Erastus Corning, one of the founding fathers. Corning Glass Works, now Corning Incorporated, was named after the city.
Unique accommodations in Steuben County include authentic railroad cabooses at Caboose Motel and working farms. (Button's Creekside Farm B&B, and Farmer Phil's Cabins).
The New York State Fish Hatchery in Bath produces close to 1,000,000 fish each year, (specializing in brown trout, rainbow trout, and lake trout). Groups and school tours of the hatchery are available by reservation.
 Bike Route 17 in Steuben County is part of a 435-mile bike route stretching from the Hudson River to Lake Erie.
 Prattsburgh native, Narcissa Prentiss, was a Western pioneer woman. As a missionary to the Cayuse Indians in the Oregon Territory, she was one of the first white women to cross the Rockies.
 Corning native Harry L. Tyler, (1873 - 1931) held the first patent on the electric chair.
Gorilla Glass, invented in Corning in the 1960s, is scratch proof, impact proof, and tough enough to enable LCDs to be designed with an edge-to-edge glass surface, eliminating the need for a frame or a bezel around the edges of the screen.