One of my very favorite parts of my job is working with travel writers. People always seem surprised when I tell them I encourage writers to come to Corning & the Finger Lakes to explore and then write about it so other people will want to come, too. Having grown up here in Corning, I can understand why people wonder why a travel writer - who literally goes all over the world - would want to come to Corning. Before I started working for the tourism office, I often wondered why so many travelers pick our region for their vacation destination. Of course, after working here a few years, I'm convinced there's no greater place on earth - but I always love exploring all over again with each new writer that comes to town. Seeing my home through the eyes of a traveler is truly special - and it really gets me excited about living here all over again.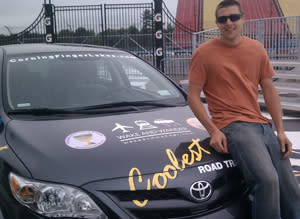 Coolest Road Trip
We've gotten some great coverage from travel writers over the past few years. Most have come to make glass at The Corning Museum of Glass, or drink wine at our award-winning wineries, like Dr. Frank's. Some have come with a specific goal in mind, like Will McGough of Wake and Wander, who took the Coolest Road Trip last year, celebrating Hammondsport's win as Coolest Small Town through the Budget Travel contest. (Read all about his trip here). Others come on group press trips like the one I put together in June. Spending a week with those five enthusiastic writers as so much fun. No mater where you live, I highly recommend you "play tourist" for a weekend sometime, and see why people who come to your area for a visit have such a good time. You'll rediscover all things that make your hometown awesome.
Even though I love hosting the writers while they're here, it's most rewarding to see their article(s) following their trip. Take Tracey Nesbitt for instance. She's a travel writer and wine enthusiast for the blog, Solo Traveler. Until she visited the Finger Lakes, she really didn't care for white wine. Her trip changed all that, when she "fell in love with Dr. Frank." Her comical blog post highlights all her chance encounters with the "good doctor."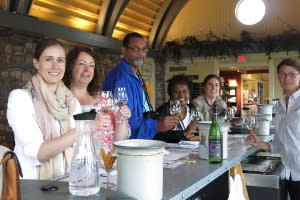 Media FAM Finger Lakes
"As I traveled across the Finger Lakes region over the course of a week, I began to experience the local wines as an extension of the landscape and climate," Tracey wrote. "They sparkled like the lakes in the sunshine. They were crisp and cool, just like the weather. And they were as refreshing and clear as the wind blowing off the lake and over the vines. Travel opened my mind to new taste experiences..." Click to read the rest of her great blog.
Carolyn Desrosiers was on the same press trip, but was visiting Corning & the Finger Lakes to focus on girlfriend getaways.
"The long slender lakes, shaped much like fingers (hence the name), are enrobed in a cool climate and green rolling hills, which make the perfect environment for growing grapes," she wrote. "Your wine-loving girlfriends will enjoy the opportunity to sample a variety of white wines, from Riesling to Gewürztraminer, over the gorgeous lake views that many of the wineries provide. Believe me when I say that there really isn't a bad view in the house at the Finger Lakes!" Check out her article here.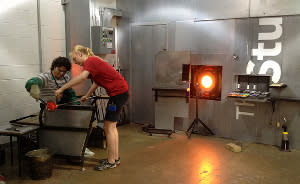 Courtesy Somewhere or Bust
One of my favorite visits of the year was from Noah Lederman with Somewhere or Bust. He and his wife were visiting the Finger Lakes for their babymoon, and he was rather perplexed that I wanted them to visit a glass museum. Which is why watching his amazement as he wandered through the collection galleries, saw a Hot Glass Show, and made his own glass souvenir was so much fun!  
"When I received the email (about going to The Corning Museum of Glass), I walked into my kitchen and lifted my old Corning percolator," Noah wrote. "While that coffee pot is my most prized kitchen appliance, I was a little shocked that this would be a part of my itinerary. Then I looked at the amount of time that they wanted me to visit the museum. Three hours! For a museum of glass? .... But, as plot twists would have it, the Corning Museum of Glass blew me away. (All puns are intended.)" Read on...
We love hosting writers in Corning & the Finger Lakes, and are excited when they tell their readers about their wonderful experiences here. Hopefully you've enjoyed reading about their trips, too. Ready to book one of your own?