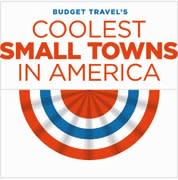 HammondsportCoolest
As you are probably aware, January was a landmark month for one tiny town in Upstate New York. Hammondsport was voted America's Coolest Small Town in the annual Budget Travel contest. While winning the title is quite impressive, what amazed me the most was how everyone from everywhere, it seemed, rallied behind this cool small town. Was this contest held in the height of tourist season? Oh no! It was January - the dead of winter. It's a time when not only are there very few visitors in Hammondsport, but a great number of businesses have closed for the season. With a population of 725, there's no way Hammondsport could have won on its own, even if every resident had voted every 24 hours, as per the contest rules. It didn't seem to matter if people were in Hammondsport currently, had been there sometime in the past, planned to go in the future, or just wanted to support a great small town, everyone cast daily votes for Hammondsport - and found others who would do the same. The media coverage was extensive and the battle with other towns was intense.
Weaverville, CA, gave Hammondsport a run for its money during the first two weeks of competition, but a power outage in the Weaverville area sealed the town's fate - and it never recovered in the polls, finishing third. Following a Tweet by popular author, Nicholas Sparks, Beaufort, NC's, numbers skyrocketed. The author promised to give away signed copies of his books if Beaufort won. Several of his novels, including A Walk to Remember, are set in the historic town. Beaufort and Hammondsport remained neck-and-neck until the final day of voting. On January 31, voting grew too intense for Budget Travel's web servers, and the site crashed. After being down in various parts of the country for most of the afternoon and evening, Budget Travel did the only fair thing and declared a tie between the two towns.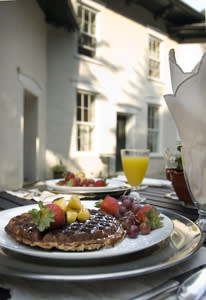 Black Sheep Inn
That's the backstory. It's a good one. It's a fierce one. And it has a very happy ending. But now that Hammondsport is officially America's Coolest Small Town, everyone is gearing up for an extraordinary tourist season.
What better way to kick it off than by welcoming the winners of the Hammondsport Getaway Sweepstakes, a contest held during the voting process in January. Susan Koval of Honeyoye Falls, NY, entered the sweepstakes and won. Included in the prize package was a two-night stay at the Black Sheep Inn, dinner for two at Union Block Italian Bistro, two tickets to the Glenn H. Curtiss Museum, wine tasting passes to Heron Hill Winery, lunch for two and wine tasting passes to Bully Hill Vineyards.
"It was an absolutely wonderful experience," said Susan. "Something I never had the opportunity to do before."
Susan and her boyfriend Kevin came to Hammondsport April 13-15, staying at Black Sheep Inn Friday and Saturday nights. Not only did they enjoy the luxurious accommodations, but they indulged with a full-body couples' massage. "It was amazing!" Susan said.
When the couple visited the Glenn H. Curtiss Museum, they were amazed by its size and diversity. Not only does it tell the life's story of aviation pioneer Glenn Curtiss, but it covers local history as well. "I couldn't believe how much time you could spend there and still not see everything," said Susan. She and Kevin chatted with one of the men working in the museum's restoration shop, and he gave them a little more insight into the world of aviation.
Perhaps one of Susan's favorite stops on the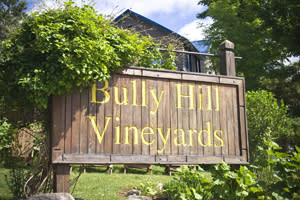 Bully Hill Vineyards
trip was Bully Hill Vineyards. She and Kevin had lunch in the Bully Hill Restaurant, and both ordered one of the specials. "It was so nicely presented," Susan said. "It was so good that [Kevin] got up and told someone how much we enjoyed the food." In the tasting hall, Susan said they ran into several other couples also staying at the Black Sheep Inn. They tasted some wines, purchased some more, and had a blast doing it. In terms of Bully Hill's cool factor, Susan says it's "awesome!"
After spending the weekend in America's Coolest Small Town, Susan and her boyfriend are hooked! She said they're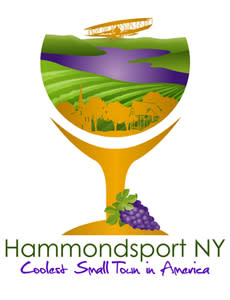 Hammondsport Coolest Small Town
anxious to get some merchandise with the new Hammondsport logo, designed by Rob Kurcoba of Watkins Glen. He recently won the design competition, sponsored by the Palettes of Keuka Committee and the Hammondsport Chamber of Commerce. The logo will appear on everything from T-shirts to bumper stickers to coffee mugs and everything in between.
Perhaps Susan and Kevin will wear their logo T-shirts and return to Hammondsport to celebrate its Coolest Small Town win on June 30! Hammondsport will be throwing a party filled with live music and entertainment, wine and beer tasting, crafts for kids, and so much more. Festivities in the Village Square are from 12 - 6 p.m. Starting at 6 p.m., a parade will not only showcase all things cool in Hammondsport, but will move the celebration from the Village Square to the Fireman's Carnival, where celebration-goers will enjoy food, fun, and more. Fireworks will end the celebration at 9:30 p.m. Make sure to mark your calendars!
Congratulations, Susan Koval! So glad you enjoyed your trip to Hammondsport, America's Coolest Small Town!
Are you inspired to visit? Plan your getaway to Hammondsport today!