Perhaps you think touring Corning & the Finger Lakes requires spending a lot of time in cars, buses, or boats. The area is famous for gorgeous scenery and it's true that many people drive around the vineyard-covered hills or go boating on Keuka Lake, just to see as much as possible in an allotted time. But walking is truly a different way to see the sights.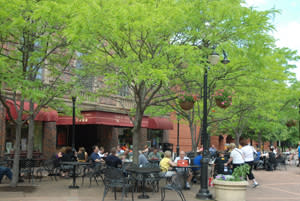 Historic walking tour no. 99
Walking allows you to see so much more, whether you only have half a day, one day or longer. Corning is fun to walk around - the center of this small city is easily accessible. Historic Market Street in Corning's downtown Gaffer District sets the tone for your walking tour. You will enjoy the architectural diversity of the buildings, the unique shops and boutiques, the many restaurants that offer food experiences from around the world, and the arts and crafts aspect of the district. (The National Register of Historic Places uses Market Street as the model for their national Main Street Program). Look up as you walk the street and enjoy the many carved windows and decorative facades. Landmark preservation is a priority in the city, and it shows in the beautifully maintained and restored buildings.
A truly unique feature that makes walking tours even more fascinating is Podcast 2 the Past. Podcast 2 the Past is an exciting program that introduces visitors to the historic sites, structures, and characters of the Finger Lakes. Each podcast provides a behind the scenes glimpse of a site that is either historically significant or architecturally unique. It's the perfect companion to your walking tour.  Check it out. If you like what you find, download the podcast to your mp3 and start your tour.  Podcasts are available for the following sites throughout Steuben County:
-Bath VA and National Cemetery
-Benjamin Patterson Inn Museum
-Bully Hill Vineyards
Hornell clock
-Corning's Gaffer District
-Dr. Frank's Vinifera Wine Cellars
-Glenn H. Curtiss Museum
-Historic Hornell
-Rockwell Museum of Western Art
Market Street is also a shopping mecca, a lively arts destination, and a place to discover your own talents in new ways. Popular district activities include:
- Workshops on stamping, card making and other crafts at The Crafting Cottage.
- A wonderful outlet for your creativity: painting one of over 400 different pottery pieces at Earth Paint and Fire Studio, Corning.
- Working on jewelry and beading projects at SoulShine Studio.
- Marveling at Diane Rivers' fabulous handmade birdhouses on display and for sale at Wild Birds Unlimited. (To see the entire collection of amazing abodes stop at her shop, 100 Birdhouses, on Rt. 415 in Wallace).
- Checking out the locally made soaps, lotions, handmade chocolates and other goodies at Beyond Baskets.
- Trying your hand at the exquisite art of stained glass making at Stained Glass Works and Antiques.
- Watching master craftsmen at work up close at Vitrix Hot Glass Studio, where the glass ovens roar just a few feet from where you stand.
- Learning the secrets of making paella...or most anything...at the Saturday culinary classes at 171 Cedar Arts Center.
Corning allows visitors to lose themselves in the many little shops and boutiques (including a few outlet stores). Frommers called it "...some of the best shopping to be found in the Finger Lakes area". And the food! The Gaffer District is fun to wander, and has a wide variety of inexpensive restaurants, many of which are diverse in their food offerings: Thali of India (Indian), Bento Ya Masako (Japanese), Sonora's (Mexican) and lots more.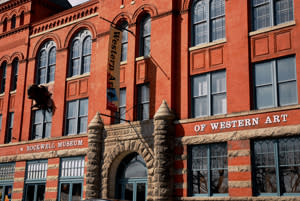 Rockwell facade
A few steps away, the Rockwell Museum of Western Art sits on the corner of Denison Parkway and Cedar Street. It houses an enormous collection of Western and Native American art and artifacts, offering a glimpse of the past by artists like Frederick Remington and Charles Russell. Now through October you can view Andy Warhol: Cowboys and Indians for a very different perspective on the Old West. Admission is free on Sundays.
Walk west a few blocks and cross the Centerway Bridge to the Corning Museum of Glass. Besides their collection of glass art and artifacts (the largest in the world), they also have an Innovation Center where you can bend light, bend glass, create your own works of art, and learn about scientific breakthroughs that have changed the world. You can also design and make your own hand-blown glass ornaments or other pieces, browse the exquisite jewelry in the museum's Glass Market, and watch the masters as they blow glass. The museum takes almost a full day to tour, with all the exhibits, activities and events going on. Children under 19 are always admitted free, 7 days a week.
A short drive away is the village of Hammondsport, a gateway to the Finger Lakes. Hammondsport is made for walking. The village square in Hammondsport has the good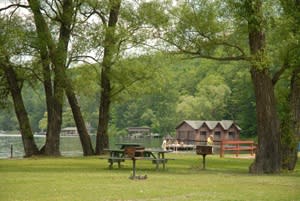 Champlin Beach
fortune to not only be a charming throwback to another era but also to be located right on beautiful Keuka Lake. The lakeshore is a mere block or so from the village square, making it a most accessible place for the family picnic after a morning of checking out the shops.

Lime Berry
Lime Berry is an art gallery. No, it's an award-winning winery. No, it's a garden and farm market. Actually, it's all three of these things and so much more. Located at 64 Shethar Street on the square, Lime Berry houses an art gallery filled with vibrant paintings, colorful handmade rugs, artistically rendered furniture and beautiful sculptures. Beyond the gallery is Lime Berry Wine Estate which produces fine Rieslings, Pinot Noir, Chardonnay, late harvest Vignoles and more. Seasonally, their outdoor farm market is full of home grown produce in colors that rival the paintings inside. Don't miss this exceptional addition to the Hammondsport area.
The Cinnamon Stick is one of those shops that have so much to look at, you could easily spend a couple of hours there. From their main floor with its decorative art, tapestries, gourmet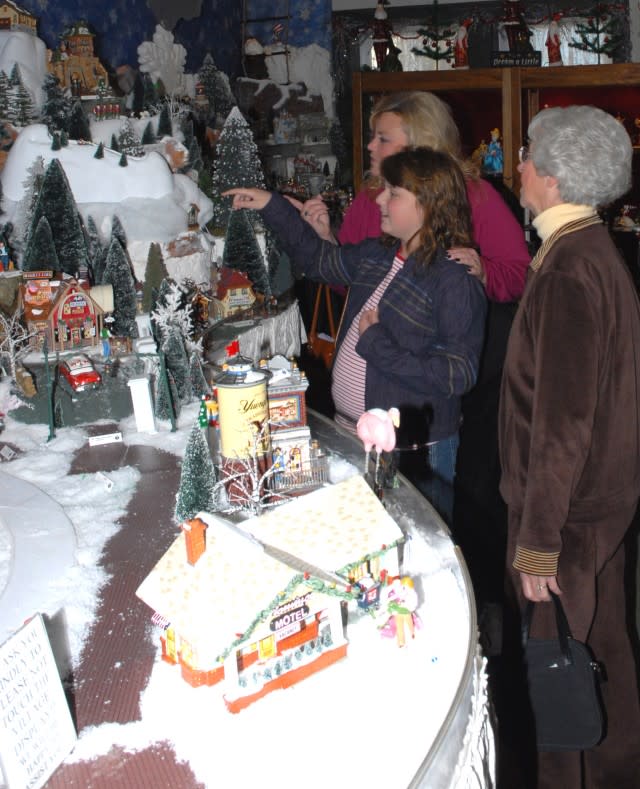 Cinnamon Stick Xmas display
goodies, collectibles, Pandora and other jewelry, candles, gift items and cards to the second floor with its year-round extravagant Christmas and other holiday displays, the Cinnamon Stick literally has something for everyone. Even the "person who has everything" will find something special here. (Don't miss their delicious shortbread cookies temptingly displayed at the front counter).
Browsers, also located right on the square, is a great source for Keuka items: Keuka jewelry, tshirts and sweatshirts, gift items for the folks back home, the largest selection of regional souvenirs, and anything wine-related. Have fun browsing through two floors of gifts and sportswear for men, women and children.
Walk through the doors of Scandia House - another great stop on your walking tour of Hammondsport - and you'll find yourself immersed in a mixture of specialty furniture, fashionable jewelry, charming books, cards, European pottery and various classic American style serving pieces. The Swedish table linens, European candles and stylish candleholders are truly exceptional.
If shopping is not your thing you will enjoy strolling the streets of Hammondsport, looking at the fine examples of Victorian and early 20th century architecture. Check out the Park Inn, an authentic American inn that has been providing food, drink and lodging to travelers since 1861.
We haven't even touched on Finger Lakes accommodations...and you'll need a comfy place to relax after all that walking! Call toll free 866-946-3386 for lots of good leads on places to stay in Corning & the Finger Lakes or browse our site for more information on Corning, Hammondsport, Keuka Lake and all that awaits throughout Steuben County.