Every year on November 11th we celebrate Veterans Day to honor and pay our respects for the men and women who have served and sacrificed for their country. In honor of those brave individuals many local business want to extend a thank you by offering free admissions to their museum or holding events.
The Corning Museum of Glass features the largest collection of glass art in the world. Glass galleries featuring over 3,500 years of glass, revolving exhibits, hot glass shows, and the chance to make your own glass all make up the unique and can't miss museum. The Corning Museum of Glass is offering thanks to those who have served in the military by giving free admission to all veterans and active military with an ID on November 11 in honor of the holiday. It's no fun to go to a museum alone so bring your family and friends and anyone in the party will receive a 15% discount on their admission.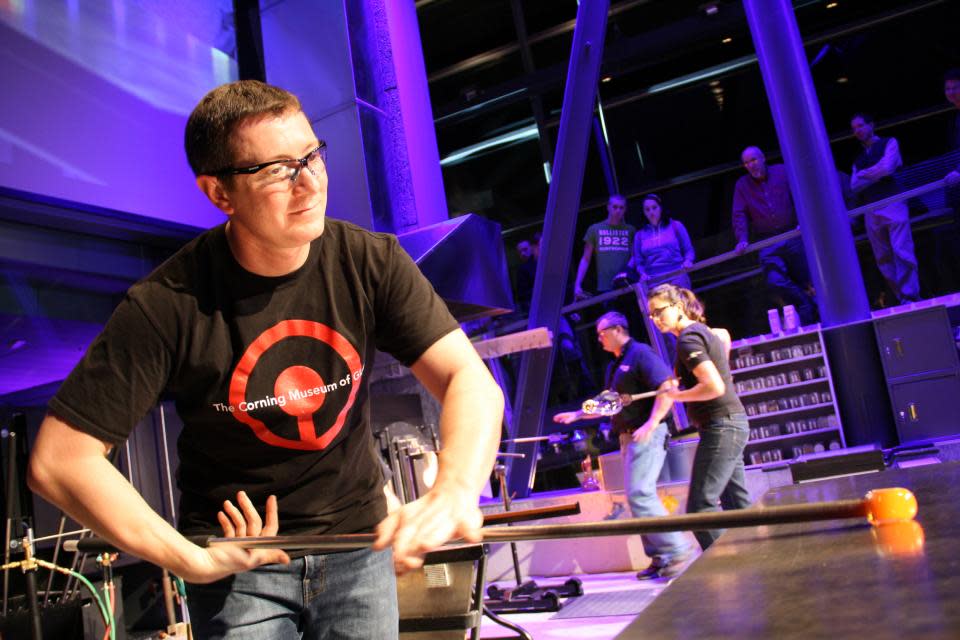 Glass Blowing Show at The Corning Museum of Glass
The Rockwell Museum has a diverse collection of art about America with strong Native American influences as well as other pieces such as landscape paintings. Currently celebrating their 40th Anniversary major changes and updates have been made to the museum, and exciting and interesting rotating exhibits are featured. Bring the whole family to experience this remarkable museum because they have free admission all weekend long.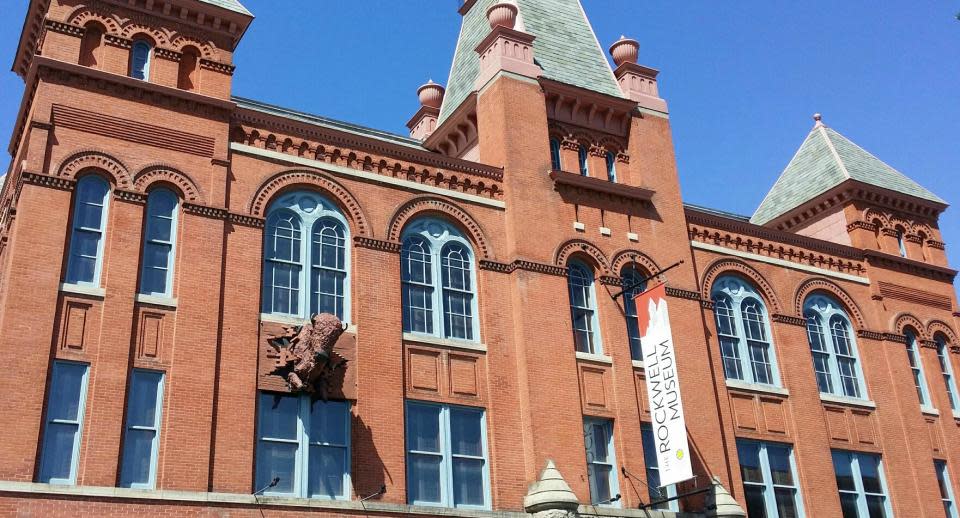 The Rockwell Museum courtesy of The Rockwell
The Glenn Curtiss Museum tells the story of Glenn H. Curtiss, Hammondsport's favorite son. The museum boasts a large collection of Curtiss' accomplishments including original, restored, or reproduced aircrafts, boats, motorcycles automobiles and more. The restoration shop allows visitors to see the building and repairing of equipment and displays, to restoring originals or building reproductions of Curtiss aircraft and other vehicles by expert volunteers. The Glenn Curtiss Museum wants to open their doors for free to veterans all weekend long from November 11th through the 13th to view their large and amazing collection of history.

Veterans Day courtesy of Glenn H. Curtiss Museum
The Bath VA will be hosting a Brass Band concert, performed by local Mansfield University Mountaineer Brass Band, at the VA Hospital Auditorium on November 11th at 1:30. The concert will commemorate the service of military veterans with "musical salute featuring patriotic standards, pop hits, and nostalgic classics, including a salute to all branches of the U.S. Military". Admission is free.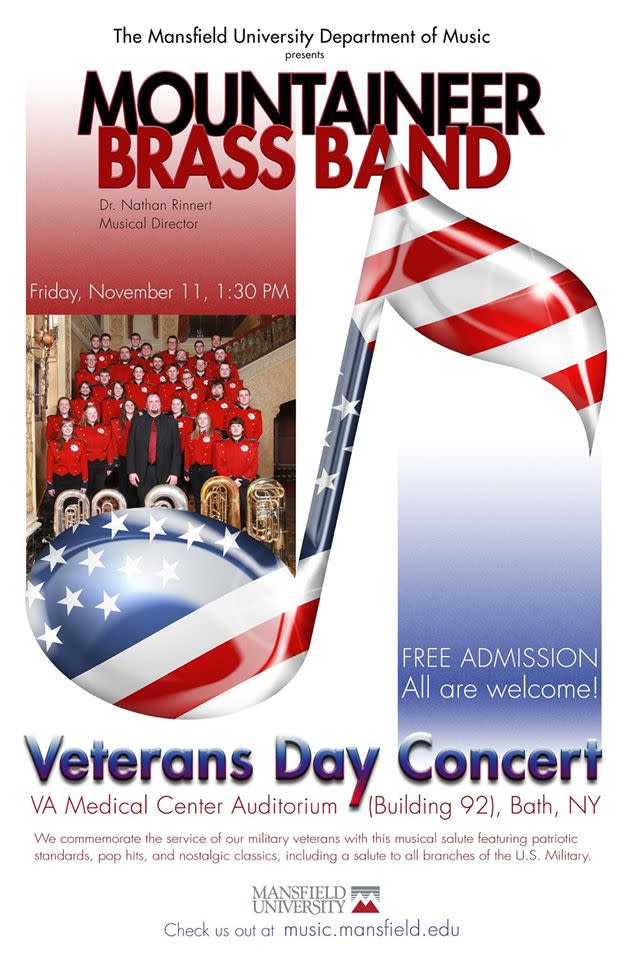 Bath VA Veterans Day Concert
Pay your respects at the Bath National Cemetery and Historical Museum. The Bath VA complex is steeped in history, from its beginnings as the New York State Soldiers & Sailors Home. The National Cemetery fills visitors with a sense of pride and awe at the years of sacrifice from the Civil War until present day.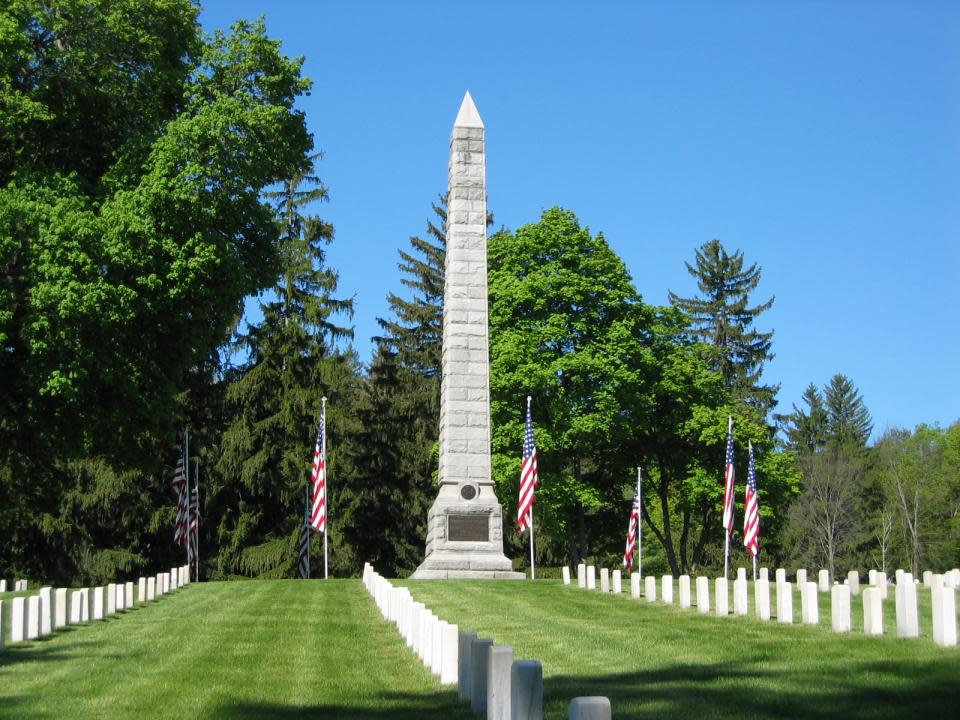 courtesy of Bath National Cemetery
We thank all veterans for their service and sacrifice this Veterans Day and every day!