Looking for a something new to try this spring? What about a great activity to do with your family? All this nice weather we've been having has certainly inspired me to find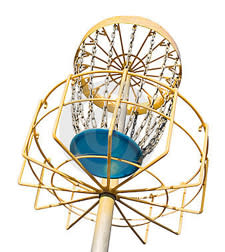 Disc Golf
things to do outside. Anyone who knows me is well aware that I'm not really big on sports. I had the pleasure of speaking with several local guys who are taking the sport to a whole new level - and I was rather surprised to find myself anxious to get out there and try it for myself.
Sure, there are all kinds of places to go golfing in Steuben County. Enjoying the scenic beauty of the Finger Lakes region while out on the course is something really special. But there's another kind of golf that's taking hold here in Corning & the Finger Lakes - the kind that isn't exactly played with a golf ball.
While much like traditional golf, "disc golf" is played with a flying disc or Frisbee©. Formalized in the 1970s, the object of the game is to complete each hold in the fewest number of strokes (or throws, in this case). The player throws the golf disc from a tee area to the target "hole," most commonly called a Pole Hole©, which is a raised metal basket. Disc golf was "designed to be enjoyed by people of all ages, male and female, regardless of economic status," according to the Professional Disc Golf Association (PDGA).
"We thought we'd made it up," said Hank Foss, an adamant disc golfer who sets up many events, including the Surprise of Fools: Disc Golf Tournament at Hickory Hill Family Camping Resort, and the Twin Creeks Harvest Classic at Twin Creeks Campground. "When my friends and I played with regular Frisbees in the last 1970s in New Jersey, we had no idea that an hour away in Philadelphia was the second oldest disc golf course in the country," established in 1977.
"After I moved up here, come to find out it's a real thing and well organized," he said. "And it just keeps getting bigger and bigger."
In the Surprise of Fools: Disc Golf Tournament, which will be held March 30 - April 1, 22 holes are played, as opposed to the traditional 18. With 85-100 players all starting at the same time, Foss spaces them out at different starting points throughout the course. "These guys are very serious about their disc golf," Foss said. People play to their skill level, as determined by the PDGA. Since joining in 1993, Foss has worked his way up in the rankings from amateur to pro.
The course at Hickory Hill is about in the middle range in terms of difficulty, Foss said. Half of it is in grassy, rolling hills, and the other half is in heavy woods. There are even some water obstacles, as some of it is played around a pond. Foss guesses the course covers more than 50 acres.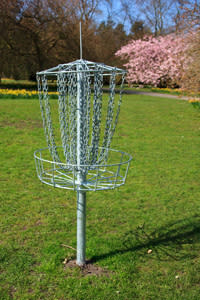 Disc Golf
When Steve Vantangoli, who owns Twin Creeks Campground, was first introduced to the sport, he noticed how "user-friendly" it was. "I saw how it could appeal to a variety of different ages and types of people." When he started setting up his campground, he knew it had the potential for a great golf course.
"I wanted to do something a little different for campers," Vantangoli said. "Now we have the best of both worlds: camping and a recreational aspect. We wanted to make sure the course was playable even if the campground was full." The 117-acre course wraps around the campground, and campers use it as a one-way trail system.
The course was given a 4.10 rating out of 5 by the PDGA. Not only is it challenging, but is full of scenic beauty. Vantangoli said it is hilly and wide open in spots, and holes 15-17 are played around the "Twin Creeks" that run through the campground named after them. He estimates it takes about 3.5 hours to complete the course.
"It is really rewarding for us to watch people enjoying the course," Vantangoli said. "There's a lot of camaraderie among the golfers and campers. Golfers are eager to show the campers how it's done, and they want to show the kids how to throw."
Vantangoli said the disc golf course has also brought in more campers who enjoy the sport. "Now they can bring and involve their families," he said.
The disc golf course at Twin Creeks Campground opened to the public on March 10. There is no cost to play, but the campground has a donation box from which proceeds go toward course maintenance and the purchase of more baskets. Pick up some skills this spring and summer, and compete in the Twin Creeks Harvest Classic this fall.
Think outside the box when you want to have an outdoor adventure this spring. Play a round of disc golf in Corning & the Finger Lakes!