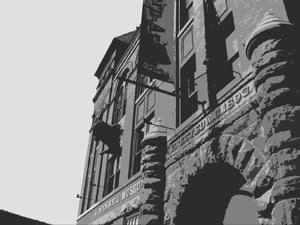 Artemus
A town gets its character from the buildings that line its streets and the people who call it home. For decades, main streets all across the country have been fading away. But when you step onto the brick sidewalks of Corning's Gaffer District and take in the studios, antique shops, boutiques, specialty stores, and restaurants, you'll feel the electricity of a downtown alive with activity.
Tomorrow, Corning's Gaffer District unveils GlassFest, a new annual festival of art and music and wine and fun. Oh yeah, and glass! The event should be awesome and hopefully people realize how many cool things they'll have going on. One of those things is a new Historic Walking Tour that's sort of self-guided. All you need is a cell phone. The 19-stop tour takes about an hour and introduces you to some of the history of downtown Corning as well as to several historic buildings that add to the city's charm.
GlassFest will be the springboard for the re-launch of a tour that's been around a little while, but is also one with which some people might not be familiar. It's called the Tiffany & Treasures Trail and it explores the many Louis Comfort Tiffany treats to be found in Corning &the Finger Lakes (like an antique shop with authentic Tiffany windows or a church with an interior deisgned by Tiffany himself). According the brochure you'll find at the Information Center of Corning, "the tour is a self-guided adventure in the fire arts treasures of yesterday and today, right here in Corning & the Finger Lakes. Sites include working potters, glass artists, museums, and buildings completely designed by L.C. Tiffany. Shop, explore, create, and admire. Try the potter's wheel or make your very own glass souvenir. Explore the Tiffany & Treasures Trail all at once or on many visits." So, this tour can be interactive if you'd like to make your own fire-art treasures.
There are other intriguing tours in the area, including True Tale Tours which offers a look at some of the historical personalities and goings-on that most people aren't aware of (including stories about murder, the old west, the electric chair, and more). The tours are offered Thursday evenings and the first of the year will be held next week.
Just down the road in Hornell, you can visit the Erie Depot Museum and learn about how, at one time, there were 32 tracks running through town, all being used. Now, that must have made for some trail! Stop by the Hornell Chamber of Commerce and pick up a brochure that lists several historic buildings in town and provides information about the architectural style as well as what the buildings had been used for in their former lives.
As mentioned last week, Pleasant Valley Wine Company has eight buildings on the National Register of Historic Places and offers a tour that has been called "The Best Winery Tour" by Car & Driver. In addition to the buildings, you also get to tour caves dug into the hillside and used to store champagne and sherry. Of course, a tour that ends with a wine tasting certainly has its perks. Bully Hill Vineyards, overlooking scenic Keuka Lake, also offers a fun tour full of history, panoramic views, and tasty wine.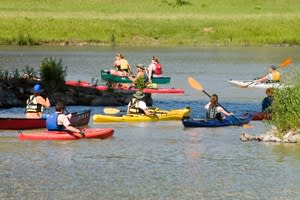 Sojourn Geocache Trail
In addition to the Tiffany & Treasures Trail, there are other interesting trails in the area, such as the Southern Trail Potters of Steuben, an Aviation Trail, a History Trail where you can download podcasts to your MP3 player and take the information with you, and an antiques trail. Nearly all the communities (including Corning, Campbell, Addison, Hammondsport, Hornell, Bath, Avoca, and Prattsburg) in the area have at least one "antique shop," many of which are pretty cool, like those in old speakeasies and former opera houses. There isn't a formal tour at this point, but you can call the Steuben County Conference & Visitors Bureau to get a list of the shops in each community and put together your own customized tour.
The sojourn geocahce trail is a different sort of tour, so to speak, one that offers outdoor adventure and 21st century treasure hunting. You'll find geocahces in historic districts as well as along (and even in) rivers. There are guided walking tours, self-guided adventures, architectural and historic tours, outdoor adventures from geocaching to biking and more. And now that summer is approaching, you might want to plan a tour of Keuka Lake.