If you're anything like me, days like today make you instantly crave a good cup of hot cocoa! Luckily there are plenty of amazingly decadent options to choose from here in Corning, NY. Here are a few of my very favorites. Share yours in the comments below!
More than Amazing Ice Cream
You might not think of going to an ice cream parlor to get warm, but then you'd be missing out on Dippity Do Dahs' Hot Chocolate Bar! Decadent cocoa warms you up on even the coldest of days - so much so, that you might even need to sample some ice cream while you're there! Choose from a house blend hot chocolate or specialty chocolate peanut butter or chocolate mint. You really can't go wrong with any selection!
$2 for a cup of cocoa
58 E Market St.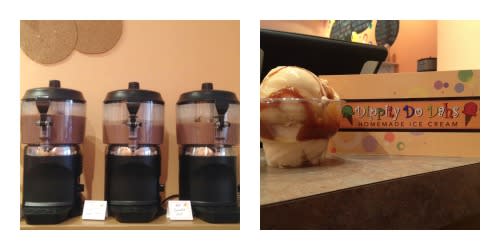 Dippity Do Dahs
 The Source for Great Hot Chocolate
The Source (formerly Beyond Baskets) is staking claim as having the biggest hot cocoa selection in the area, boasting 12 delicious flavors of cocoa. And those are just the ones you can order at the café with a dollop of whipped cream on top! Be tempted by the likes of Creamy Raspberry, Chipotle, Candy Cane, Dark Orange, Bananas Foster, Deep Dark Bourbon Pecan Pie, Cherry, Curry, and BACON! There's even a cocoa that turns pink when you add water. And just take a look at how it's served up in the café! Incredible.
Prices range from $2.50 - $2.95. Tins start around $8.95, and individual packets are $1.65.
88 W Market St.
The Source Corning
 Chocolaty Goodness
"It's like drinking a melted candy bar." That's the comment the folks at Poppleton Bakery & Café hear all the time about their gourmet hot cocoa. Think dark, dark chocolate... like European drinking chocolate. The kind that lingers in your mouth long after you're done - a reminder that you just indulged in something amazing! Not surprisingly, it's about the consistency of pudding before it's heated up, and a little goes a very long way. It's only sold in 4 oz. and 8 oz. cups ($2.50-$5). That might seem steep, but remember, you're basically getting an entire chocolate candy bar melted into a cup - with homemade marshmallows on top. What a deal!
23 W Market St.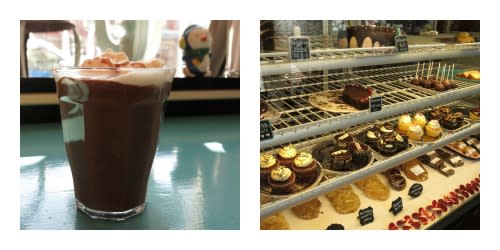 Poppleton Bakery Corning
 Coffee, Coffee, COFFEE.... And Hot Chocolate!
Although known for its vast selection of coffee, Market Street Coffee and Tea is another don't-miss stop on your cocoa tour of Corning's Gaffer District. Your toughest decision will be choosing which packet of chocolaty goodness you want to try! Flavors include Chocolate Truffle, Raspberry Parfait, French Vanilla, Caramel Praline, Holiday Spice, White Chocolate and Mexican Spiced. If you're not a cocoa fan (although if you're not, why are you still reading this post?), you'll be delighted by coffee favorites including Market Street Blend, Ethiopian Harar, and Gaffer Blend. Make sure to check out all the beans roasting in the front window of the store, ensuring absolute freshness!
$1.75 for a cup of cocoa. Packets are $1.25 and canisters are $6.50. Coffee ranges from $1.75-$2/cup; pound prices are $12.99-$15.99.
61 E Market St.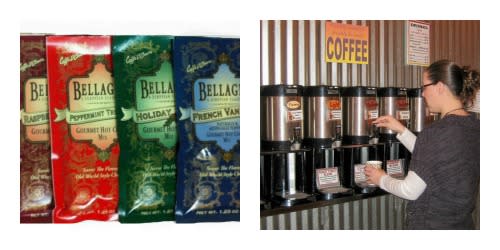 Market Street Coffee and Tea
Warm Your Soul
This time of year, salted caramel anything sounds delicious! That's probably why the salted caramel hot chocolate at Soul Full Cup is such a hit! Other decadent winter favorites include the toasted marshmallow mocha and caramel chai, all made better by intricate designs in the foam, or a tower of whipped cream.
Prices range from $2.25-$3.25.
81 W. Market St.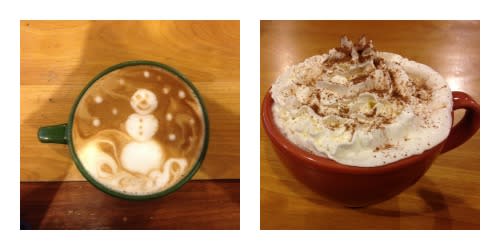 Soul Full Cup Corning
 What did I miss?! Sound off on your favorites below.