Hidden inside world class museums, everyday churches, studios, and the galleries of the Finger Lakes you'll find treasures both big and small waiting to be discovered. Whether you are admiring stained-glass windows, checking out a pottery studio, or getting hands-on with glass, the Tiffany and Treasures Trail lets you explore and discover the fire arts of yesterday and today.
There isn't a more fitting place to start your trail exploration than in "America's Crystal City". Home to the world's largest glass museum, and other countless sites on the Tiffany and Treasures route you'll soon come to find that glass is a large part of the culture here. Vitrix Hot Glass Studio is just one stop along the way, but they are doing some incredible things. Watch as expert glass artists craft unusual glass sculptures, to the seasonal favorite glass snowmen. Purchase the quality made pieces right there in their shop.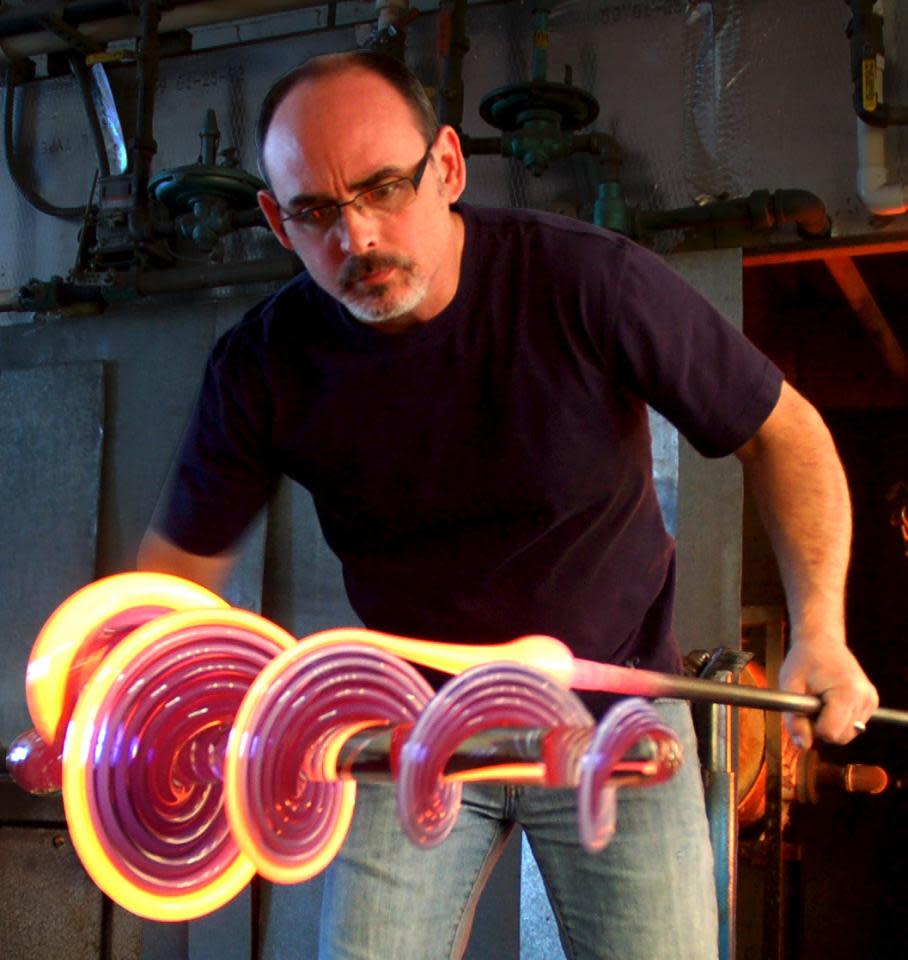 Vitrix Hot Glass Studio
If seeing the glass artist create their pieces sparked something creative in you, head over to Hands-on Glass Studio. The first studio in Corning offering hands-on experiences is still letting guests create a one-of-a-kind souvenir by blowing their own glass ornament or pumpkin, or making a glass paperweight.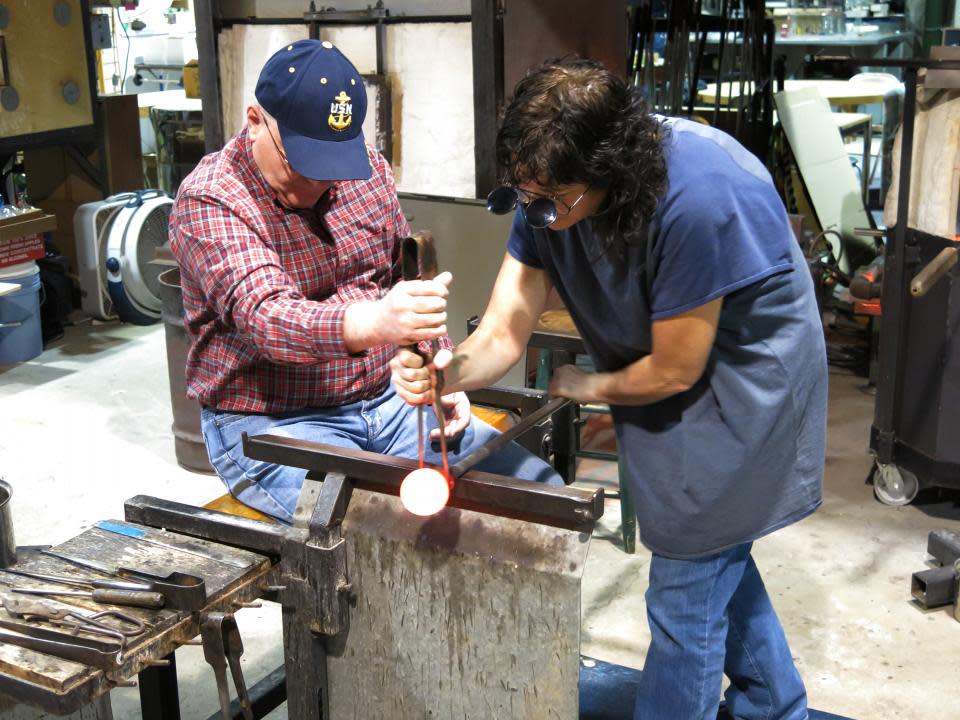 Hands-on Glass Studio
Fire Arts encompass more than just glass though, pottery can be found in abundance sprawled throughout the Finger Lakes. 2 Crocked Pots is creating hand-thrown pottery and unique jewelry of all different designs. Goff Creek Pottery offers a more unique take on pottery creating pieces like fountains, lanterns, birdhouses, and even a lawn chess set. Check out one of the many studios that offer pottery classes like Rocky Hill Pottery and Summerville Pottery.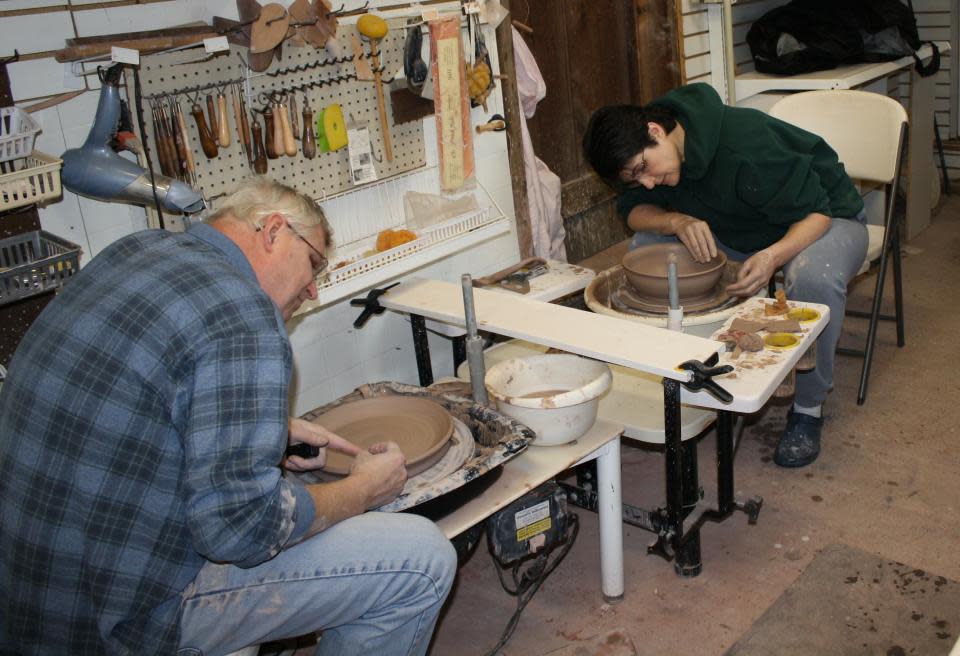 2 Crocked Pots
It wouldn't be a Tiffany and Treasures Trail without seeing some exceptional Tiffany pieces along the way. The Christ Episcopal Church in Hornell is adorned with stained glass windows that represent the design and color evolution of Tiffany Studios from the 1890's to the 1920's. The First Presbyterian Church of Bath is one of the few Tiffany designed sanctuaries in the United States. Appointments to see the beautiful Tiffany windows are available year-round.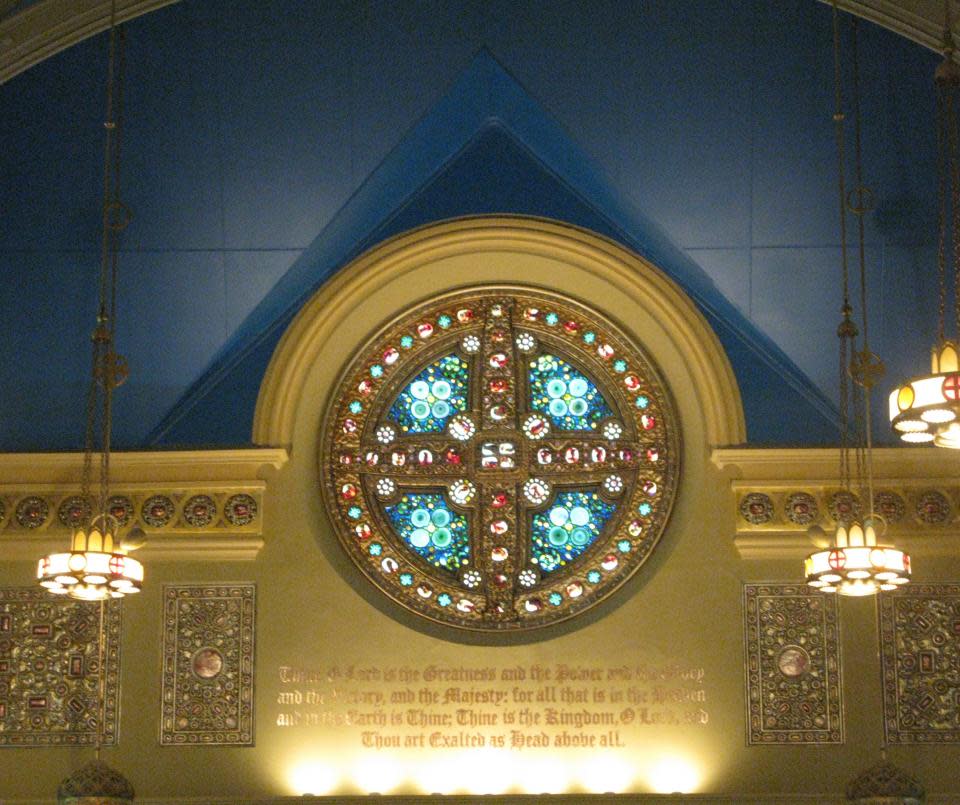 First Presbyterian Church of Bath
It would be remiss not mention not only one of the most incredible and notable stops on the trail, but one of the most amazing glass sights in the world. There is nothing else like The Corning Museum of Glass. Being the largest collection of glass in the world, the fire arts are well and live in the walls of the Corning Museum of Glass. Experience historical glass spanning over 35 centuries, and watch new and exclusive pieces be created during a live hot glass show. You can even make your own glass piece at The Studio. The Tiffany and Treasures trail really offers a unique look at fire arts and this year from May 20- January 7, 2018, The Corning Museum of Glass is presenting the first ever major exhibition dedicated to Tiffany Glass Mosaics..
Tiffany Window courtesy of Corning Museum of Glass
The Tiffany and Treasures Trail offers visitors a new and different way to experience the Finger Lakes. Discovering a unique perspective of beauty and creativity that runs through the region.