Summer is ripe for the pickin'. It warm outside, there's time for activities, and everything's lush and in bloom. Although this hasn't been the b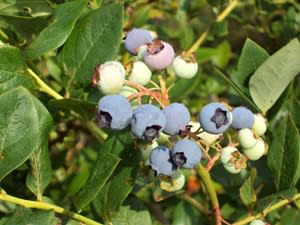 Parkland Berry Farm
est growing season imaginable for area farmers and winemakers, Corning and the Finger Lakes remains a great place to find locally-grown food this summer.
When I was younger, my mom would take me to a U-Pick blueberry farm at least once a summer. Aside from the bugs that always frightened me, it was one of the best experiences I can remember. It was always such a treat to pluck a blueberry from the bush and pop it into my mouth. We'd fill buckets upon buckets - enough to ensure we'd have blueberry pancakes all winter!
Take your kids on a berry-picking adventure to Blueberry Hill Farm in Hornell and let them experience the joy of staining their lips with the color of summer.
With so many farms an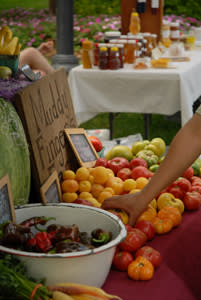 Farmers' Market
d local growers in the area, it's easy to avoid running to Wegmans for your produce during the summer months. There are five local farmers' markets every week. Visit Riverfront Park in Corning every Thursday from 9-3 p.m., June through October. Addison Farmers' Market is in Bliss Park Saturdays from 8-4 p.m., and Bath's is in Pulteney Square Wednesdays from 9-3 p.m. and Saturdays from 9 a.m. until noon. Both are held May through October. Hammondsport and Hornell also have farmers' markets of their own. These offer great opportunities to buy locally and feel good as you slice your strawberries and dice your tomatoes.
"Try some real country goodness" at Jenkins Farm Market & Deli in Arkport, offering everything you could possibly need to enhance your summer dining. Open 7 - 9 p.m. Monday through Saturday, this family owned-and-operated, roadside farm market is known for its high-quality farm fresh products. Established in 1972, a deli was added nearly twenty years later, enticing visitors with tasty Dutch Country meats and cheeses. Seasonal fruits and vegetables, bakery items, and bulk foods are also available year-round.
Of course, the Finger Lakes Region has been made famous by one vital home-grown and produced product: wine. Heron Hill Winery is "in the midst of a green revolution." Owner John Ingle believes respect is key in this movement - respect for the land by farming sustainably, respect for the product by making it fresh, natural and healthful, and most importantly, respect for the consumer by providing the very best product possible. Heron Hill stresses the importance of gaining consumer trust and ensuring the future viability of local farms. Its Blue Heron Café also supports sustainable agriculture, "providing only the freshest and highest-quality locally and organically farmed products whenever possible."
Debbie Meritsky and Mark Rotman keep the Black Sheep Inn in Hammondsport completely organic. From the food they serve to the cleaning products they us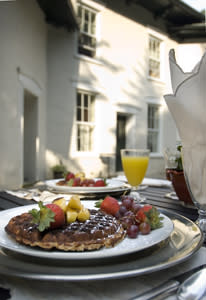 Black Sheep Inn breakfast
e in the Inn, everything is 100 percent natural. Debbie says she has had many conversations with her guests about her decision to use locally-grown foods, and has realized people care enough to seek it out when choosing where they'll stay on vacation. "We really do this for us," she said. "But we want people to know we're doing it for them, too."
Everything tastes better when it's home-grown in Corning & the Finger Lakes! Support your local farmers and search "Farms & Markets" under attractions!
Try a great summer recipe!
Pat Ernst Dugan is a semi-retired chef who teaches public and private cooking classes in the Corning area and elsewhere across the U.S. She buys much of her food locally and has a few favorite River Road stops, including the U-Pick blueberry farm and a small roadside stand nearby that sells a variety of vegetables. "Usually, when I see their zucchini and yellow squashes, I think about Ratatouille, a French vegetable stew," she said. Try it below. Pat will be presenting Finger Lakes Fall Bounty Foods in a cooking class at the Steuben County Public Library on October 12.
Microwave Ratatouille Appetizer
Yes, ratatouille, the classic French vegetable stew, always requires much "chop, peel and slice." The beauty of this Microwave Ratatouille is the short cooking time and the thick almost meaty texture that lends itself well for dunking, spreading or dipping. Great as an appetizer, use also as a side with grilled chicken or simply tossed with pasta.
Makes 3 cups
1/2 cup diced onion
1/2 cup diced green pepper
2 cloves garlic minced with 1/2 teaspoon kosher salt
2 tablespoons sundried tomatoes in olive oil, coarsely chopped
1/2 cup diced zucchini
1/2 cup diced yellow squash
1/2 cup thick marinara sauce
1/2 teaspoon herbes de Provence
2 tablespoons white balsamic vinegar
Kosher salt
Freshly ground assorted pepper
Tabasco, optional
3 jarred roasted red peppers, drained and diced
Parmesan and/or grated mozzarella or diced Brie
Stir onion, green pepper, garlic and sundried tomatoes in a Pyrex deep-dish pie plate. Cover with plastic wrap, folding back one corner to allow steam to escape. Microwave for 2 minutes.
Remove from microwave, stir in zucchini, yellow squash, marinara sauce and herbes de Provence. Recover, again leaving one corner folded back, and microwave 3 minutes. Vegetables will still be a little crunchy which is nice.
Season the ratatouille with vinegar, salt, pepper and Tabasco, if using. Stir in roasted red peppers. Sprinkle with Parmesan and/or mozzarella or Brie. Reheat in microwave 1 minute. Stir cheese into ratatouille.
Serve warm surrounded with crostini and pita crisps.