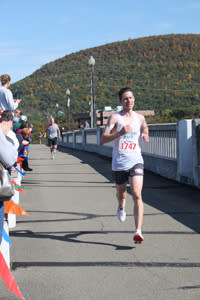 Wineglass Marathon
Remember back in January when you made that resolution to live a more active, healthy lifestyle? It's April. How are you doing? Hopefully you've stayed on track, but it can be a real challenge when life gets in the way - or a favorite TV show - or a vat of Ben & Jerry's!
Now that the weather is a bit warmer, people are eager to get outside, making it harder to push off that work-out. I don't know about you, but I keep hearing everyone talk about this "Couch-to-K5" program. It's almost like it's taunting me! "Do you really need to watch more Netflix tonight? Get off the couch!"
As a friend of mine once said, "I only run when chased." That's pretty much been my philosophy, too. But with all these great outdoor events on the horizon, I'm feeling slightly motivated - or maybe it's the knowledge of being "lazy" that's spurring me to want to try to participate. I have a crazy goal to run the GlassFest 8K, but the Couch-to-5K programs suggests you need two months just to do that. I'd have about a month and a half to train for an 8K - it's on May 25. I'm guessing I'd probably die somewhere around mile two.
In any case, the GlassFest 8K is organized by the office of the Wineglass Marathon. It's a great way to kick off the weekend, watching so many runners - the majority of them local - race through the Crystal City. This year, the finishers will receive glass medals made at Hands-On Glass Studio, similar to the ones finishers of the Wineglass Marathon earn.
If an 8K is a little much for you to think about accomplishing, you might be up for tackling the HOOT, a 5K trail run at Spencer Crest Nature Center on May 4. Starting at 10 a.m., the HOOT takes runners through the beautiful trails at Spencer Crest. Pre-registration by April 27 is $15, and race-day registration is $20.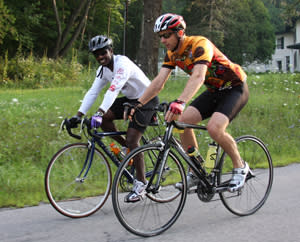 Biking in Corning & the Finger Lakes
If you're indecisive like me, perhaps you'd like to participate in an event with many options for physical exertion. I was shocked - and rather exhausted - when I read the events line-up for the Addison Race Fest, also on May 4. Want to run a 5K? Sure! How about challenging yourself a little more and running a 10K? You could do that, instead! Both races start at 10 a.m., and take runners through village streets and country roads. There's also an event for walkers (I think I like this one!) The Walk for Your Health also starts at 10 a.m., but instead of running 3.1 miles - or 6.2 for that matter - you'll walk a 2.2-mile course. To "add a little more excitement to this event," each participant will guess their finishing time during sign-in. The closest guess to the actual time will win an award. Kids can even get in on the action with the ARMSTRONG Youth Fun Run at 12 p.m.
Not a huge fan of running, but still want to get in on the action? There's a canoe and kayak race at 9:30 a.m., which travels an 11-mile course of mostly flat water. Awards will be given to the top five finishers in each of five categories.
There is also a bike race, if that's what motivates you to get outside. Starting at 10 a.m., this 30-mile race takes riders through some beautiful country, finishing in front of the village hall. Kids (ages 3-5) also have the chance to participate in the Children's Tricycle Race at 11:30 a.m.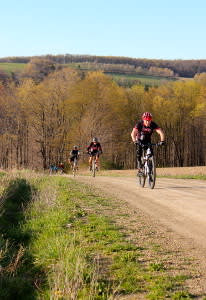 Ramble Around Prattsburgh
If that's still not enough excitement for one weekend, perhaps you'll want to kick it into high gear by riding in the Ramble Around Prattsburgh. This mountain and cross bike race will begin at 1 p.m. on May 5, challenging riders with 30-mile, 15-mile, and 8-mile courses to choose from.
"The Rambler showcases some of the Finger Lakes' most scenic back roads, seasonal lanes, abandoned roads, and single tracks," said Casey Conte, who organizes the Rambler. "It's perfect for someone wanting to explore the countryside while challenging themselves on one of our three demanding race courses. No matter what your skill level is, the Rambler has a course to suit your needs."
Conte says what sets the Rambler apart from other races is its rural and remote feel. "You are more likely to see a horse and buggy instead of a car while racing," he added.
Hopefully you've stayed committed to your goal to become more physically fit this year and can push yourself to enter one of these races. Whether you're a mountain biker, kayaker, runner, or speed walker, there's something for you that first weekend in May. It's the perfect time to get outside, enjoy the fresh air, and take on a challenge.