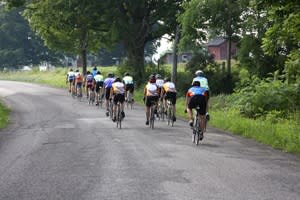 Photo courtesy of Tour de Keuka
As spring continues to blossom into summer, more and more people are finding their way outdoors. Many arrive somewhat stunned from the cold dark days of winter, but now that the sun lingers in the sky a bit longer, shares it's warmth a bit more liberally, people are gradually becoming energized. As a result, you see them along the side of the road or in parks, running or biking, not merely to get back in shape, though for some that is the primary reason, but also to simply be outside after being "cooped up" like a boxed lunch the past several months. We are, after all, solar-powered or at least I am. Think about how good it feels when the sun comes out after a few days of cloudy skies. Think about how much easier it seems to be to smile, how much more energy you seem to have. Of course, this time of year can also make being inside, as we're often required to be for work or for school, that much more challenging. It's as if we have some sort of internal magnetization to the sun and the longer and warmer the days get, the more we are compelled to be outdoors. It's not just those students who've spent a lifetime in school who suffer from Senioritis.
In addition to a number of exceptional outdoor activities offering spectacular views, such as the many hiking trails and waterways in Corning & the Finger Lakes, you'll also find some pretty cool events that combine fitness and pleasure. The Addison Race Fest is one such event. Surprisingly, it doesn't get a whole lot of hype, but it's truly unique because unlike most races that have one or two running events of varying lengths, the Addison Race Fest is truly a festival of racing. There's a wheelchair race, 5K and 10K runs, a health walk, a 30 mile bike race, tricycle races for kids, a youth fun run, and even a canoe race. And, as if just giving you all these wonderful reasons to be outside isn't enough of an excuse, they also have concession stands, craft exhibits, and games for kids to enjoy.
But maybe you're not into running a race. Maybe you simply want to see the countryside with a friend or to just catch up on some valuable "me" time. Cycling is an excellent way to do both. It's one of those ways to exercise without feeling like you're exercising. And it offers you the chance to cover more ground and to see more of the landscape. There are over 65 hiking and biking trails in the Finger Lakes area that have already been mapped out, including those like the American Treasures Scenic Byway trail that takes cyclists over rolling hills and through verdant valleys of the countryside. Ride from one beautiful state park to another, pass alpaca farms, unique structures like The Wigwams, as well as other points of interest. And the Hammondsport Circle Tour offers cyclists a challenging climb that's well worth the effort with breathtaking (quite literally for me given my time away from cycling) views of panoramic vistas overlooking vineyards and pristine Keuka Lake. The tour takes you past exciting spots you might just want to get off your bike and investigate more fully, like the Glenn H Curtiss Museum, the Bath Fish Hatchery, Pleasant Valley Wine Company (which offers a different kind of tour), and Bully Hill Vineyards where you just might want to have a delicious lunch and enjoy the incomparable view. Getting outside in springtime is appealing for a number of reasons and it's nice to know there are so many ways to explore the area and take in all that outdoor magic.
Of course, with all the rivers and bodies of water, the sundry two-lane roads "off the beaten path," and exciting hiking trails, there are more ways to get outside and explore the wonders of Corning & the Finger Lakes than there are days to do it, which is all the more reason to try.
There are additional events throughout the year, like the Tour de Keuka in July, which offers the added benefit of raising money for juvenile diabetes, and the Wineglass Marathon, which serves as a qualifier for both the Boston and the New York City Marathons. For additional information about the over 65 hiking and biking trails in the Finger Lakes visit Let's Go Hike & Bike or contact the Steuben County CVB toll free at 1-866-946-3386.