This series highlights people who have truly excelled in a craft or skill, and who are bettering the experience for visitors to Corning & the Southern Finger Lakes. Each month, we'll take a look at one of these craftsmen, from artists to chefs, and even outdoor guides. These are the folks who have trained and excelled in a particular area, and are passionate about what they do. They want to share their expertise with you. Today, we're focusing on a great historian, Kirk House, who is the director of the Steuben County Historical Society. He has crafted the art of bringing history to life.
Kirk has always been fascinated with history. He grew up next door to a public library in Rhode Island, and couldn't read enough history books. He found he had a knack for story telling. He moved to Steuben County more then 20 years ago, becoming the director of the Glenn H. Curtiss Museum. He made it his mission to learn all he could about life of the great aviator, and to share the story with the world. He went on to become director of the Steuben County Historical Society, where he still works today. When he began the job, he proposed a mission statement of "Saving Steuben Stories - Telling Steuben Tales," he said. "To learn the history... to communicate it other professionals... and then to pull up a seat by the fire and tell the tales. That's how I live my life. My job is to be a storyteller for Steuben County."
We asked Kirk to share a few of his very favorite postcards from Steuben County's past. Let's take a look at Kirk's Top 5 picks!
1. The Finger Lakes Trail goes through Bradford, and it's still one of our loveliest rural towns. The split-rail fence wouldn't be in use today, but otherwise it's still just as great a place as this postcard suggests.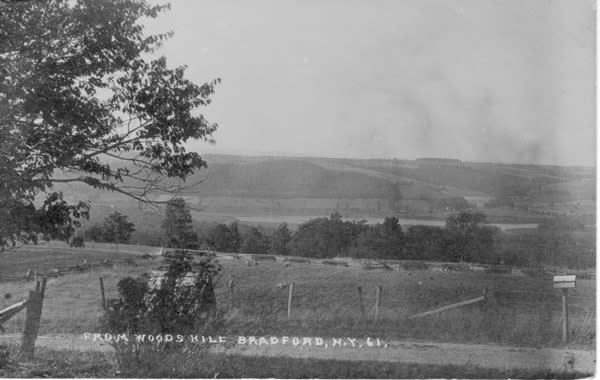 2. This aerial view of Painted Post captures the busy industrial history of the county, but also shows how that river could be quite a threat (before flood control) in days gone by.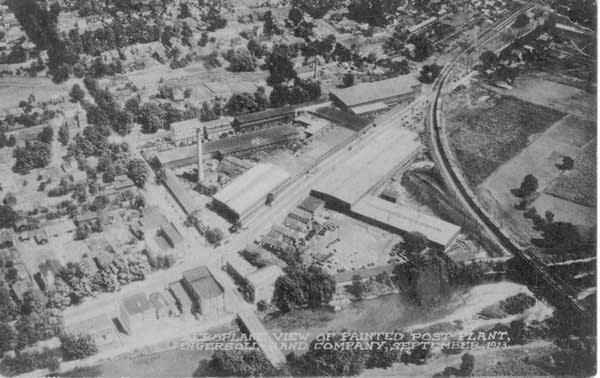 3. Most people in America had never seen an airplane back in 1913. Hammondsporters had so many they were blasé (or at least that's what they told the tourists). Many of the homes and structures in this Keuka Lake scene are still there today.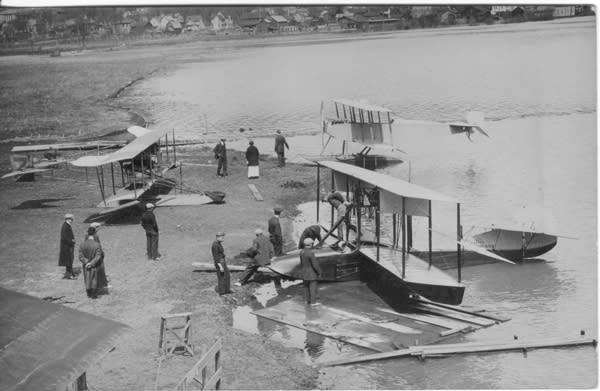 4. Bath was celebrating its sesquicentennial back in 1943, right in the middle of World War II. This postcard is fun because the Red Cross ladies are skillfully avoiding the horse drippings. Liberty Street is asphalt now, rather than bricks, but all those commercial blocks are still busy.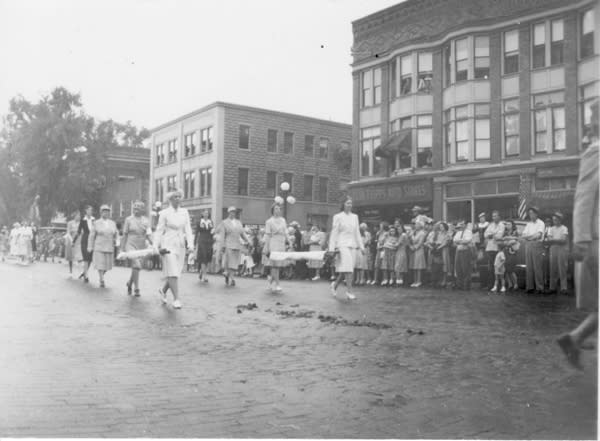 5. I really like this one, because it makes me imagine having worked in Hornell at the railroad shops, all the livelong day. If I were taking the trolley home to Canisteo along this route, I suspect I'd feel a lot more relaxed by the time I got there!