We're starting a new blog series, highlighting our "master craftsmen." These are people who have truly excelled in a craft or skill, and who are bettering the experience for visitors to Corning & the Southern Finger Lakes. Each month, we'll take a look at one of these craftsmen, from artists to chefs, and even outdoor guides. These are the folks who have trained and excelled in a particular area, and are passionate about what they do. They want to share their expertise with you.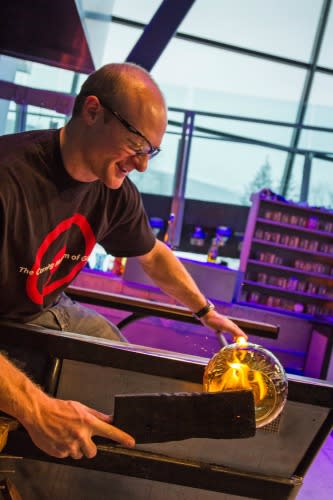 G Brian Corning Museum of Glass
If there's one thing that differentiates Corning from the rest of the Finger Lakes, it's our glass. It's what the Crystal City is known for, but it's safe to say it would never have been possible without the skill, expertise, and dedication it took for some very talented craftsmen to master the art of glassmaking. Corning has been home to all kinds of glass experts, from scientists to artists. Today, we'll take a look at one artist in particular, and learn what made him fall in love with glass and why he wants to share his passion with the world.
G Brian Juk is a gaffer (glassworker) at The Corning Museum of Glass. He entertains and educates thousands of people every year through his demonstrations during Hot Glass Shows. He has even taken his skills to sea aboard select Celebrity ships that hold Hot Glass Show stages.
But G Brian wasn't always interested in glass. His love of art began with making jewelry and pottery, and he found he had a deep connection with utilitarian work. "Using something handmade in daily rituals is a strong motif in my work today," G Brian said. "I love the notion of having a conversation with someone who is drinking from a tumbler or using a vase, a non-spoken relationship between people."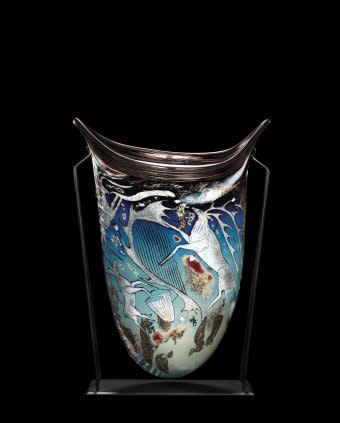 William Morris Corning Museum of Glass
G Brian was first introduced to glass in high school. He attended a show by glass artist William Morris at the Habitat Gallery near his hometown, Detroit, Michigan. "His work was not functional, the exact opposite of everything that I had been doing up to that point," G Brian said. "His work has a narrative, but is up to the viewer to discern." G Brian was very intrigued.
"I tried it myself at a studio called Michigan Hot Glass," he continued. "I knew right away that this was for me."
G Brian chose to attend Alfred University in Upstate NY where he became immersed in the art of glassmaking. He earned a BFA and K-12 art teaching certification during his time at Alfred.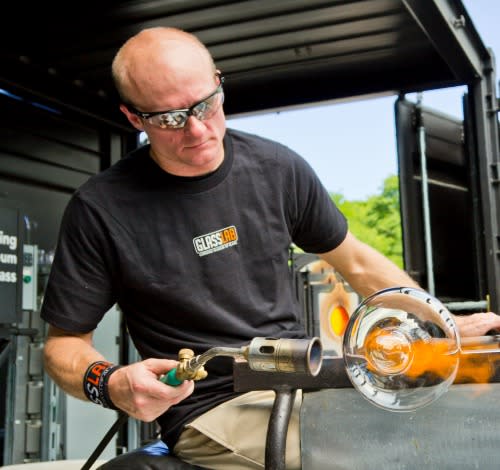 G Brian Corning Museum of Glass
Although G Brian has been working with glass for 14 years now, he is still learning how to master his chosen craft. "It's funny," he said, "after six years I thought I had figured it out and was getting the hang of it. Then, after ten years I realized it will take a lifetime to perfect."
G Brian's lifetime of experimentation with glass continues to dazzle thousands of visitors to The Corning Museum of Glass. "I hope that others will take away a new appreciation for what it takes to create something from glass," he said. "It is amazing to think that you can design a piece in your mind and then create it with your hands. One moment a molten blob of hot glass, and the next, it is your imagination realized.
"I am excited to create glass before a live audience and to share with them my vision of the material," he continued. "This embodies the museum's mission statement from an artistic level. I am proud to carry on a rich tradition of glass making that has been going on in Corning, NY, for over 150 years."
For more information about G Brian Juk and his fellow gaffers, visit www.CMOG.org, and catch them in action during a Hot Glass Show at The Corning Museum of Glass!
All images courtesy of The Corning Museum of Glass.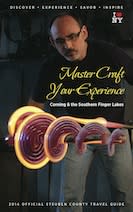 2014 Steuben County Travel Guide
Make sure to request a Finger Lakes Travel Guide, highlighting many master craftsmen throughout Corning & the Southern Finger Lakes.