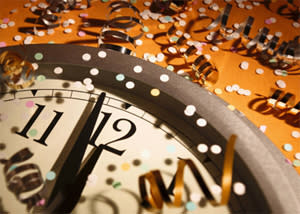 New Year's Eve
Let the countdown begin! Sure, we're still counting down to Christmas, but it's hard to believe we should start planning our New Year's Eve adventure, too! While you're in the midst of holiday shopping, it's perfectly fine to start thinking about how you'd like to ring in 2013.
Here in Corning & the Finger Lakes, there are all kinds of ways to make your New Year's a memorable one. Whether it's dining out in Corning's Gaffer District, listening to live music in restaurants in the Village Square in Hammondsport, or simply toasting with some Finger Lakes wine, you can't go wrong when you celebrate in Corning & the Finger Lakes.
Enjoy a six-course meal at The Cellar, where an incredible spread of food will be presented. Just read through this tentative menu and tell me you're not enticed: Amuse Bouche: Duet of Gougères, Himrod Grape Conserve. Second Course: Lentils Three Ways Dahl Tarka, Red Lentil Cracker, French Green Lentil Mousse. Third Course: Kung Pao Glass Noodles. Fourth Course: Duet of Cast Iron Seared Sea Scallops, Black-eyed Pea Puree, Blood-Orange Infused Olive Oil, Crispy Kale. Fifith Course: Blue Heron Acres Pork Crepinettes, Duck Confit, Jasmine Rice, Braised Red Cabbage, Sauteed Lacinato Kale, Pomegranate Molasses, & Soy Caramel Sauce. Dessert: Chocolate Genoise, Chocolate & Hazelnut Ganache, Hazelnut Buttercream House-Made Salted Caramel Ice Cream. Dinner is $75, not including drinks, and will be served from 4 - 11:30 p.m.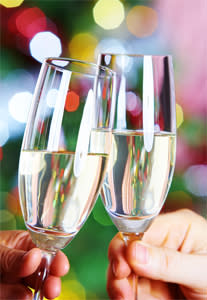 New Year's Eve
If you want to make a whole night of it, the Radisson Hotel Corning is offering a special New Year's Eve package which includes a room, a champagne split, breakfast the next morning, and a late check-out of 6 p.m. You and a special someone will be able to enjoy dining at the on-site Grill 1-2-5, and then head into the ballroom for some dancing to live music. This package starts at $169.
There will be plenty of festivities in Hammondsport on New Year's Eve as well. The Vinehurst Inn will be partnering with Snug Harbor Restaurant to create an amazing New Year's Eve package. Get 10% off your room at the Vinehurst, and 10% off your entire bill at Snug Harbor. Ring in the new year with complimentary champagne, noisemakers at midnight and live music all evening at Snug Harbor. Bruce Holler will be playing from 6-8 p.m., followed by the Bruce Colucchio Band with classic rock and sax from 9-1 a.m. There will also be a free shuttle to and from the Vinehurst and Hammondsport. To make your reservations, call 607-569-2300.
If you want to hop around to enjoy live music for the evening, catch The Boogie Men band playing until midnight and beyond at Maloney's Pub. Also see Mike Cavalier at Union Block Italian Bistro starting at 9 p.m.
Hornell will also be celebrating with a party at the VFW beginning at 8 p.m. Dance the night away with a DJ and band helping to ring in the new year.
Whatever you do, make sure you ring in the New Year with a bottle of the Finger Lakes' finest. While you couldn't possible go wrong with any Finger Lakes wine you choose, make the evening a little extra special with a bottle of Chateau Frank Sparling Wine from Dr. Frank Vinifera Wine Cellars. The winery just recently created a video to show you how the sparkling wines are made. Watching the video will certainly give you a newfound appreciation for the process and the sparkling wine itself - and it'll make that New Year's Eve toast that much more special. The Chateau Frank Célèbre is sure to add some sparkle to your evening!
Cheers for a happy New Year, from your friends in Corning & the Finger Lakes!