You want to talk about some great job perks? Here are just a few that leave me shaking my head wondering how I got so lucky to work in tourism.
Occasionally, I get to spend the day traveling around Corning and the Southern Finger Lakes with talented photographer Stu Gallagher getting photographs. Sometimes that means we have to hit the trails or get out on the water to get those action shots. See what I mean about a cool perk?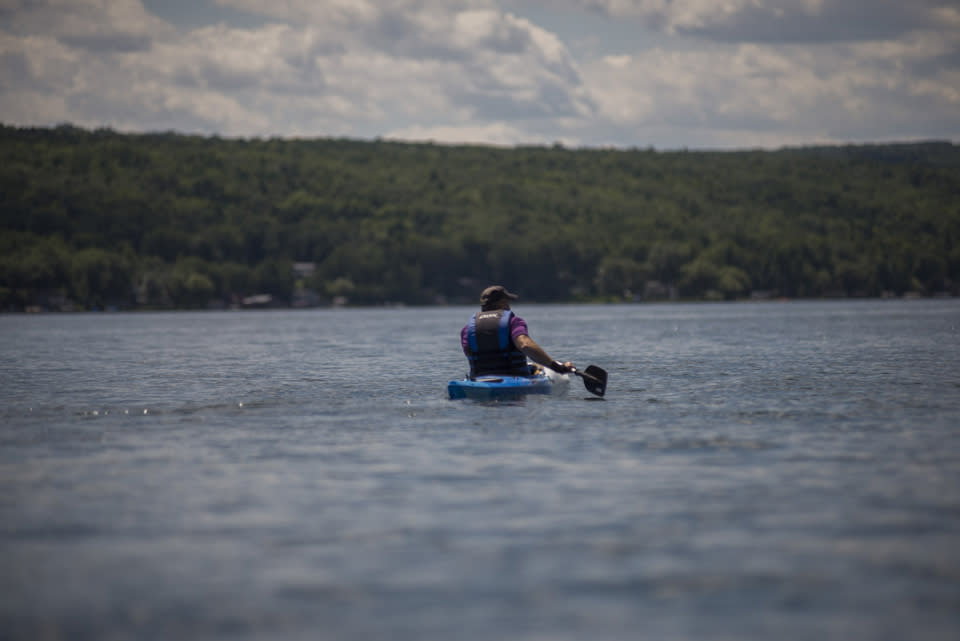 Kayaking Keuka Lake courtesy of Stu Gallagher
I also get to meet fascinating people who are passionate about what they do. Like, Eric Bauman Sparkling Winemaker at Chateau Frank which is celebrating its 30th anniversary. And Joe Carroll at Lime Berry Winery whose Bunny Bunny Blush was just named "Best Rosé/Blush Wine" at the 2015 New York Wine & Food Classic.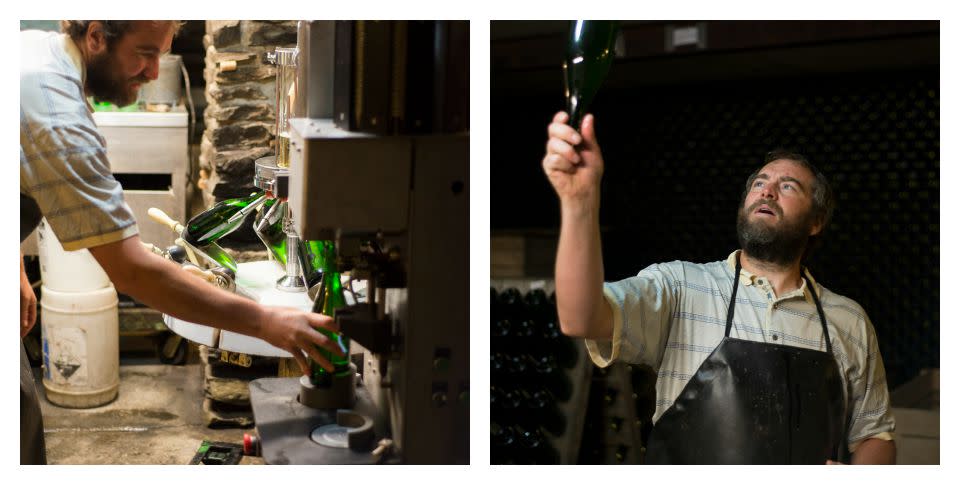 Sparkling Winemaker Eric Bauman at Chateau Frank courtesy of Stu Gallagher
I can't even tell you how inspiring it is to learn the stories of people who have found their calling and who are heeding that call - like Shelly Fisher and Douglas Schuckers at The Brewery of Broken Dreams - and then getting the chance to share those stories with others.
Brewery of Broken Dreams courtesy of Stu Gallagher
Or meeting folks chasing their dream while also paying homage to the past - like Dave Woolever at Railhead Brewing Company. In addition to offering a nod to the rich railroad and brewing history in Hornell, Dave is busy crafting excellent brews and delicious handcrafted pizzas.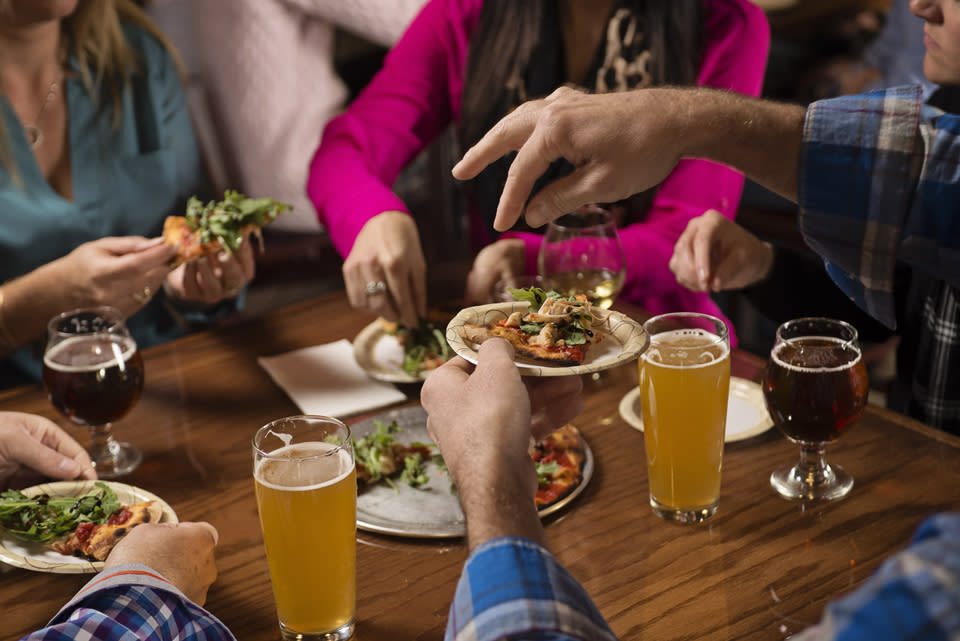 Railhead Brewing Company courtesy of Stu Gallagher
I also get to meet people from all over the globe visiting the area to explore it, and even write about it. Like bloggers Dian Emery from Toronto and Christine Tsang from NYC, or Alexandra Baackes from Albany, and Kayti Burt from Worcester, MA. I get to meet remarkable people like Heather Houskeeper from North Carolina who just spent two months hiking the Finger Lakes Trail. And I get to meet people visiting the area for fun, like the folks in the photo below at Heron Hill Winery.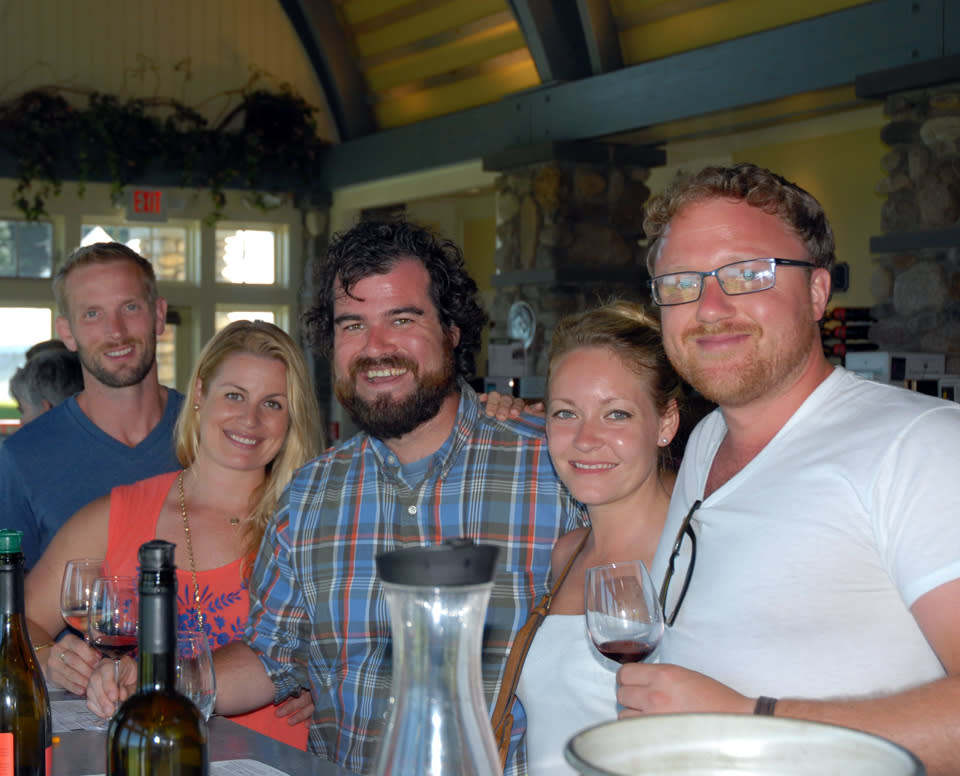 Heron Hill Winery
This week I'll get to spend some time with wine bloggers from all over the US and Canada, as part of the annual Wine Bloggers Conference - you can follow the excitement using the hastag #WBC15.
Sometimes I have to explore historic buildings. Sometimes I have to taste wine or beer - I know, you're feeling pretty sorry for me right about now aren't you.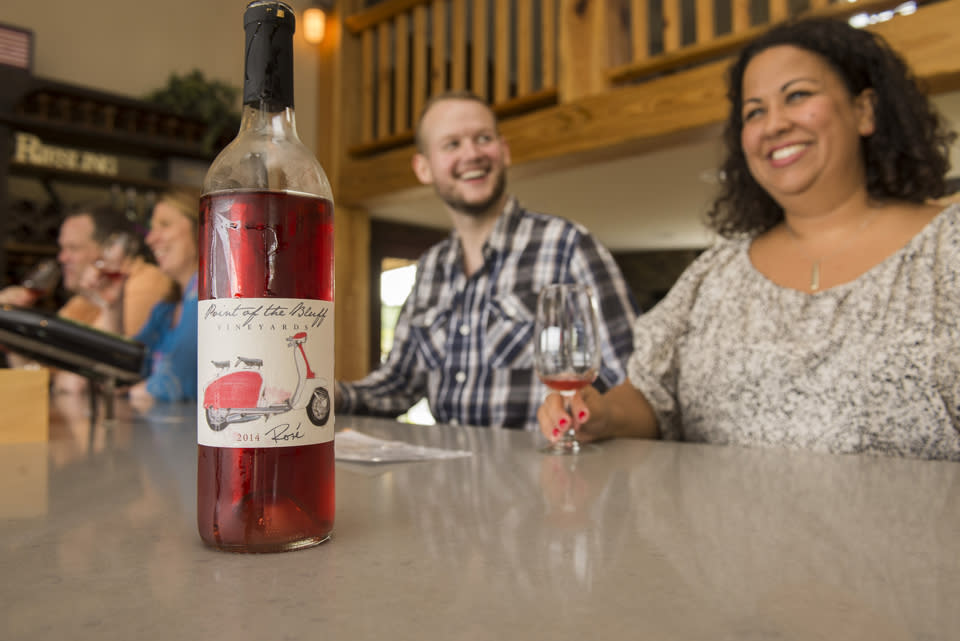 Point of the Bluff Vineyards courtesy of Stu Gallagher
Other times I get to visit cool campgrounds like Camp Bell Campground, or awesome museums like the Glenn H. Curtiss Museum or The Rockwell Museum or The Corning Museum of Glass, or parks like Stony Brook and Mossy Bank to discover what the experience is like.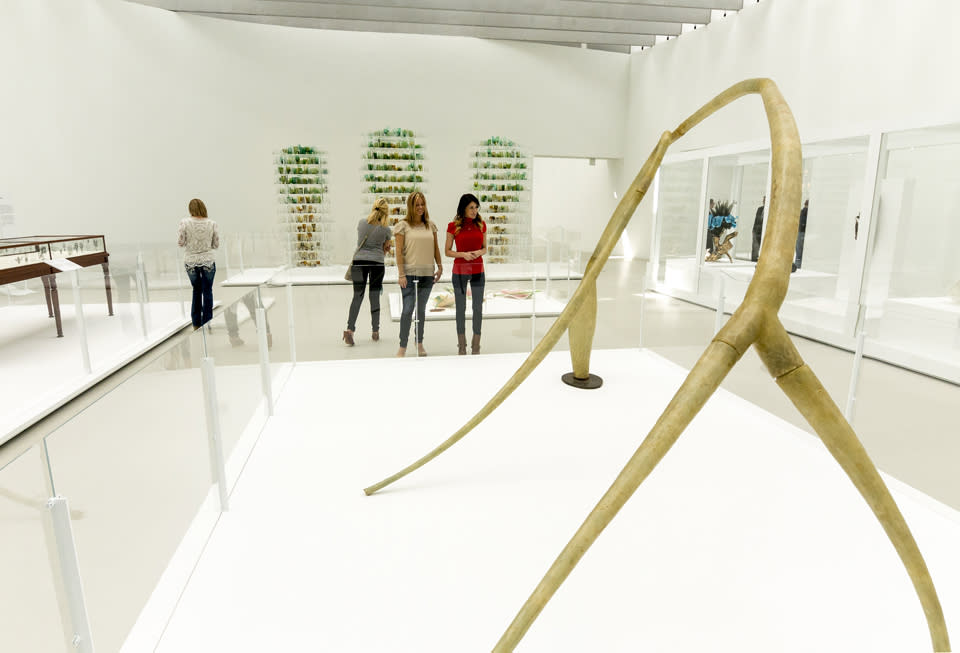 The Corning Museum of Glass courtesy of Stu Gallagher
I get to explore the restaurants in the area, like Luna Mezza Grille and The Village Tavern and The Waterfront and sample the culinary delights while I'm there.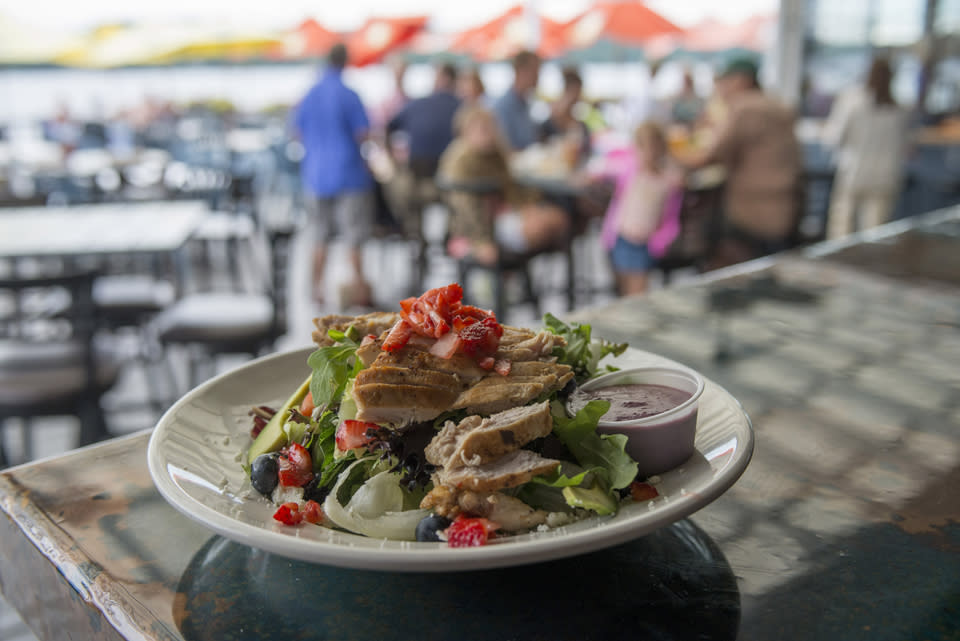 Strawberry Salad at The Waterfront Restaurant courtesy of Stu Gallagher
I get to meet with photographers like Chris Brooks from Oregon and Bob Magee from Hammondsport and look at the wonderful images they've been capturing around Corning and the Southern Finger Lakes.
Chris and Nash Brooks courtesy of Julie Brooks
These are just some of the perks of my job. No, you can't have it. I will, however, do my best to share as much as possible with you though here.
So keep watch. There's more great stuff happening every day in Corning and the Southern Finger Lakes.