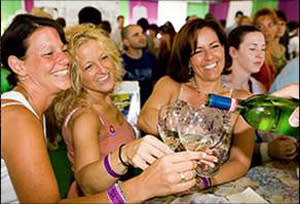 Finger Lakes Wine Festival
While the vast majority of the country is caught in a stifling heat wave, here in Corning & the Finger Lakes, we know the secret to staying cool. Finger Lakes Wine Country is famous for its superb, crisp Rieslings - the epitome of summer in a glass. Whether you're standing on the deck of a winery, or lounging lakeside, if you have a glass of Finger Lakes Riesling in your hand, the heat of the season doesn't much matter. You'll feel refreshed and relaxed as you savor the flavor of sweet summertime.
There is perhaps no better place to sip and savor than Finger Lakes Wine Festival. While it's one hot party, you'll be refreshed after you fill up your glass with cool wines at multiple wine tents. With dozens of Finger Lakes wineries in attendance, the Finger Lakes Wine Festival is the perfect opportunity to have some fun with friends and family, and learn a great deal about the wines created in the world's most beautiful and affordable wine region.
When you attend the Finger Lakes Wine F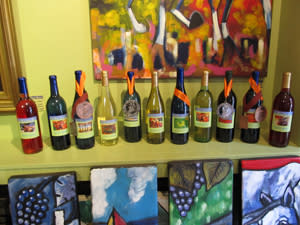 Lime Berry Wines
estival July 13 - 15 at Watkins Glen International, you'll partake in the bounty of the whole region. More than 600 wines will be poured, and food from numerous local restaurants will be served. Try award-winning wines from Finger Lakes wineries, including Lime Berry Winery, Heron Hill Winery, and Dr. Frank Vinifera Wine Cellars. Visit more than 100 non-wine vendors at the festival, including artists, musicians, jewelers, and culinary exhibitionists. Tickets range from $30-35 for one-day passes and $40-45 for weekend passes. Several levels of ticket categories can be purchased, including designated driver and minor.
"Guests at this year's Finger Lakes Wine Festival presented by Yancey's Fancy can expect the unexpected," said Michael Printup, Watkins Glen International President. "In addition to the nearly 90 regional wineries at the festival, we have celebrity chefs Matt Levin and Julie Ann Sageer sharing their talents in culinary classes and cooking demonstrations. Live music is performed throughout the festival grounds and our guests have the opportunity to take a pace car ride around our historic road course between tastings."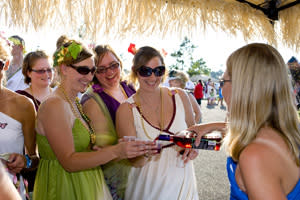 Finger Lakes Wine Festival
The Friday night Launch of the Lakes toga party is a fantastic, fun kick-off to a weekend of celebrations! Wear your best toga Friday night as Bacchus blesses the festival - and you may even be crowned festival King and Queen. Also sample Yancey's Fancy cheeses and wine from local wineries while enjoying live music and a fireworks display.
Starting Saturday, visitors will enjoy wine seminars, a taster's banquet, live music, as well as cooking classes and demonstrations with amazing regional chefs. Enjoy fine dining in a casual atmosphere in the Glen Club Saturday night. Dinner will be prepared by Chef Paul Mach of Pennsylvania College and will feature regional food paired with specific New York wines. Seating is limited and advanced reservations are required. Register online or call 1-866-461-7223. New York Wine & Grape foundation will be presenting free educational seminars for Finger Lakes wine lovers. Classes are offered Sunday at 11 a.m., 12:30 p.m. and 2 p.m.
If all those fantastic cool climate wines like Rieslings and Chardonnays aren't enough to help you beat the heat next weekend, hop in a pace car and take a lap or two around Watkins Glen International! For only $10, you'll be able to see the world-famous road course from the same vantage point as professional NASCAR drivers. Jump in and hold on tight!
Whether you're whipping around the speedway, dancing to the live music, or sipping some Finger Lakes wines, you'll have a blast next weekend at the Finger Lakes Wine Festival!
Cheers to savoring summer in a glass!