You might think "beer" and "breakfast" would only be a natural fit for college undergrads and craft beer lovers. Leave it to Chef Debbie Meritsky of Black Sheep Inn and Spa to concoct delicious proof of just how well the two really go together.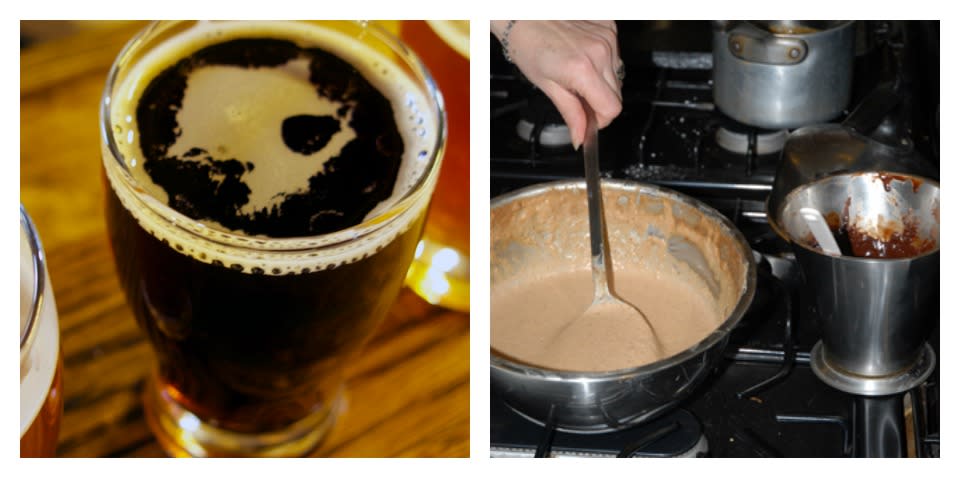 Falling Leaf Porter & Beer Batter Pancakes with Ganache
A graduate of the New England Culinary Institute, Debbie jumped at the chance to provide a recipe you can try at home. Of course, she recommends that you follow your own instincts and taste buds whenever using a recipe. Consider it more a guide than must-follow rules.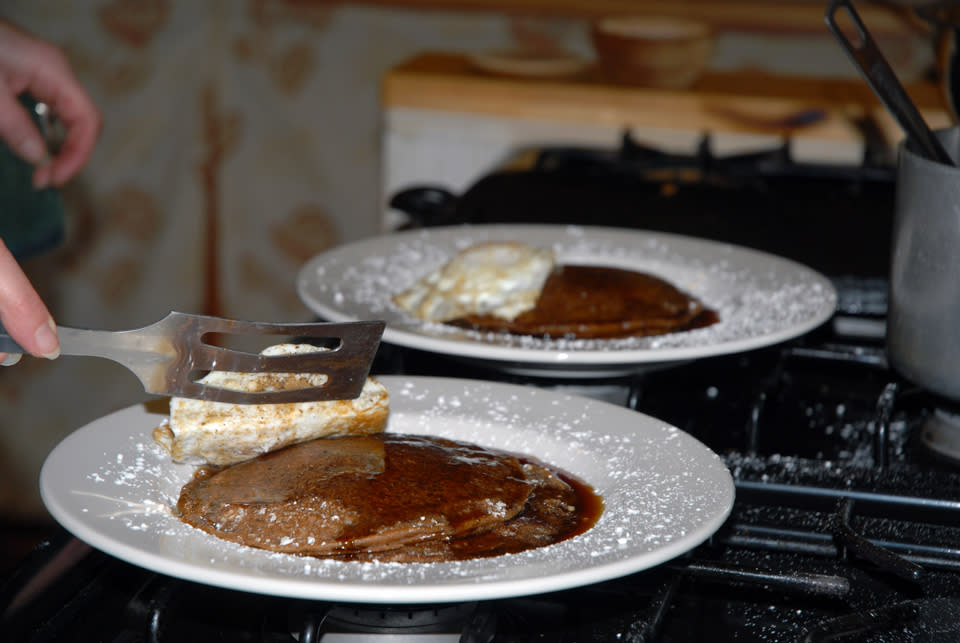 Beer Batter Pancakes with Ganache and Eggs
Beer Batter Pancakes with Ganache
Batter
The first ingredient you need is a good pancake mix. Debbie starts with the multigrain mix they have milled specifically for Black Sheep Inn.
Serves 4 people:
2 cups dry multigrain pancake mix

¾ cup oil – (Debbie recommends olive oil, but use your favorite)

1 cup beer – (Debbie uses

Falling Leaf Porter

from

The Brewery of Broken Dreams

– which has hints of chocolate and coffee flavors)

2 cups water (or other liquid of your choice)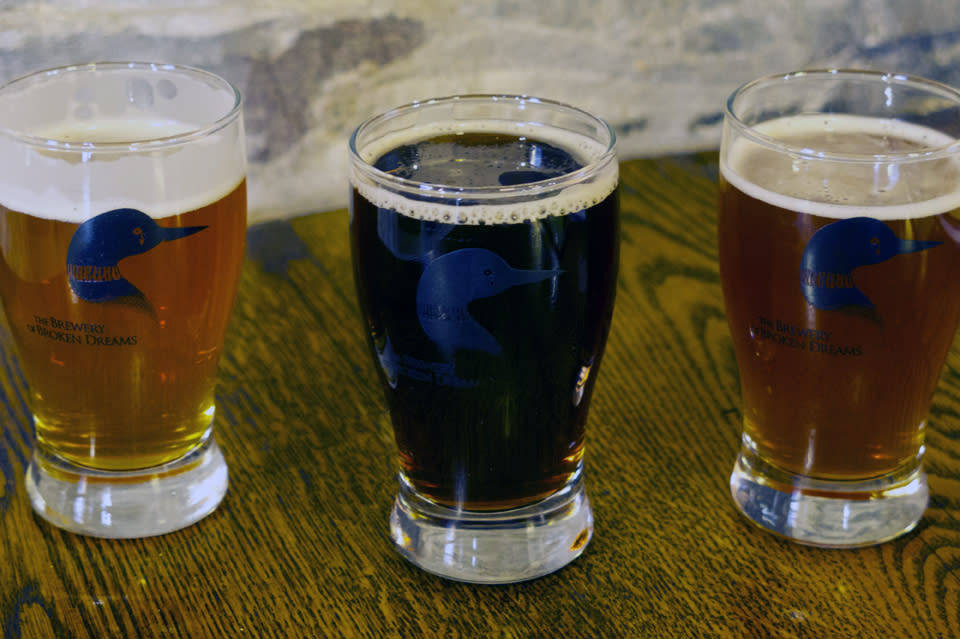 Brewery of Broken Dreams Flight of Craft Beers
Mix the batter in a large stainless steel bowl. Debbie prefers to let the batter sit on a counter overnight (covered with saran wrap) which allows it to thicken. When it comes time to make the pancakes you can add more liquid to adjust thickness if desired.
     TIP: - add ¼ cup Ganache (see recipe below) to the batter to accentuate flavors of chocolate coming out of the beer.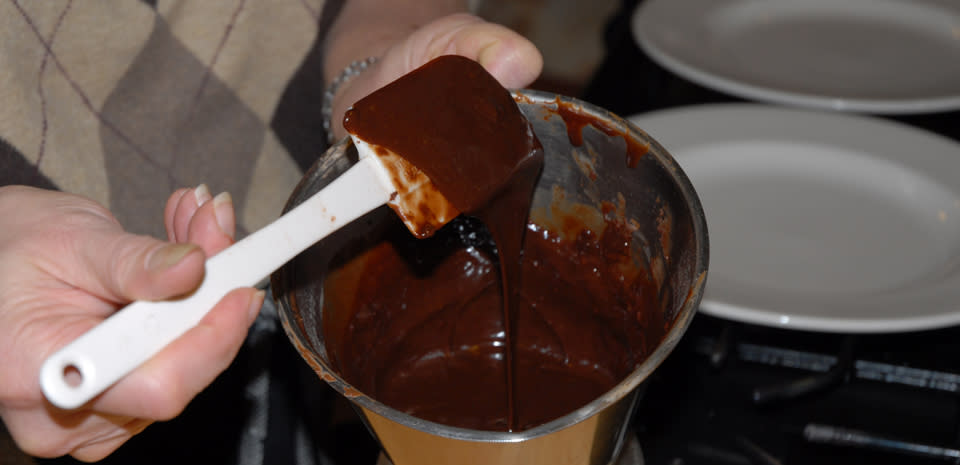 Chocolate Ganache from Chef Debbie Meritsky

Ganache
You can use your favorite type of chocolate – sweet, semi-sweet, dark.
Debbie used dark.
2 cups chocolate - chopped in a medium stainless steel bowl


   (chop the chocolate into small, meltable pieces)

1 stick organic butter - cut into chunks

2 cups half-and-half (or cream depending on your preference)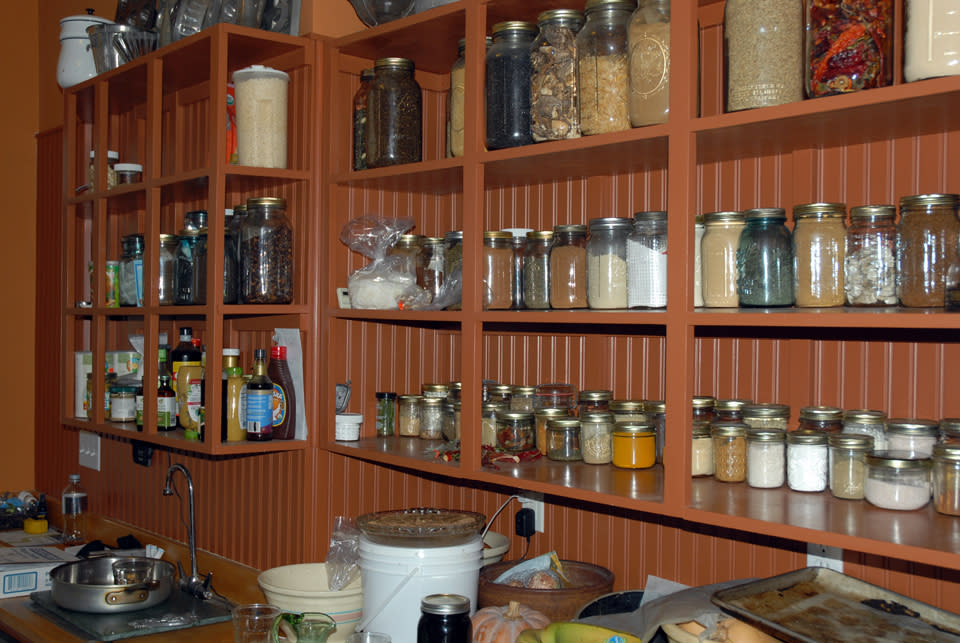 Black Sheep Inn and Spa Kitchen
Blend ingredients in a medium stainless steel bowl over a "hot water bath" (put a pot of water on a burner on simmer, hold stainless steel bowl over the hot water, and whisk for 10-15 minutes)
Leave the Ganache as is, or add additional flavors if you wish. Debbie adds a couple tablespoons of hazelnut.
As mentioned above, add a little Ganache to the batter and set the remaining Ganache to the side (keep warm).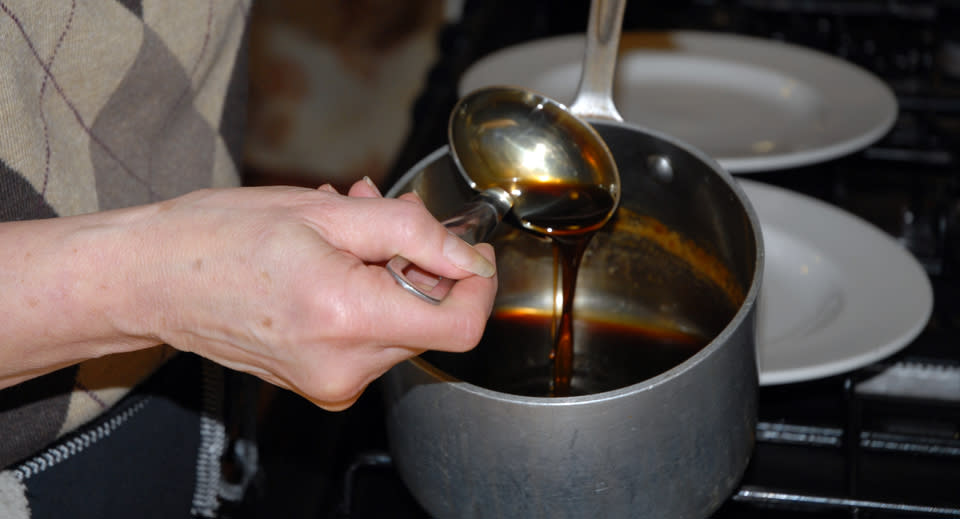 Maple Syrup With Falling Leaf Porter

Syrup
Debbie even enhances her syrup so it compliments the pancakes by adding in a little of the same tasty Falling Leaf Porter. She tries to use local ingredients whenever possible and this is true of the maple syrup as well.
2 cups local maple syrup

1 cup beer – Falling Leaf Porter
Reduce the syrup by 1/3 over medium heat. Use medium heat to reduce the syrup.
     TIP: - when reducing the syrup, place your pan halfway on a burner (so that half of the pan is off the burner). This prevents the syrup from bubbling and also provides a more rolling method to the heat.
For more flavor, you may want to add a ½ stick of organic butter.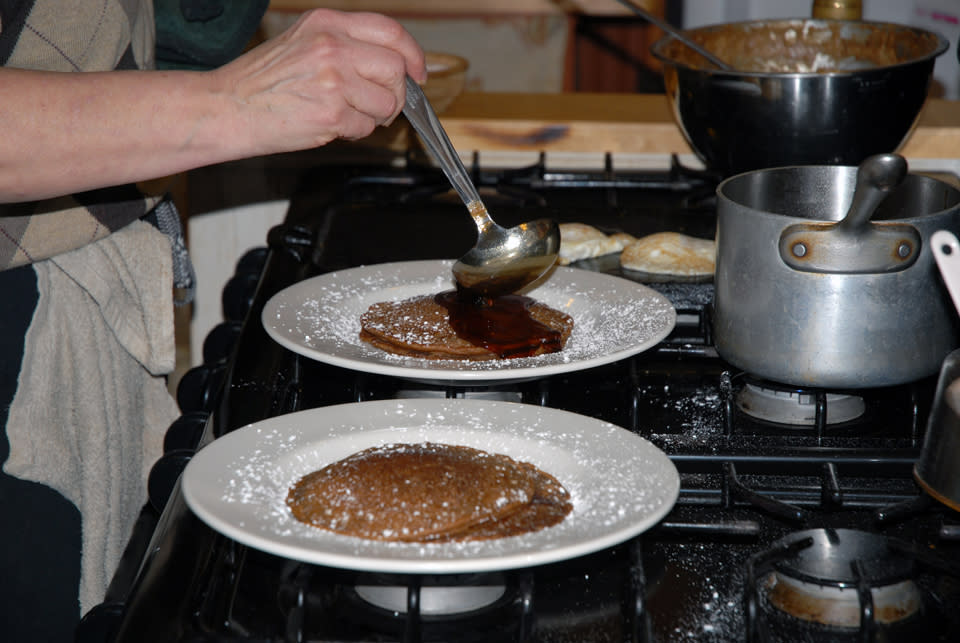 Chef Debbie Meritsky Ladling Syrup Over Beer Batter Pancakes
Now you have all the delectable components for the sort of pancakes that will have our family and friends still salivating weeks from now.
Drizzle Ganache Onto Center of One Pancake
Once you've gotten your perfect, golden pancakes, add a dollop of the Ganache onto the top of one then lay a second pancake over that. As you eat, the chocolate will ooze into the pancakes adding more of that wonderful chocolate flavor.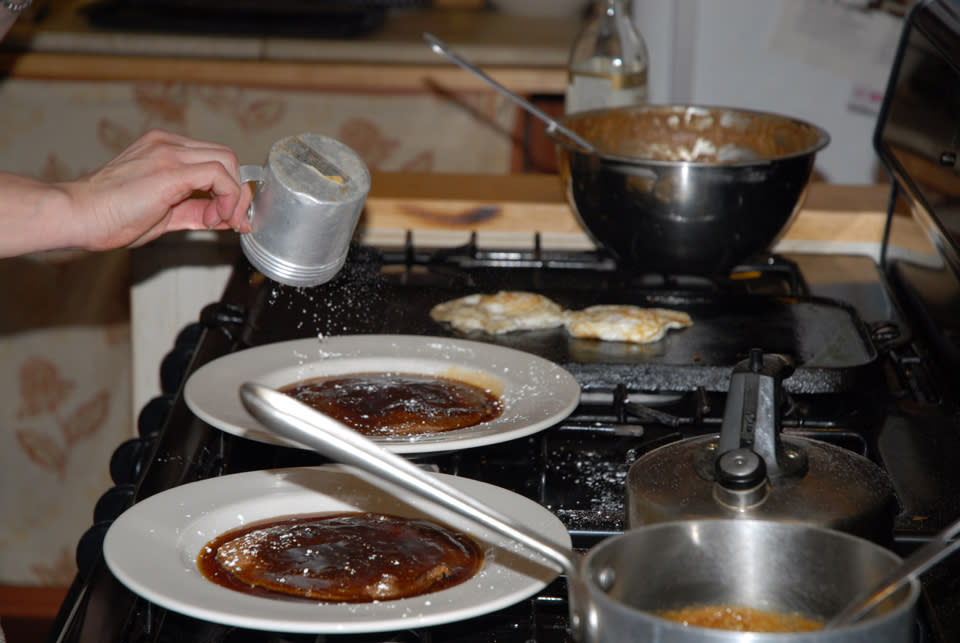 Chef Debbie Meritsky Adds a Touch of Sugar
Debbie sprinkles a little confectioner's sugar over the finished product, ladles on her special beer maple syrup, an egg cooked sunny-side up, and voila. Let the day begin!
*If you are interested in learning more about the bread and other baking mixes milled for the Black Sheep Inn and Spa, visit their shop online. Or better yet, call call 607.368.8471 and make a reservation for a fabulous getway and prepare to be spoiled.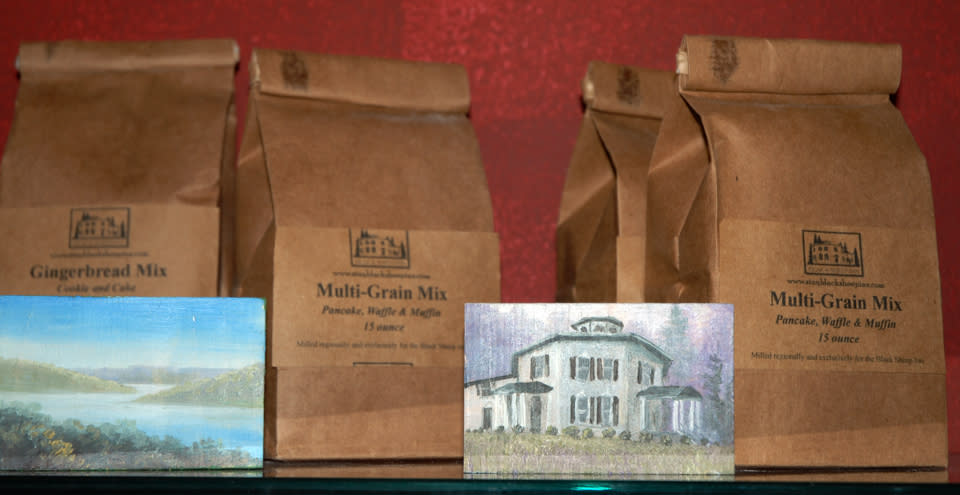 Bread and Cake Mixes at Black Sheep Inn and Spa
Some people just know what they're called to do from an early age.
Having loved food since she was seven-years-old, Chef Debbie Meritsky is one of those people. Before she was even a teenager, she held her first dinner party for ten people and was busy taking cooking classes every chance she could.
Yet, despite discovering her true passion at such an early age, it wasn't until Debbie spent time in college that she decided to devote herself to food.
She certainly picked a great place to start when she enrolled at the New England Culinary Institute. After she finished cooking school, Debbie took her culinary training even further by moving around the country and working in high-end chef-owned restaurants gaining valuable experience and expertise.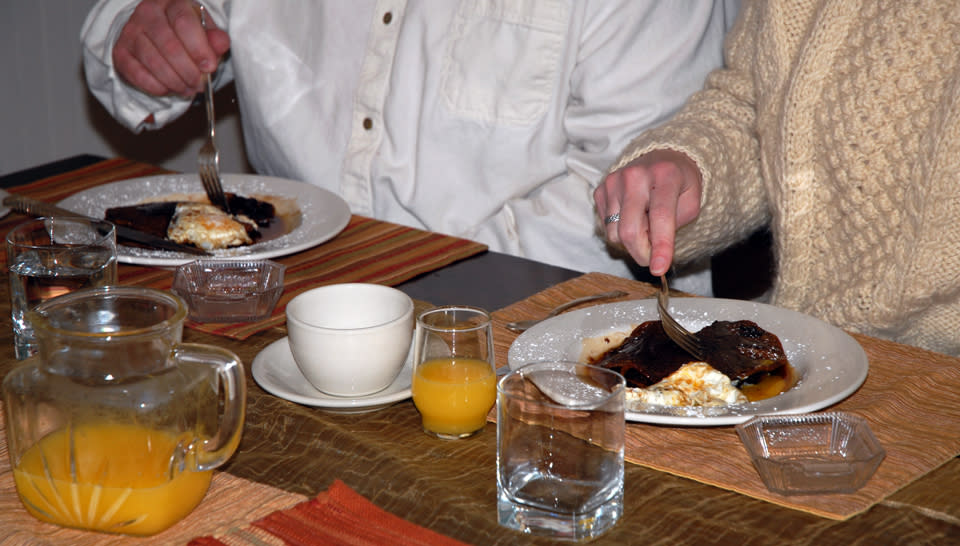 Couple Enjoying Beer Batter Pancakes with Ganache
By the age of twenty-six she was teaching cooking classes, working as a pastry chef, and starting her own private chef service – My Personal Chef, Inc. – which transformed into a full-service catering business as demand for her culinary creations continued to grow.
"Food is love," says Debbie. "It's sharing and it's communal. Wherever people gather, there is food at their table." Spend a little time with her and you'll soon realize that sharing her love for food and through food is at the core of who she is. It's behind everything she does.
Although her initial intention may have been to one day open a restaurant when she first went to school in Vermont, her views have evolved over the years which is why she's so passionate about teaching people about food, and about "why eating a 'Real, Clean Diet' is beneficial."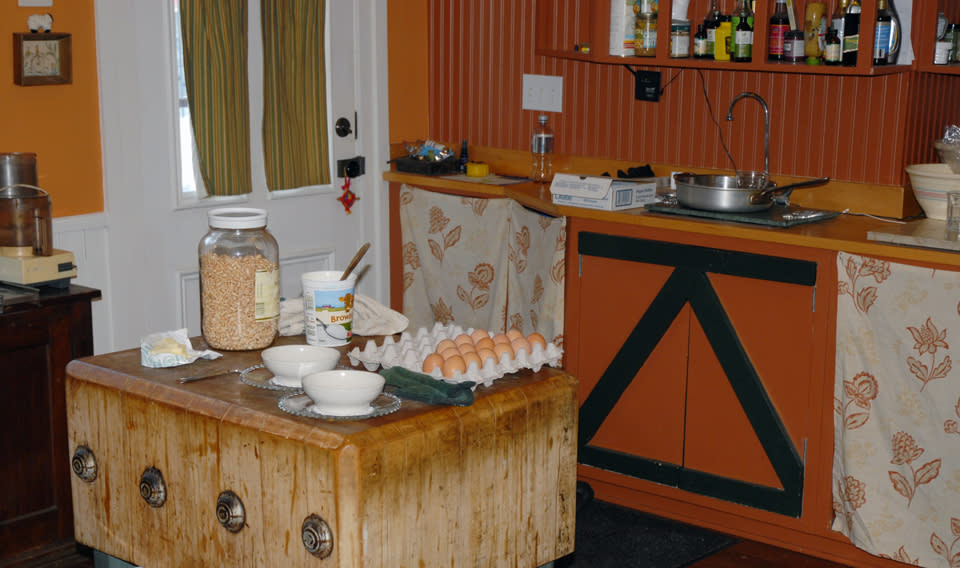 Black Sheep Inn and Spa Kitchen
"Food," she points out, "seems mystical to those who don't know much about preparation, sourcing, or how to introduce unknown ingredients to a recipe they love." That's why many of the conversations she has with the guests at Black Sheep Inn, and also during the one-on-one cooking classes she offers at the inn, are focused on teaching them the best practices, but also on showing them that "healthy" food isn't tasteless food.
Debbie is an advocate for Farm-to-Table eating which she claims "has more to do with the way our ancestors ate, allowing for our bodies to adjust and the land to heal and replenish."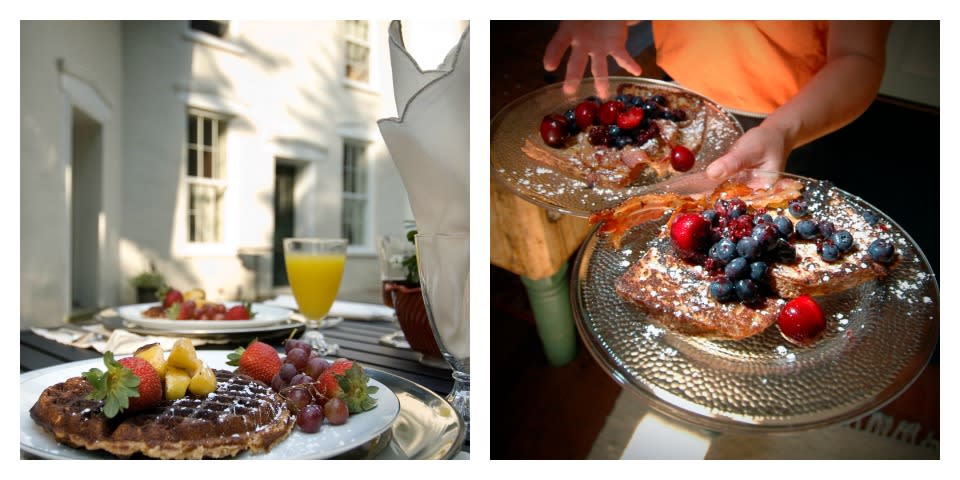 Black Sheep Inn and Spa - Two Breakfasts
Although Black Sheep Inn and Spa offers an amazing Farm-to-Table breakfast every morning, sourced from local farms within the Finger Lakes region, Debbie makes sure to learn about her guests' food allergies and dietary restrictions to ensure that they enjoy a nourishing, delicious meal, while maintaining their dietary protocols.
This very personal touch is an essential part of everything offered at the Inn, as Debbie and her husband, artist Marc Rotman, enjoy providing guests customized packages built around their interests, offering everything from spa treatment to stained glass classes to balloon rides.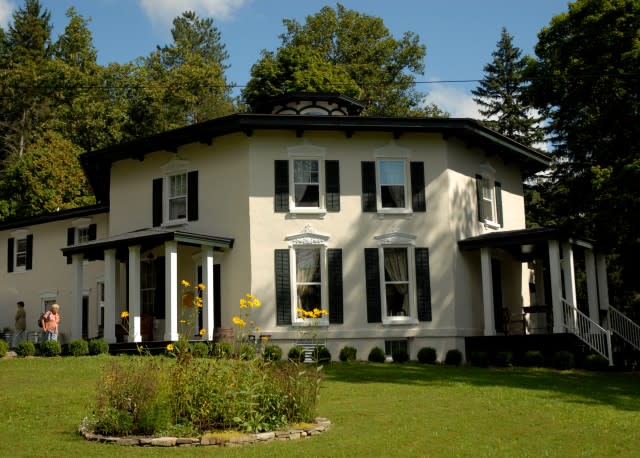 Black Sheep Inn and Spa
After an extensive restoration of an octagonal home originally built in 1859, Debbie and Marc opened the Black Sheep Inn and Spa to guests, offering comfortable upscale accommodations and distinctive services to discerning travelers visiting the Finger Lakes region.
Debbie's combination of creative thinking and the inn's location in "America's Coolest Small Town" allows her to take advantage of her culinary skills to offer her guests a wide variety of experiences. She and Marc have created an oasis from the stress of everyday life.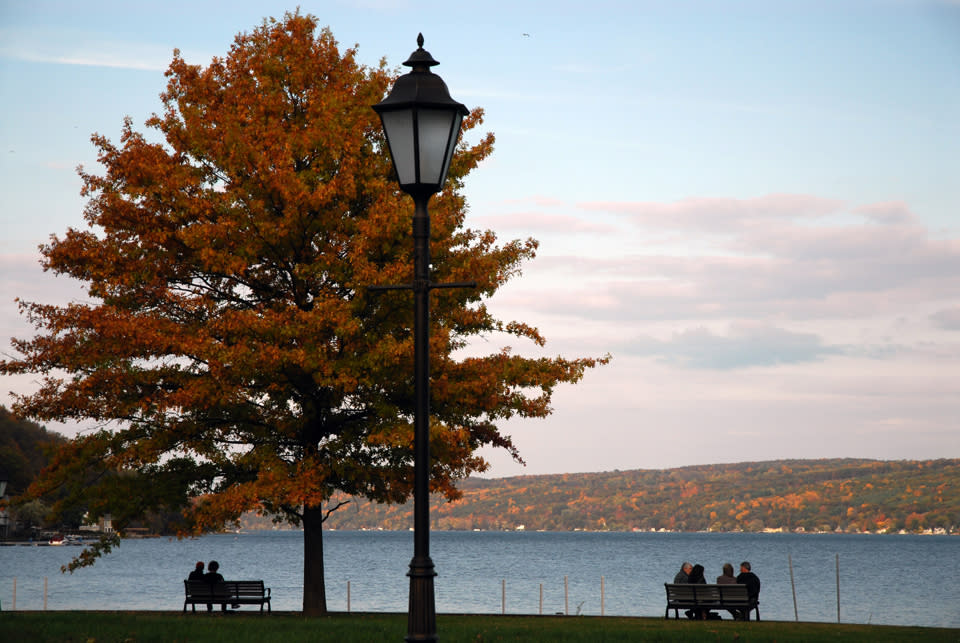 Hammondsport's Depot Park in Autumn
Although I didn't specifically ask Debbie for the secret to great food, she revealed it anyway.
When asked for a cooking tip she might share, in addition to the incredible recipe above, Debbie suggests stepping outside your "regular 'comfortable' day-to-day eating and preparation habits and trying something new, whether it's a 'recipe,' an ingredient, or simply who you're cooking for. And," she urges, "DON'T follow a recipe. Cook from your soul!"