The annual Seaplane Homecoming will return to the shores of Keuka Lake on Saturday, September 17. For the last eight years, the Glenn H. Curtiss Museum's event has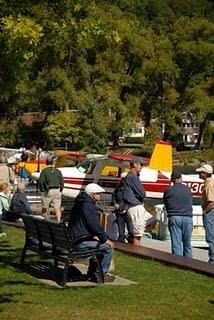 Seaplane Curtiss
delighted visitors with all kinds of demonstrations, games, rides, and food - and this year's "Splash-In" will be no different! Join in the celebration of 100 years of naval aviation (1911-2011), while welcoming in the beauty of fall in Corning & the Finger Lakes.
"The purpose of the Seaplane Homecoming is to honor the man, Glenn Hammond Curtiss, who inspired men to pursue seaplane development," reads the Seaplane Homecoming website. "He was, after all, the first to fly off water and had ideas well ahead of their time that are still used today in every seaplane flying."
The seaplanes will arrive on Friday and depart on Sunday, but Saturday is jam-packed with activities for adults and children alike. Saturday morning takes off with tethered balloon rides from 7-9 a.m. at the Hammondsport Fire Department carnival grounds. The cost is $10 per person. After floating back to earth, head into the fire hall to enjoy a pancake breakfast from 8-11 a.m. The cost for breakfast is $5.50. During the same time, enjoy children's games.
Helicopter rides will be offered at the fire department carnival grounds from 11 a.m. - 1p.m., and again from 2-4 p.m. For $60 per person, you can take a scenic aerial tour around Keuka Lake.
Other big events for the day consist of the "Seaplane Games" over Keuka Lake at 11 a.m. This is where pilots have to take off and land within a specified time span. They are also judged based upon how close they can touch down to a floating marker, which is called a spot landing. At 1 p.m., the seaplanes will all take off for the Glenn Curtiss "Salute." They will circle the crowd before heading down the valley toward Bath. Once they reach the Pleasant Valley Cemetery, they will fly past the Glenn Curtiss gravesite before returning to Hammondsport and landing near the depot.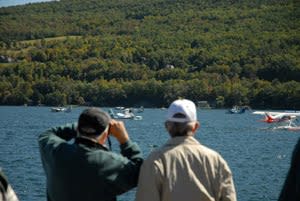 Seaplane Curtiss
At 2:30 p.m., local pilot Dale Kramer will demonstrate an electric-powered amphibious aircraft of his own design and construction during the Ultra-Lite Demonstration at Depot Park. It has been billed as the world's first aircraft of its kind. One of Kramer's designs is currently on display in the Smithsonian. Over the last ten years, he has perfected this new plane that flies at 30 mph. "It's so quiet that I can be 300 feet from shore and no one even knows I'm near," said Kramer who lives on property originally owned by Glenn H. Curtiss.
The day will conclude with a Pig Roast at 6:30 p.m. at the Curtiss Museum. Pre-sold tickets are $28, available at the museum, its website, and at the Hammondsport Chamber of Commerce.
"This should be a fun day at Hammondsport with lots to see and do," said Curtiss Museum Director, Trafford Doherty.