Can you imagine a more perfect day than one filled with wine tasting at vineyards dotted throughout the scenic landscape of Hammondsport and Keuka Lake? Well, it gets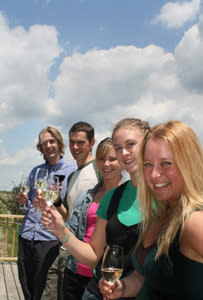 Wine tasting in the Finger Lakes
even better when the Keuka Wine Trail is involved. On March 31-April 1, you'll be able to not only taste superb wine at the eight participating wineries, but sample the culinary bounty of another wine region entirely: Italy.
When you attend Viva Italia! on the Keuka Wine Trail, attendees will enjoy some Italian-inspired dishes that pair exquisitely with Finger Lakes wine. At each winery, visitors receive a 6-inch plate with a sample of an appetizer, an entrée, and a dessert, which the winery pairs with a wine that best complements the food, explained Jody Tyler, who coordinates Keuka Wine Trail events. Visitors will also taste three other kinds of wine at each winery.
"Each of the eight member wineries around Keuka Lake will prepare a rich variety of food inspired by the flavors and cooking styles from different regions in Italy," said Tambi Schweizer, Tasting Hall Manager at Heron Hill Winery. Other participating wineries include Ravines Wine Cellars and Dr. Konstantin Frank Vinifera Wine Cellars.
Everyone who attends Viva Italia! will not only sample delicious dishes prepared with high-quality ingredients, but will be able to take home the recipes. The menu will include pasta e fagioli, gorgonzola tortellini, roasted red pepper polenta, zuppa di scarola, pistachio biscotti and lemon-almond cookies.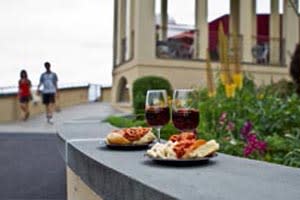 Finger Lakes Wine
Established in 1985, the Keuka Wine Trail "aims to provide a high-quality, lively experience where guests will feel excited by the food, wine and scenery, and stimulated by the conversation," Schweizer explained. There are six events each year, which draw roughly 6-7,000 visitors to Keuka Lake.
"All of the returnees are generally commenting on what delicious wines all the wineries have, saying things like, 'They have great wines and the services has always been warm and welcoming,'" said Schweizer. "'A must-stop on your tour of Keuka!' Another returnee raved about the amount of food they received, the wine tasting, recipes, etc. Great fun, great wine! They commented on how much they enjoyed the view, the wine, the drive and the smiles."
Both Schweizer and Tyler are excited to see what attendees think about the different regional styles of food. With such varied cuisine throughout Italy, the wineries have a lot

Finger Lakes Wineries
they can work with.
There are two ticket options for Viva Italia! Full-weekend tickets are $25 per person in advance with a $5 surcharge when purchasing tickets at the door. Sunday-only tickets are $19 per person. The ticket purchaser is assigned a starting winery, and will receive a souvenir wine glass when they begin the tour. Purchase your tickets by calling 800.440.4898. Tickets are also available at Wegmans customer service desks.
Whether you want to taste for the afternoon or spend two days sipping your way around Keuka Lake, whatever you do, spend some time discovering the beauty of the Finger Lakes region. Visit the Glenn H. Curtiss Museum in Hammondsport and learn about Hammondsport's rich aviation history. Spend Saturday night at one of our charming B&Bs, and awake Sunday feeling pampered and refreshed - and ready to take on another day of tasting the flavor of the Finger Lakes!
Bon appetit... and cheers! 
Heron Hill will be serving Penne Bolognese:
½ lb. lean ground beef
½ lb. ground pork
8 slices bacon, chopped
4 stalks celery, chopped
2 medium red onions, chopped
3 cloves garlic, minced
2 Tbsp dried thyme
3 Tbsp dried oregano
2 bay leaves
1 cup beef stock
4 cups chopped tomatoes
2 cups prepared tomato sauce
1 lb. penne pasta, cooked and rinsed
2 oz. freshly grated Parmesan cheese
Brown beef, pork, and bacon until fully cooked. Drain excess fat. Add celery, onions, and garlic. Sautee for 5 -7 minutes until tender. Add thyme, oregano, and bay leaves. Allow herbs to steep for several minutes.
Add stock, tomatoes, and sauce. After the sauce comes to a boil, reduce heat and allow to simmer for 45 minutes. Remove bay leaves before serving.
While sauce is simmering, boil water, cook pasta and rinse with hot water.

Top pasta with sauce and serve with cheese.