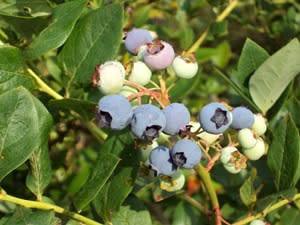 Parkland Berry Farm
There are some activities that just sing of the season, activities that offer hands-on fun for the whole family and the chance not merely to be out in nature, but to connect with it on a very fundamental level. Berry picking is one such activity.
I was talking with someone very special about berry picking and apple picking and she said, with an undeniable hint of youthful exuberance in her voice, "Yeah, but as great as apples are, you can't stuff whole apples into your mouth, and you don't get that ring of color around your lips, and your face and hands and tongue don't get stained from the juice." If you've ever been berry picking with a child, you know that's all part of the experience, all part of the fun. Of course, I know some adults who become children again when they're in the middle of a blueberry or strawberry patch.
There's something about picking your own berries that speaks to the past, as it allows us a return, so to speak, to our days as gatherers, to that inherent part of us that wants (and maybe even needs) to seek out food and to nourish ourselves. Most days, a visit to the local grocery store is about as close as we get to doing that. And usually we can find berries set up around the periphery of the grocery store - some organic, some local, and some that have been shipped in from far away. Buying local is becoming more and more of a trend these days and that seems to be as much about the health benefits of freshness as it is about supporting the local economy. Food doesn't get much fresher than when you pick it yourself right off the branch. You can find fresh berries and other wonderful fresh produce at roadside markets, but if you get the chance there's just something about walking among the bushes and being surrounded by all that possibility, selecting the plumpest, juiciest berries, plucking them with your own hands, stuffing them one-two-three at a time into your mouth, and every so often, of course, dropping one or two into the small basket used for collecting.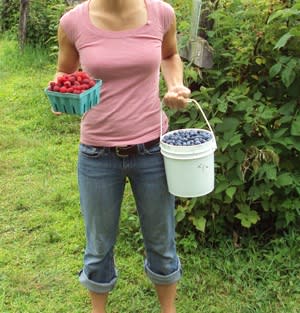 Parkland Berry Farm
Berry picking is about attraction and connection to color, size, shape, smell, and to more senses than you may even remember having because it's been so long since you used them all. We've gotten so good at stepping back from the natural world and yet it's such an inherent part of us that we imitate it everywhere, especially in the foods we eat. And sure, it's quicker, maybe even easier, and certainly less messy to buy the berries someone else gathered, but it's also so much less fun. Think about what berries are - little balls of juicy sunlight, little luscious lumps of life - and when you pick them, pop them into your mouth, that's about as close as you get these days to eating live food, to transferring all that living energy into your own body.
Those days you're out there picking with your kids or your parents or the one you love, that's as close as you ever get anymore to the food you eat. There's something very rewarding in that, something that just feels right.
Plus, there's no denying the laugh-out-loud-fun of watching kids as they inevitably try to see how many berries they can cram into their mouths or the way they try to sneak those morsels of color and light and succulence into the side of their smiles while watching from the corner of their eyes to see if it's okay. And how many places can you go where they know up front you're going to take more product than you claim (in some cases two to three times as much) and that's okay?
There are several fun you-pick berry farms in Corning & the Finger Lakes with an assortment of berries and seasons, but summer seems to signal that the time for picking is here. Get outside, remind yourself how much fun it is to walk among the thriving plants; to use that two-for-me one-for-us math you invented as kids; to berry-stain your hands, tongue, chin; to taste all that natural goodness; and to laugh and laugh!