Wineglass Marathon
Several months ago, we all made promises we were determined to keep. How are you doing on those New Year's resolutions? Lots of people list things like "save money" or "lose weight." For quite a few people, there's a big ambition on their list: to run a marathon. It's a lofty goal - one that will take a lot of hard work and dedication, but one that's most certainly attainable.
If you're one of these people, or even if you've run a marathon before and set a goal to run another, we're here to tell you why the Wineglass Marathon might be the one for you.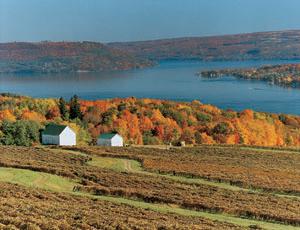 Fall in the Finger Lakes
1 - It's not just a race, it's a "destination marathon!"
In its 33rd year, the Wineglass has become a sought-after "destination marathon," attracting upwards of 5,000 runners from all over the country - and the globe. Set in the beautiful Finger Lakes region of Upstate New York, a fall backdrop provides stunning scenery for the flat, speedy race the first Sunday of October each year.
There are plenty of activities throughout the Finger Lakes region for runners and their families to take part in, either before or after the race. From making their own glass at The Corning Museum or Glass or Hands-On Glass Studio (where the award-winning marathon medals are made) to wine and beer tasting on Keuka and Seneca lakes, there's so much fun to be had on and off the course! Why not start planning your visit by requesting a travel guide!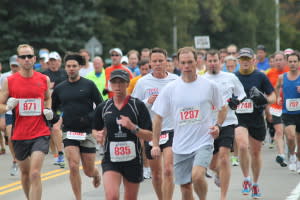 Wineglass Marathon
2 - "Small -Town Race; Big-City Feel"
We asked one of the race directors, Sheila Sutton, why someone who made a resolution to run a marathon should pick the Wineglass. "Wineglass Marathon is very well organized and has incredible volunteers from start to finish," she said. "It isn't so crowded that you can't 'run your own race' and achieve your desired goals. It's a lovely course that is also very flat and fast, making it one of Boston's top qualifying races.
"It's a 'small-town race' with a 'big-city feel' and lots of extras," Sutton continued. "There's fantastic schwag for all the runners. It's also a great area with lots for all to do. It is the perfect course if you are striving for a special time, or just to complete your first marathon/half marathon."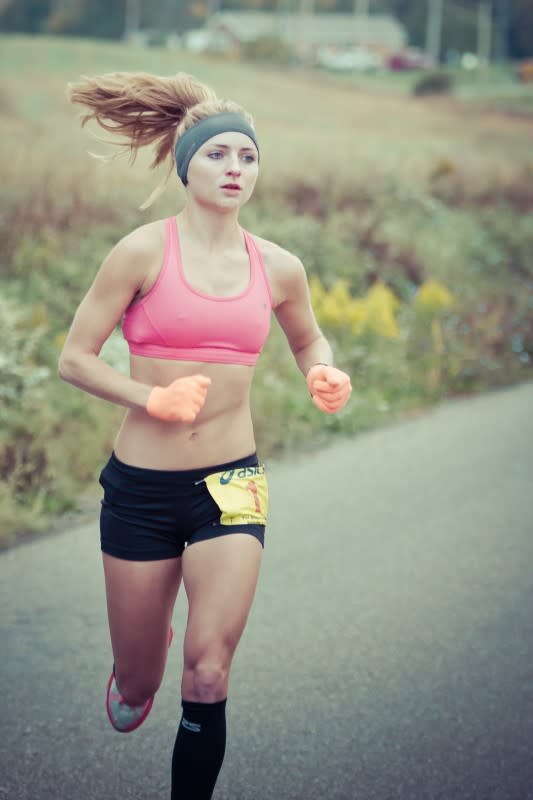 Wineglass Runner
3 - It's not too late to start training!
The Marathon is on October 5, giving you plenty of time to prepare for race day! Typically, training time ranges from 12 - 18 weeks. If there's one piece of advice Sutton can give first-time marathoners, it's to "do the work upfront and enjoy the journey."
"Find a good training plan and follow it," she said. "But don't beat yourself up if you miss a day here or there." She noted that the book Four Months to a Four-Hour Marathon by David Kuehls serves as a great beginner's training program. Runner's World Smart Coach is also a great plan to follow. If you need some extra support, find a running club to train with. Share some other great training plans/suggestions in the comments below!  
While you're training hard, make sure to register for the marathon (or even half marathon if you're not sure you're ready to conquer a full). Both races sold out by Memorial Day last year, and are on track to do the same again this year.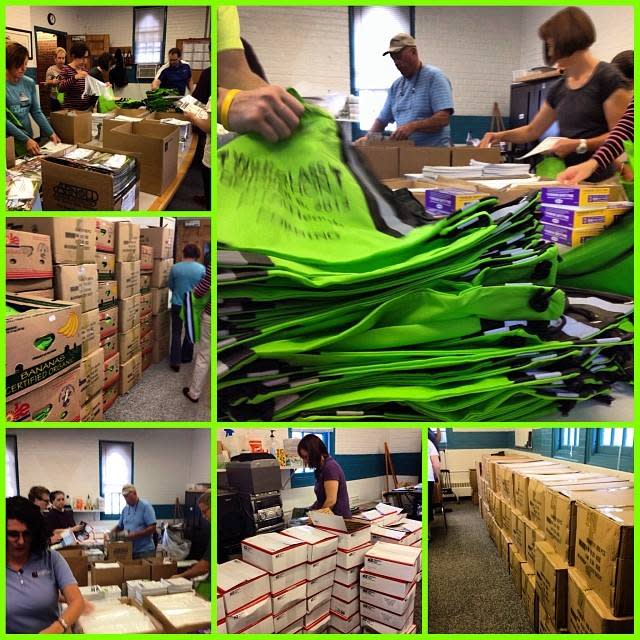 Volunteers hard at work stuffing bags of goodies for the runners!
4 - The volunteers are AWESOME!
It takes a lot to put together an event like the Wineglass, and the volunteers do not go unnoticed by the runners. In fact, the majority of the comments mention them! "When I ran Wineglass this past go 'round, I was blown away by how great the volunteers were," said one runner. "I may have asked one to marry me!" This year's marathon will require more than 2,500 volunteer shifts to make it all possible. That's about one volunteer for every two runners - quite an impressive ratio. The community support that's involved in the Wineglass Marathon is truly something that makes it stand out among races.
If you know anyone (even family here for race day) who would like to volunteer, please have them sign up for a spot!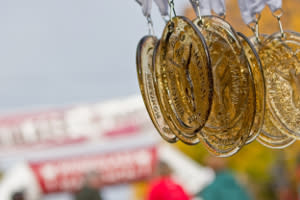 Award-winning glass medals
5 - It's a pretty big deal!
Now's the time we get to toot our own horn. If you're not convinced yet, perhaps you'd want to be a part of the race named "Speediest" Marathon by Runner's World, with the "Best Schwag" (also Runner's World), and the race with the 7th highest percentage of qualifying runners for the Boston Marathon. The hand-crafted glass medals have also been on the list for best marathon finishing medals several times in Marathon & Beyond magazine. The Wineglass Marathon also has the highest percentage of female runners for any race that isn't an all-women's marathon, with 54 % women on average for the full marathon. If that's not enough, Away.com named the Wineglass one of the Top Ten Destination Marathons, right up there with the Bermuda Triangle Challenge, the Rock 'n' Roll Las Vegas Half Marathon, and the Athens Classic Marathon in Athens, Greece. Oh, and did we mention you end the race on Market Street in downtown Corning, recently named the Most Fun Small Town in America!?  
So, are you ready to sign up? If you promised yourself you'd run a marathon this year, it's definitely not too late to start working toward your goals for Wineglass Weekend.
Have you run the Wineglass Marathon before? What makes it a good race for a first-time marathon runner? Offer some words of advice and encouragement in the comments below!