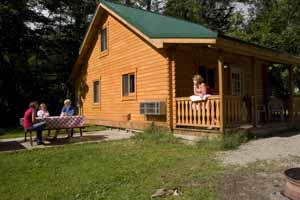 Hickory Hill Family Campground
With the nice weather we've been having lately, many folks are starting to think about outdoor activities! For this week's blog, I knew I wanted to talk about camping, since it's something so many people love to do during those hot summer months. And, of course, now's the perfect time to plan your trip! However, the extent of my camping experience came from the time I pitched a tent in the backyard, and lasted about an hour before bugs and rain chased me inside. Thus, I knew I needed to call in an expert.
My co-worker Danielle is a lifelong camper, so who better to ask for advice on sleeping under the stars?
"I love camping in the Finger Lakes because of the natural beauty," Danielle said. "I grew up here, and normally, take our scenery for granted. Camping makes you realize and appreciate just how much outdoors we have, and how unspoiled and stunning parts of it are!" Check out our beautiful campgrounds in Corning & the Southern Finger Lakes!
When asked about the best advice she'd give people looking to camp in Corning & the Finger Lakes, Danielle said, "We have full-service, family-oriented campgrounds for beginners/novices/rookies, but we have rustic settings for the experts and truly adventurous. Steuben County has camping facilities for all experience levels, with a variety of activities both on property and within a short drive from all of them. Just get out and enjoy nature, your friends, your family - camping gives you a different view of the people in your life, the area you're in, and yourself."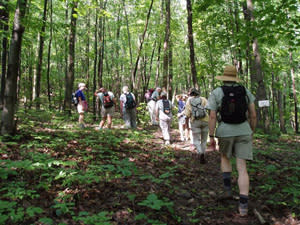 Hiking in Corning & the Finger Lakes
Danielle said she's a "stress relief, need quiet time" kind of camper, and usually plans her camping trips very spur-of-the-moment. She prefers a secluded, wooded spot. "I'm not a big fan of pitching a tent in the middle of an open field with 100s of other campers," she said. "If I'm camping with a rowdy group of friends, we will ask the park management for their suggestions (sometimes, they have designated areas for grownups vs. families). But, if I'm traveling alone, I try to be closer to 'civilization' (i.e. camp store, road, or other campers).
"And yes, I, as a single female, have gone camping alone," she added. "Built my own fire and everything. Girl power! I see every solo camping trip as a personal challenge, and, whether anyone else understands my motivations or not, I feel like I have conquered something, and proved something to myself."
I asked Danielle what campers tend to do while on a trip. Do they like to visit Finger Lakes attractions or just soak in the great outdoors. "If the weather is nice, I prefer to spend my camping weekends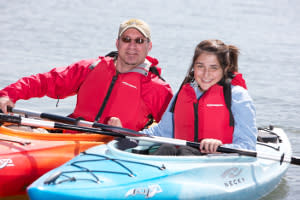 Southern Tier Kayak Tours
outdoors - hiking, biking, kayaking (and yes, I bring all that stuff with me, too), and less strenuous bird watching and plein air painting (watercolor)," she said. "But, if I were away from home camping, and the weather turned bad, I would definitely want to explore the local 'must-sees,' whether that means museums, shopping, or wineries/breweries."
Danielle said many people wonder why she would want to camp within 20 miles of home when it's a lot of work to pack and set everything up. "Camping really gets you into the middle of the natural beauty of an area," she said, even if that area is the next town over from where you live. It gives you the opportunity to see different scenery, meet different people (campers come from all over to Corning & the Finger Lakes!), and get out of your everyday routine. I personally find it great stress relief, and I love the feeling of getting 'lost' and being off-the-grid."