My mom had some. Her mom had some, so did my dad's mom. Just about everyone's mother or grandmother had some at one point or another. I mean, this year marks the 100th Anniversary since they first appeared.
Chances are I'm not the only who associates those special glass dishes with so many fond memories.

Pyrex courtesy of The Corning Museum of Glass
When I was a boy, I spent a great deal of time with both of my grandmothers. Even though it 's been years since either of them was around for me to visit, that doesn't keep me from sitting back every so often and remembering each of them in their element.
I'm talking about the kitchen, of course.
Although they were two very different people – their ethnic and cultural backgrounds, as well as their personalities – they were actually quite similar in three very important ways: they were two of the hardest working people I have ever known, two of the most loving people I have ever known, and two of the best cooks I have ever known.
In the kitchen, they were very much alike. Not in the types of food they made, but in the absolute deliciousness of that food and in the dishes they used to create such wonders.
I remember the pattern of one dish in particular (see top) from my mom's mom's kitchen which made its way from the oven to the dining room table carrying scalloped potatoes or mac & cheese or various tasty casseroles for us to devour.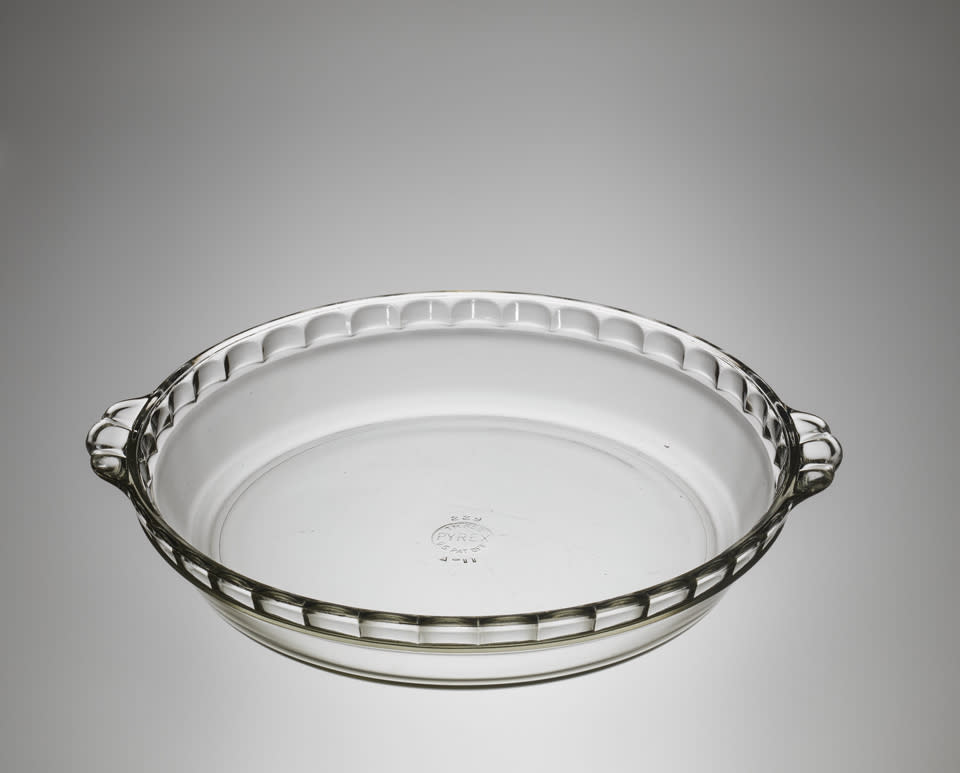 Pyrex Pie Dish courtesy of The Corning Museum of Glass
That gram also used a clear Pyrex baking dish to create wonderful desserts, especially her famous apple and rhubarb pies (my mom's favorite).
I had no idea at the time of the interesting story behind the glass that was behind all that incredible food. Quite frankly, the only thing I cared about back then was the precious cargo those dishes carried whenever they were in use.
But the story is certainly worth sharing. You might wonder what trains and cake have in common. Fortunately for many of us the answer is Bessie Littleton. Wife of a scientist at what was then known as Corning Glass works, Bessie "asked her husband to bring home some heat-resistant glass to use in place of her broken casserole dish. He gave her the sawed-off bottoms of some battery jars (which had been developed for the railroad to use as lamps) and Mrs. Littleton used the glass jars to make a cake. She marveled at how evenly it baked, how she could actually see it baking in the oven and how easy it was to clean."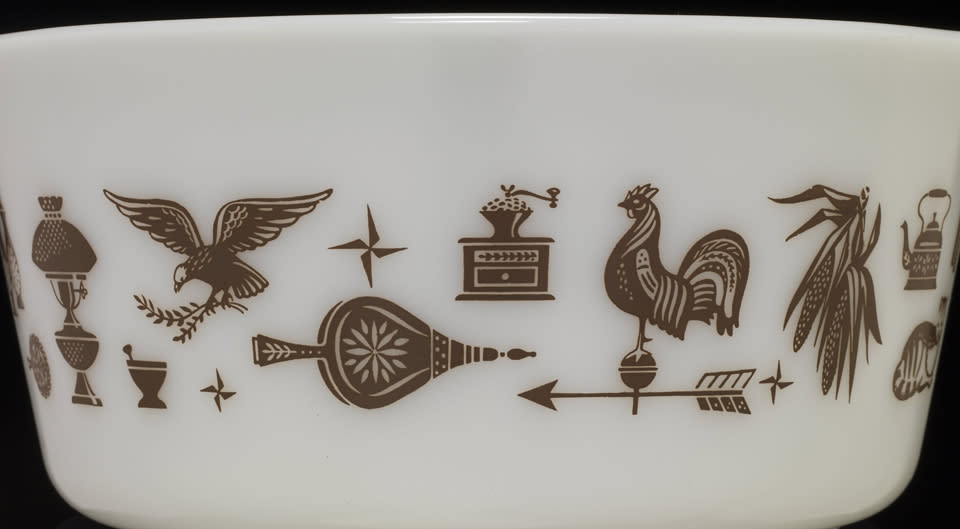 Pyrex courtesy of The Corning Museum of Glass
The rest, as they say, is history – quite literally. A history many of us share to some degree.
I remember my other Grandma's Pieroggi's and Kielbasa. And sure, once in a great while, she'd make a meal I didn't want to go near, because it had a name like pigs-in-a-blanket, but nearly everything else that came out of that kitchen found its way into my belly at some point and I was grateful because of it.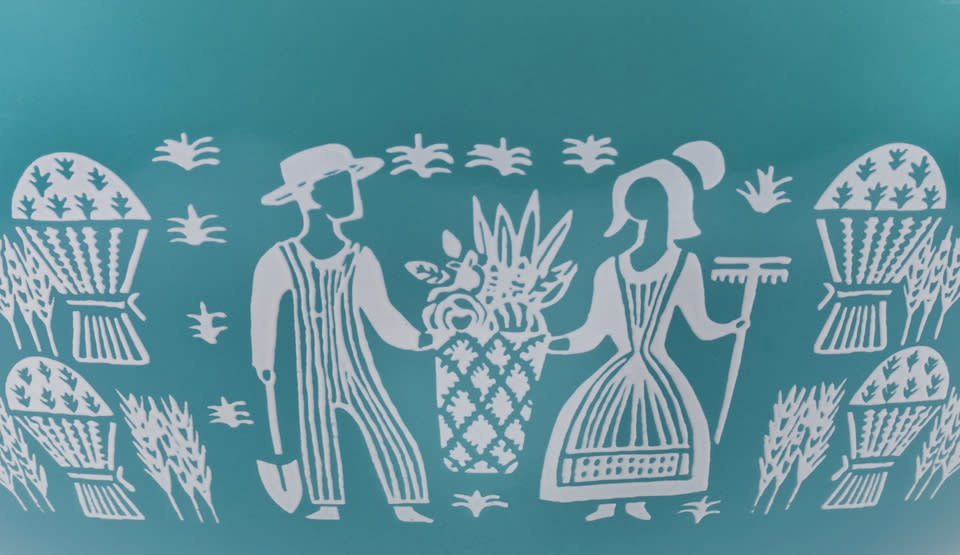 Pyrex Mixing Bowls courtesy of The Corning Museum of Glass
I remember helping both grandmas and my mom mix cake batter or batter for cookies or banana bread in bowls with the pattern above while certain other Pyrex dishes were always used for leftovers. We still have a couple of those.
Both of my grams and my mom had the Pyrex measuring cups. You'll find mom still using hers, especially during the holidays.
I wonder if she's going to visit The Corning Museum of Glass to see the World's Largest Measuring Cup as it tours the area. If you're coming from out of town, no worries. There's even a special A Century of Pyrex Getaway Package that includes a ticket to CMOG, a pie-crust making class, and more.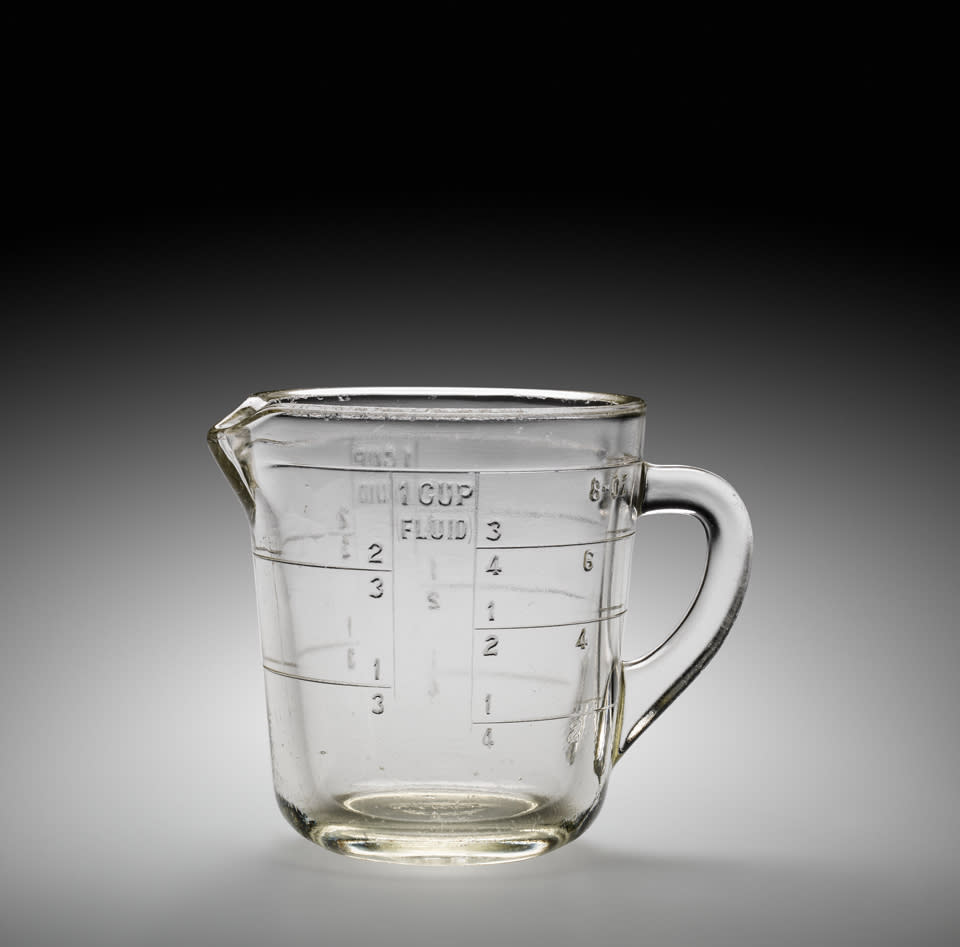 Pyrex Measuring Cup courtesy of The Corning Museum of Glass
The Corning Museum of Glass is celebrating the 100th Anniversary of Pyrex with a special exhibit of many of the popular patterns created by Pyrex over the years in the Rakow Library at Corning Museum of Glass. Give yourself some time to visit the library and see how many dishes you recognize. In association with the exhibition, CMOG is launching Pyrex Potluck, a website featuring over 2,000 Pyrex items in the Museum's collection sortable by pattern and date. You can also explore patterns and recipes. Learn more here.