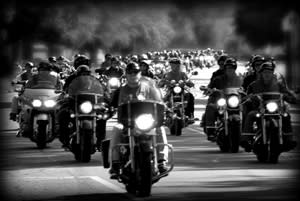 Motorcycles in Canisteo - photo by Kiersten Ordway
"Only a biker knows why a dog sticks his head out of a car window."
I came across the anonymous quote above and three others today that got me thinking about this week's topic. Each of the quotes - like "Four wheels move the body. Two wheels move the soul." & "Whatever it is, it's better in the wind." - reveals some of the reasons why motorcycles are so much fun. Just look at a motorcycle and you start to understand how there's this incredible sense of freedom when you're out on the road, just you and your bike and the wind. Riding is more than merely transporting oneself from one place to another. It's an experience. It's an attitude. It's an expression of one's personality. There's an intimate connection between the rider and the world that comes from being exposed like that, from riding twisty country roads, from being able to enjoy those stop-on-a-dime awesome views you just can't get in a car.
Each year, the Glenn H. Curtiss Museum in Hammondsport sponsors several exciting events including the Curtiss Classic Motorcycle Rally which is "a one-day get together for motorcyclists (and the general public) that includes antique engines, motorcycles, and food," said Museum Director Traff Doherty. A "reduced admission to the Curtiss Museum and its unique collection of early motorcycles is offered," Traff added, "to anyone arriving on a motorcycle."
Having been to the museum a number of times, I'm somewhat familiar with many of Curtiss's accomplishments, but some people might only know him as an aviation pioneer. I asked Traff a few questions about the event and about Curtiss and this is what he said:
Glenn Curtiss was "among the earliest American motorcycle manufacturers. He went into production in 1902 - a year ahead of Harley-Davidson. He held numerous speed records in the years prior to 1910. In 1907, he established a world's speed record on his V8 -powered bike at 136.4mph - a record for motorcycles that stood until 1930." When you're at the museum and you see the motorcycle Curtiss built and rode you can't not shake your head in wonder. "Until 1911," said Traff, "Curtiss was 'The Fastest Man on Earth.' In that year a car went 141mph. He was a successful motorcycle manufacturer who sold bikes nationwide. In 1910, he decided to move into aircraft manufacturing and by 1912 he was building airplanes full time."
His motorcycle exploits, said Traff, "are generally unknown to anyone other than those who are into motorcycle history. His aviation accomplishments are of a much larger scope. He is considered to be the Founder of The American Aircraft Industry and the Father of US Naval Aviation. Unfortunately, despite their magnitude, these facts are also generally unknown to anyone other than aviation buffs. This all changes when they visit the museum, however."
I asked Traff what some visitors enjoy most about the rally and about the museum. He said, "attendees like the Finger Lakes area for riding. They also enjoy the museum and have a great time visiting with other motorcycle enthusiasts."
"Is there anything in particular about Glenn Curtiss that you admire?" I asked.
"He was totally up front in his dealings with other people," said Traff. "He believed in fair competition - if he had a good product, with which he could beat everyone in sight while racing against them, he would sell it. This philosophy served him very well throughout his life. He was also utterly fearless."
Motorcycle enthusiasts can enjoy a day of riding along some of the most scenic roads in upstate New York. And they, as well as the general public can visit the museum of motorcycles, vintage cars and airplanes, interesting exhibits about local history and so much more.
There's a reason some people believe "the best alarm clock is sunshine on chrome." Whether you're a motorcycle enthusiast or not, there's a lot of fun to be had at the annual rally in Hammondsport on August 7th. For more information visit the SCCVB's new website or call 1-866-WINE-FUN.