Verticality!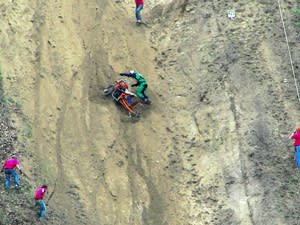 Poags Hole Climb - photo by Karen Mellott
Not only is it fun to say, it's flat out cool to experience. Just the word itself has a charge to it, like there's all this energy working its way up to the surface, up to the very top of something. There are phrases that have become part of the vernacular - "over the hump" and "it's all uphill from here" - to suggest, not only the many obstacles we face in life, but also the human capacity to overcome them. The mountain or hill is a symbol for the biggest or ultimate challenges in our lives. Of course, some hills are very real challenges and one day each year the hill at Poags Hole in Dansville, NY draws people from all over the country for the ultimate test: as riders see if they have the right combination of skill and machine and not just a little of that daredevil spirit needed to tame the hill.
There's a reason an ESPN crew descends upon this small community each August. It's the explosive energy of thousands of people crowded together, rain or shine, along the rural countryside to watch as, one after another, helmeted thrill-seekers hurl themselves up the nearly 90 degree slope as fast as they can. It's part visual spectacle - a sea of bikes and bodies, shredded dirt filling the air, near successes, airborne mishaps, cyclists speeding around inside the "ball of death," not to mention the many heavy tumbles into the angled earth. It's also part emotional experience as the adrenaline rises in everyone there, for each time someone takes to the hill there's the potential for mayhem, for bike and rider to be launched in uncontrollable directions. With that, of course, is the inescapable excitement that comes from watching as someone conquers the hill. The goal, after all, is to get from the start to the top quicker than anyone else.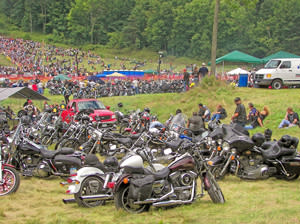 Poags Hole Climb - photo by Karen Mellott
Poags Hole Hill Climb doesn't just bring together people from all walks of life, from all corners of the country, but it also brings together people from every generation. It's a feast for bike enthusiasts with all eye-popping modifications (the incredible tires, the elongated frames, the powerful engines). Even if you aren't a dirt bike aficionado, there's no denying the excitement in the air. Or the appeal of people-watching (and there's quite an assortment of people to watch). Cycle clubs gather for the event, hundreds of people camp out on site and at nearby campgrounds. Accommodations are also available in nearby hotels and B&B's. And don't forget the almost too-good-to-believe kettle corn they make right there.
Click here for more information about other cool things to see and do near Poags Hole.