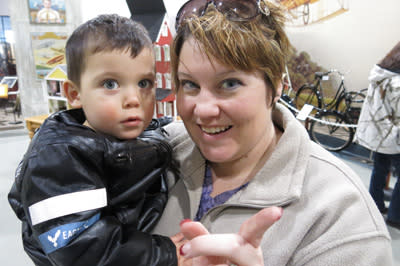 Erin and Baby J at the Glenn H Curtiss Museum
Disclaimer: I have a 2-year-old child but that, in no way, makes me any kind of expert in anything parental. I don't read parenting articles or know anything about children other than they're small and weird. I do, however, love introducing him to my favorite things in Corning & the Southern Finger Lakes! When possible, I will consult real experts to talk about the things older, but still small children like to do that mine can't do yet so as to provide a more well-rounded glimpse at family-friendly attractions. 
I love the Glenn H. Curtiss Museum in Hammondsport. It is a giant warehouse of motorcycles, planes, boats and odd historical pieces that, when combined, have a mesmerizing effect on museum visitors. Who knew people made hair wreaths back in the day? But something I know about antiques and kids is that they don't play well together. So, I was a little trepidatious when I brought my husband, Jason, and Baby J to the Curtiss Museum for some exploration. 
I do have to say, there are parts of the museum that are not for the little-little kids. It's hard to explain to my son that while the Curtiss V-Twin from 1909 is really cool, it's not for touching. Can't he read the sign? I got his hopes up, then promptly crushed them before moving on to the airplanes - where he CAN, in fact, touch stuff! There is a replica of a Flyer that lets you get in the seat to try your hand at steering a plane. Baby J was a little small to reach the pedals but he found his dad's attempt to pilot the plane absolutely hilarious.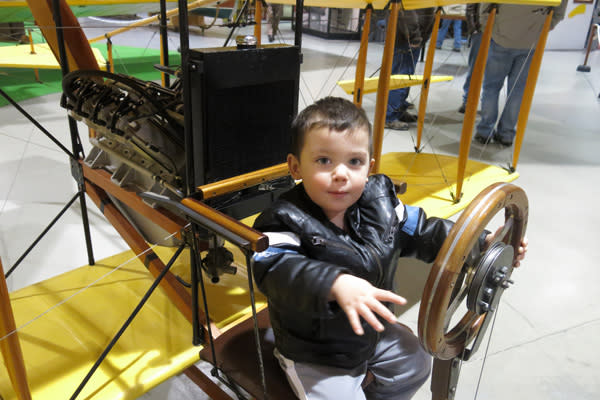 Baby J tries steering a plane
Then it was on to the Innovation Center where we stayed for an hour! There is so much to do in that one area for kids of all ages. All the science behind flying is represented in a fun way. Kids love the small planes to ride, and delight in trying the flight simulators, jetting off to exotic locations around the world. Baby J liked the cockpit where you can try on the different hats and aviator gear that comes with flying a plane. Jason introduced him to a toy plane similar to models our grandparents played with as kids - you know the ones that don't actually fly, but come with a lever to steer the plane around?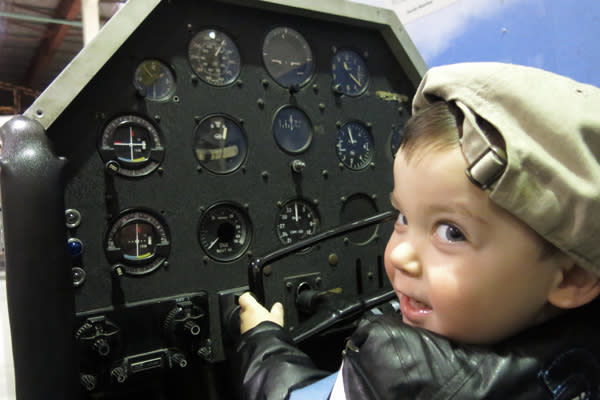 Baby J in the cockpit
This section is great for kids because they can move from one toy plane to another within this fenced-off area, and tired parents can sit for a few minutes. There were a few things in the area that I think Baby J will appreciate more when he's older, like the magnetic toy sandbox or the engines that you can run. I suppose that just means we can look forward to future visits to the Curtiss Museum when he can engage more with the hands-on experiences.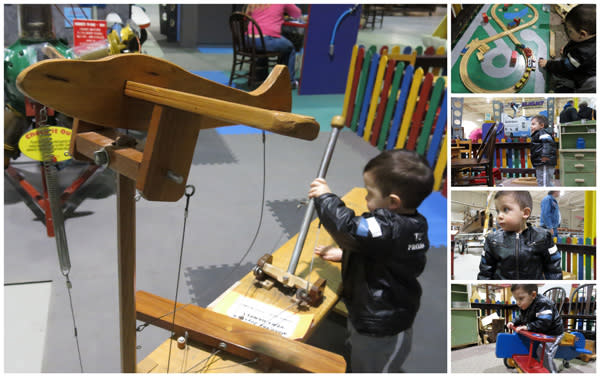 Fun at the Glenn H Curtiss Museum
I asked the director of the Curtiss Museum what appeals to slightly older children, and he mentioned they really enjoy viewing the displays of antique toys, model ships, planes and trains. Other favorites are the sizable collection of miniature doll houses, a Civil War cannon, and things in the changing exhibition space. Currently on display are props from adventure movies, including skulls, bugs, and snakes - oh, my! 
 If you want to make a day of your outing to Hammondsport, you can follow in our footsteps and visit the Bath Fish Hatchery, about two miles away from the Curtiss Museum. Baby J loved watching the trout swim around their tanks - and he especially enjoyed feeding them fish food! He used up every quarter we had in our possession to watch the frenzy that occurred as the fish swarmed to grab the food.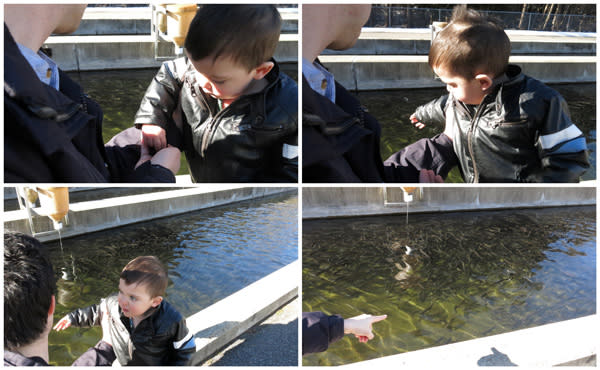 Feeding the fish at the NYS Fish Hatchery
 I tried to ask Baby J where our day in Hammondsport rated on a scale of 1 to 10 but all I got out of him was "Mommy" and some gibberish that implied he wanted a drink or Spider Man is eating butter. He needs to work on his communication skills.