When I was a kid growing up, the only place to see Santa Claus was the mall. You stood in a line, saw Santa, got your picture taken and that was it. Now, Santa is everywhere and as a parent, I have been on a quest to not only find the perfect Santa but the perfect photographic experience that makes Santa magical! (I may have watched too many Hallmark Christmas movies.)
Since my job with the Conference and Visitors Bureau is to update the list of where to find Santa, I know there are plenty of magical opportunities to get that perfect photo. I just have one teeny, tiny problem: Baby J is terrified of Santa Claus.
I get it. Santa is a weird, old guy with a long beard who's not his grandfather. But that didn't keep me from trying.
His first Santa was at the Holiday Open House in 2012 at the Corning Museum of Glass. I was singing holiday tunes with my chorus and we always get our photo taken with Santa and Mrs. Claus in front of the glass ornament tree. They love the music and sing along with the different groups that rotate in the lobby where they sit. Baby J was 9 months old at the time so rather than feeling scared he was more confused.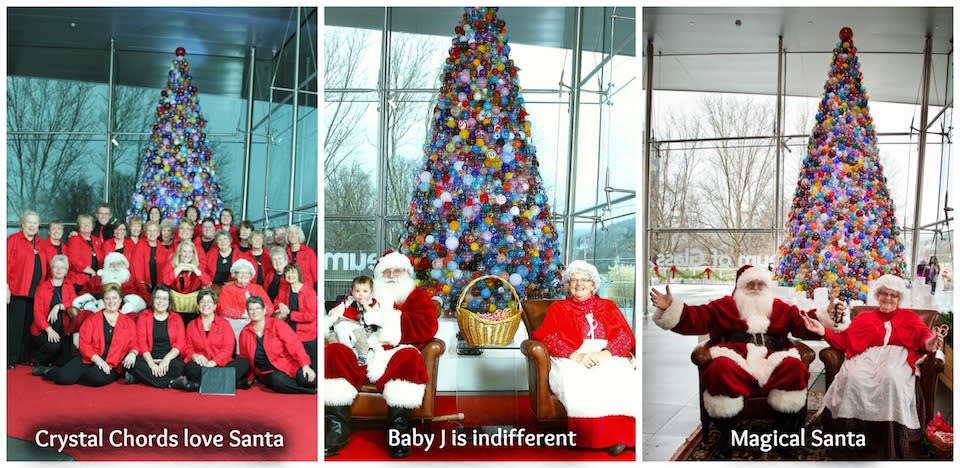 Magical Santa courtesy of The Corning Museum of Glass
Then in 2013, we saw Santa at Centerway Square in Corning's Gaffer District. Santa is there every weekend from Thanksgiving through Christmas but we went during his kickoff event at the Parade of Lights. No matter how cold it is outside, Santa and his elves have a nice, cozy workshop building that's warm and inviting. Unless you're Baby J.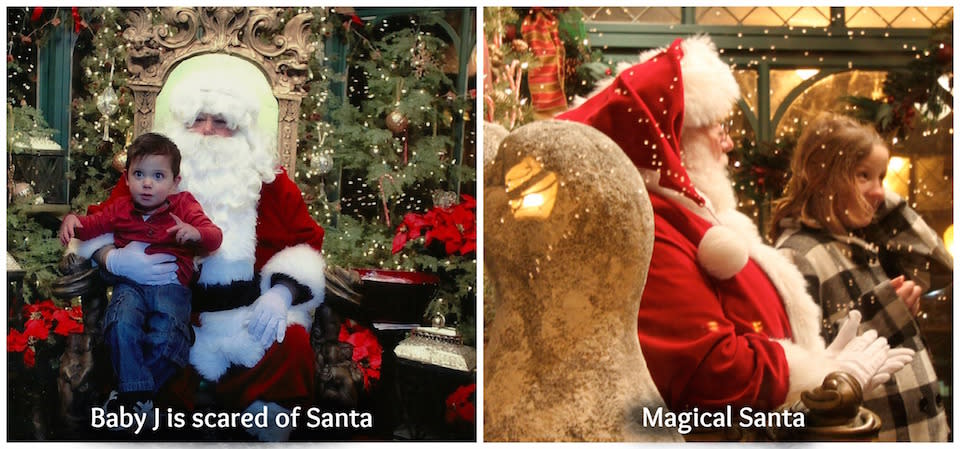 Magical Santa courtesy of Corning's Gaffer District
This year, we decided to check out the other "resident" Santa Claus that keeps hours every weekend at Hornell's Santa Land. Every year, Santa Land is decorated with a different theme and this year, it's "Frozen." That is Baby's J's favorite movie and the Frozen decorations thrilled him a lot more than the idea of Santa.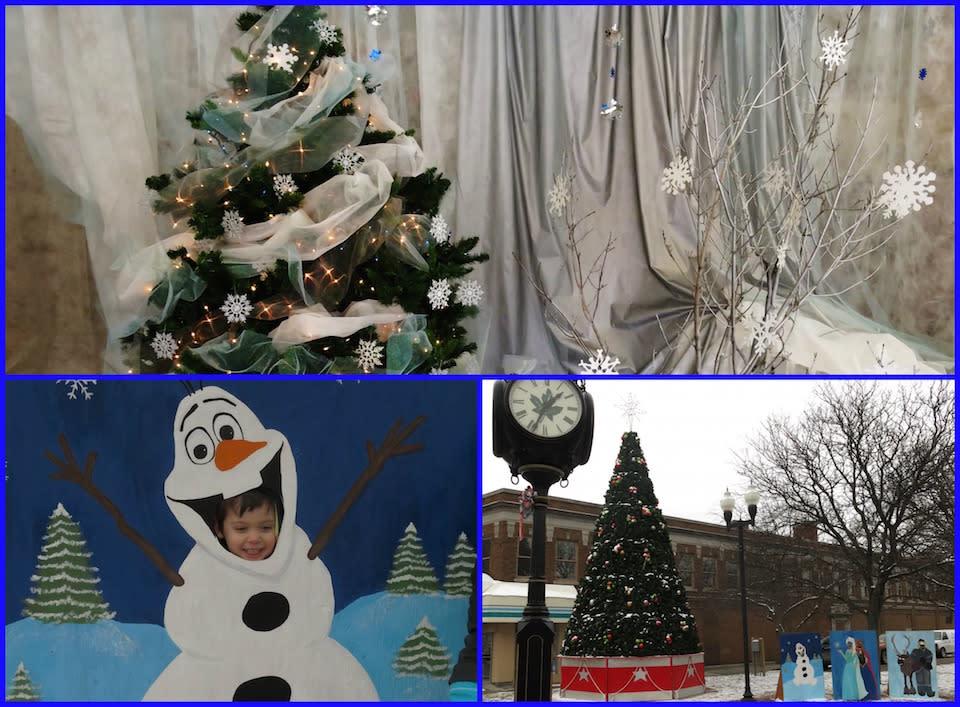 But I have to say this Santa was excellent with my scared little boy. He didn't make J sit on his lap but let him stand and talked quietly with him while Mrs. Claus got out the candy cane which piqued his curiosity.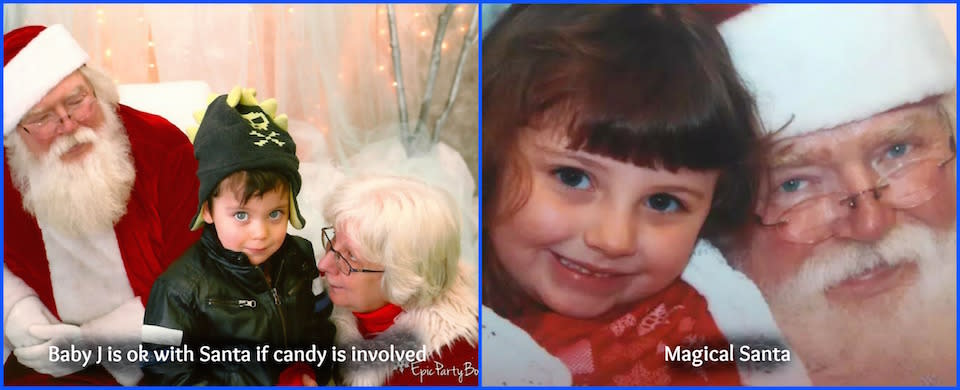 Magical Santa courtesy of Hornell Partners for Growth
The one thing J loved was the horse and carriage ride through downtown Hornell that was free, thanks to Hornell Partners for Growth. Baby J was all smiles for the horses.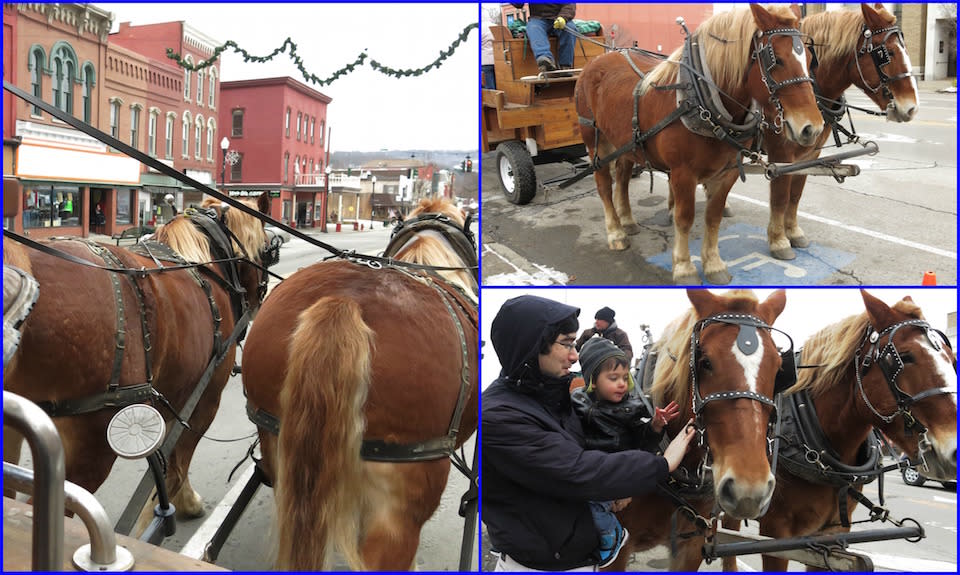 Santa will be making special appearances at events all over Corning and the Southern Finger Lakes this holiday season. He'll be at Spirit of Bath, Christmas in the Park in Hammondsport and Avoca, and Cowboy Santa will be at FunDay Sunday at the Rockwell Museum. Or for a different magical moment, you can receive a letter from Santa with a little help from the Corning-Painted Post Historical Society.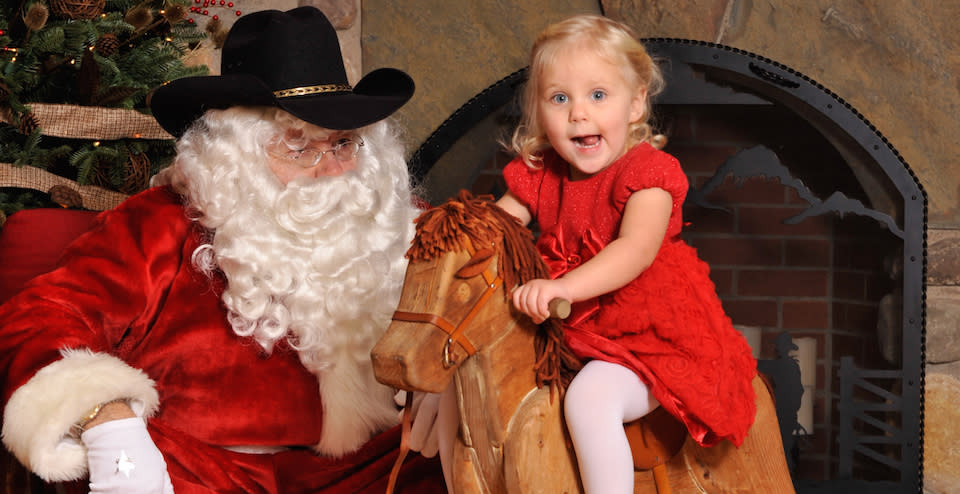 Magical Cowboy Santa courtesy of the Rockwell Museum
The Cowboy Santa photo looks magical. Baby J might go for that one .... I hope this fear of Santa is something he'll grow out of. This is the first year in his existence that Christmas is even a concept he can understand so I can work on showing J why this holiday season is a time of celebration and lights. When he gets older, we may have to revisit these Santas for a second shot at that magical moment photo.
Standard Disclaimer: I have a 2-year-old child but that, in no way, makes me any kind of expert in anything parental. This "family blog series" is about me introducing the things I like about Corning and the Southern Finger Lakes to my child and his friends. When possible, I will consult real experts to talk about the things older small children like to do that mine can't do yet so as to provide a more well-rounded experience.