I'm a big believer in telling kids they need to get outside and play more. Mostly because that's what I was told as a child. The problem with saying that to a 2-year-old is that it means I have to then go outside and play, too! So it's a good thing I have the Most Fun Small Town in America close to my backyard!
We decided to take advantage of a warm and sunny day to explore the trails of Spencer Crest Nature Center in Corning. There are 7 miles of trails that you can hike in the warmer months or snowshoe or cross-country ski in the snowy months. There are maps you can pick up in the Nature Center or online but there are also maps placed around the grounds to help you navigate if you don't feel like carrying around a piece of paper.
A fellow hiker came by while we were deciding which trail to take and told us to head to the pond because the bullfrogs were singing. It seemed like sound advice to us so off we went on the Bluebird Lane to the pond. At this point, I became very thankful that the trails we chose were fairly short (less than a half mile) because this is how most of the hike went.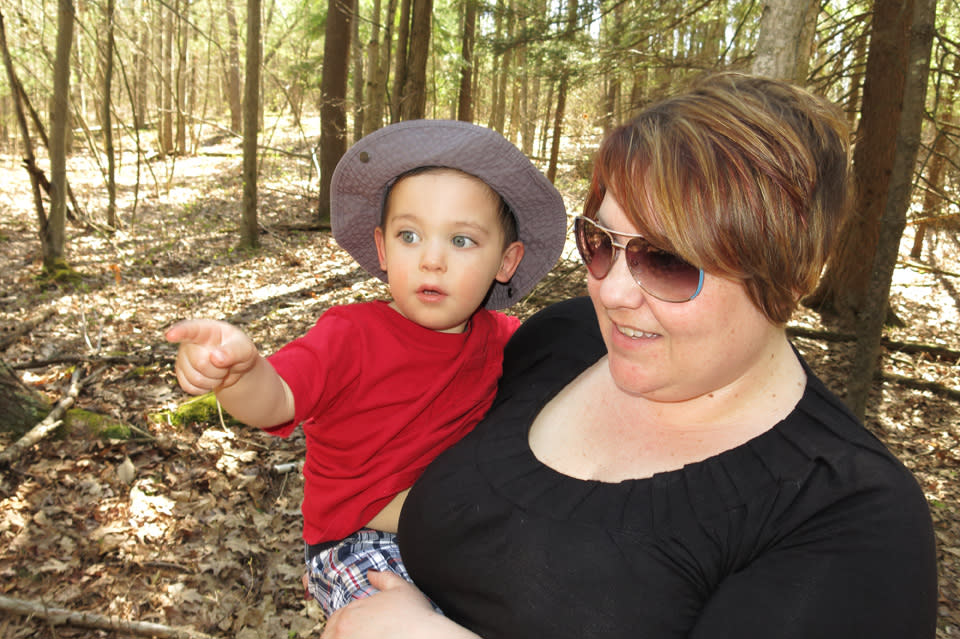 Mom hiking, Baby not hiking at Spencer Crest Nature Center
Baby J loved nature. He loved looking for birds, chipmunks, fallen trees and pointed out the water every time he saw it through the trees. But he did not want to walk. Jason and I took turns; I carried him down the hill, Jason carried him up. Every once in a while he walked himself.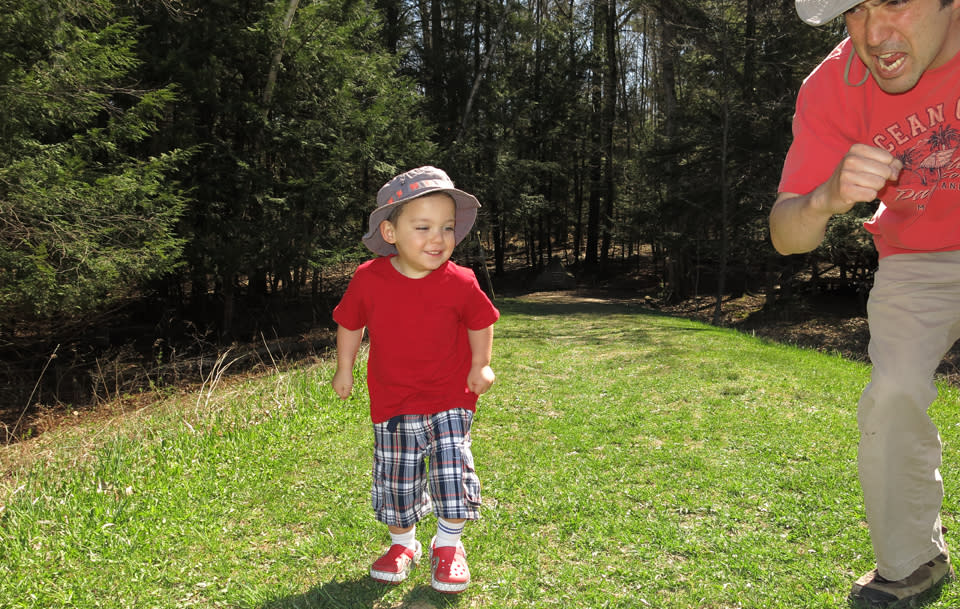 Now we're hiking at Spencer Crest Nature Center
But the pond and the frogs and the dock waiting for us was totally worth it.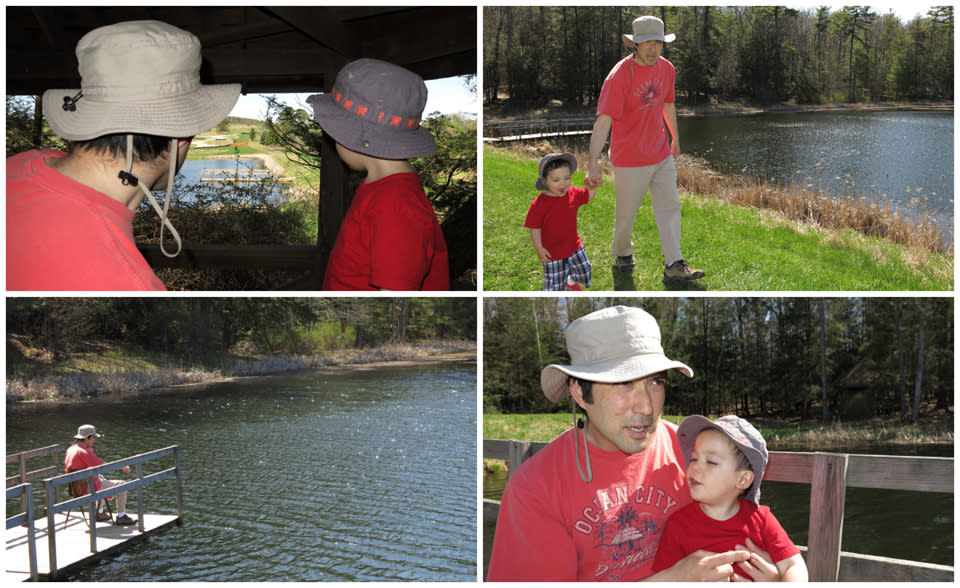 Amelia Pond at Spencer Crest Nature Center
We chose the more intermediate trail back up the hill (called the Ski Slope) which would have been OK except for all the mud that ended up in my sneakers. Baby J thought that was hilarious. Except he wasn't walking so he doesn't get an opinion here.
After the hike, we were on to our next adventure: mini golf at Park Avenue Sports Center. There is actually a lot more going on there than just mini golf. There is a driving range, batting cages, a rock climbing wall, a trampoline bounce house and Water Wars. All of that stuff looks like a lot of fun for the older kids. But Baby J isn't quite old enough to understand how that all works without hurting himself.
But mini-golfing is something we can manage. Sort of. Baby J was free because he's under 3 years old and he got his own sized putting club. However, he didn't want the special blue plastic club because that is not what Jason and I had. I managed to slip him a kid-size club that looked almost identical to mine except it was shorter. That he was OK with.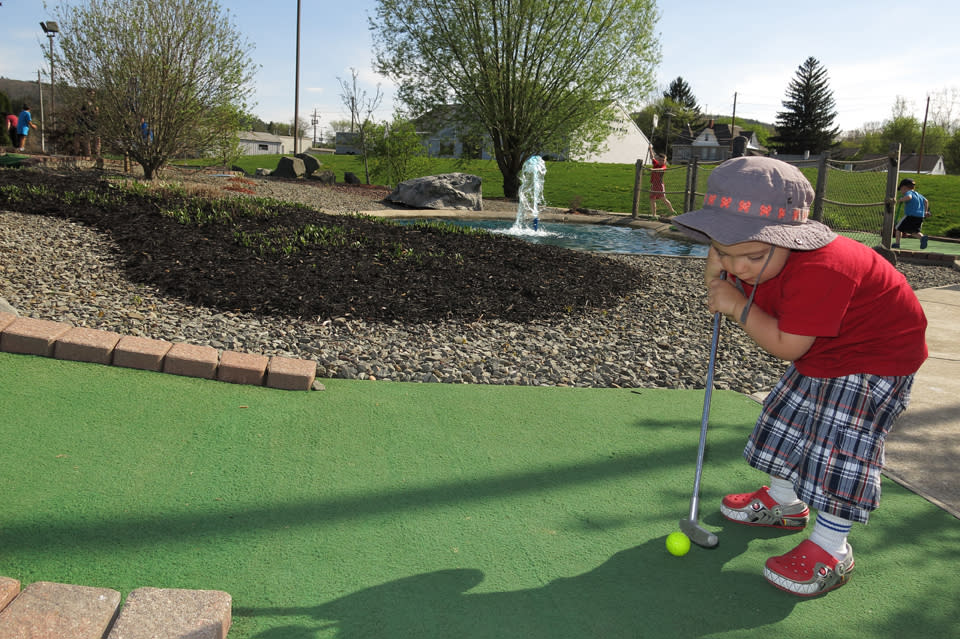 Mini Golf at Park Ave Sports Center
Baby J got the concept that the ball was supposed to go into the hole, but he preferred to drop the ball in by hand. He combined that technique with kicking Daddy's ball away and throwing Mommy's ball into the water when it got too close to the hole.
Breaking the rules of Mini Golf at Park Ave Sports Center
And then we finished our afternoon with ice cream at Dippity Do Dah's Homemade Ice Cream!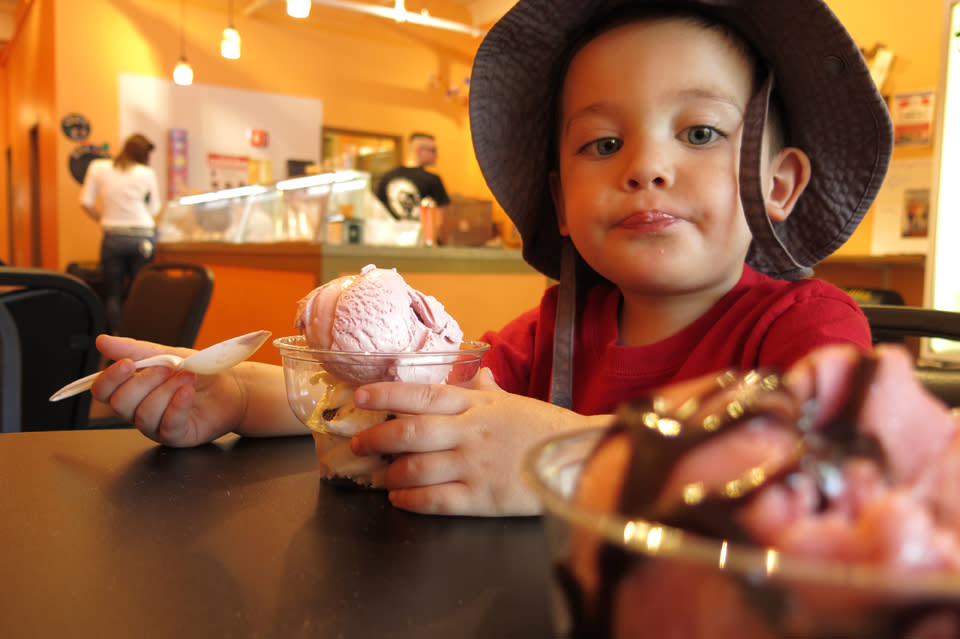 Yummy Dippity Do Dah's Homemade Ice Cream
With more than 30 flavors, there's some tough decision-making involved in a trip to Dippity's! We had to combine several. Baby J got a mix of strawberry and chocolate chip cookie dough, Jason got a mix of salted caramel and Market St. Espresso, and I got the Sweet Walter sorbet (as in Bully Hill's Sweet Walter Red wine!) with hot fudge. Baby J liked Daddy's ice cream the best I think.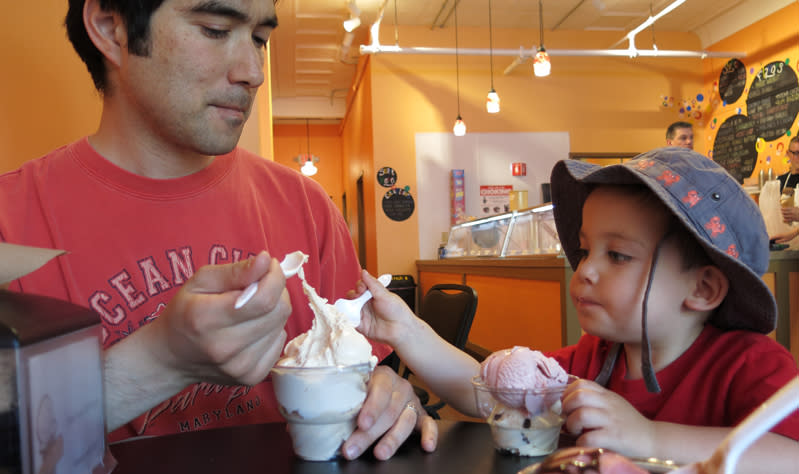 Daddy's ice cream is even better at Dippity Do Dah's
Standard Disclaimer: I have a 2-year-old child but that, in no way, makes me any kind of expert in anything parental. This "family blog series" is about me introducing the things I like about Corning and the Southern Finger Lakes to my child and his friends. When possible, I will consult real experts to talk about the things older small children like to do that mine can't do yet so as to provide a more well-rounded experience.