It often comes as a surprise to learn that a place filled entirely with glass is a great place to bring kids, but at The Corning Museum of Glass, there's plenty of fun for the whole family! Many, many, articles have been written about the family friendliness of the Museum. I will likely write more articles about how much Baby J loves the Museum.
But today, I am focusing on a great summer program that they offer: Little Gather. Against my better judgment after the Rockwell Museum, I tagged along with my son's daycare group to the July 30th show, which featured the Diaspora Drumming Ensemble.
Little Gather is a summer program that take place every Wednesday at 11 a.m., showcasing musical groups, puppets, storytelling; it's a different group every week. This summer's last performance is on August 13. The name, Little Gather, comes from a "gather" of glass, the first amount of glass picked up out of a kiln when the gaffer/artist starts working on a new piece.
Baby J and his friends have gone to every show this summer and they love it. Now I know why. We arrived to find the auditorium covered in rugs of all shapes and sizes to sit on. We found one off to the side so the kids (ok, my kid) could run around and crawl in and around the stroller.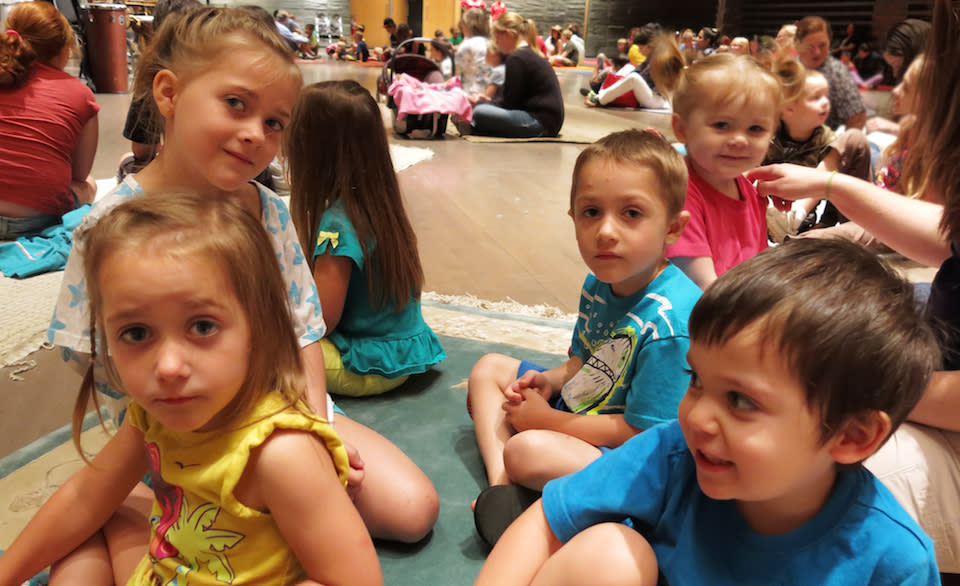 Snug as some kids on a rug at Little Gather
I asked Mieke Fay, the Youth and Family Program Educator, about the groups they feature. She said they rotate the groups every 2-3 years, "so the lineup isn't always the same and the kids get to experience different things. This was the first time ever for Diaspora Drumming Ensemble and they were fantastic, so I do try to find some new groups that we haven't had before."
Ringo, Tiffany and Gabriel from Diaspora Drumming were definitely fantastic. . They demonstrated the music of Africa for us, with singing, dancing and best of all, drumming. Their program was called "Echoes of Africa" – they taught us songs and dances that cultures in Africa and Latin America have used to tell stories and communicate with each other.
Diaspora Drumming Ensemble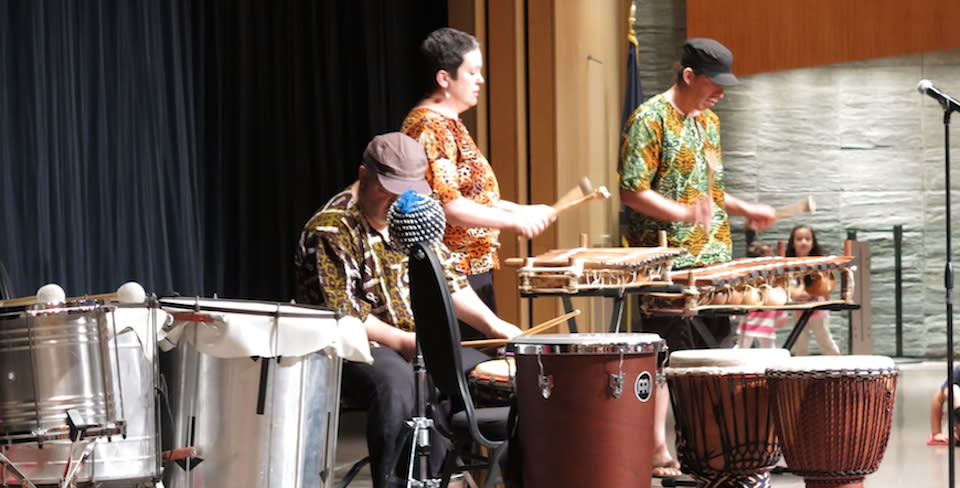 Echoes of Africa
Most of the audience was up and dancing. Even if you were sitting, you couldn't help but move to the rhythm.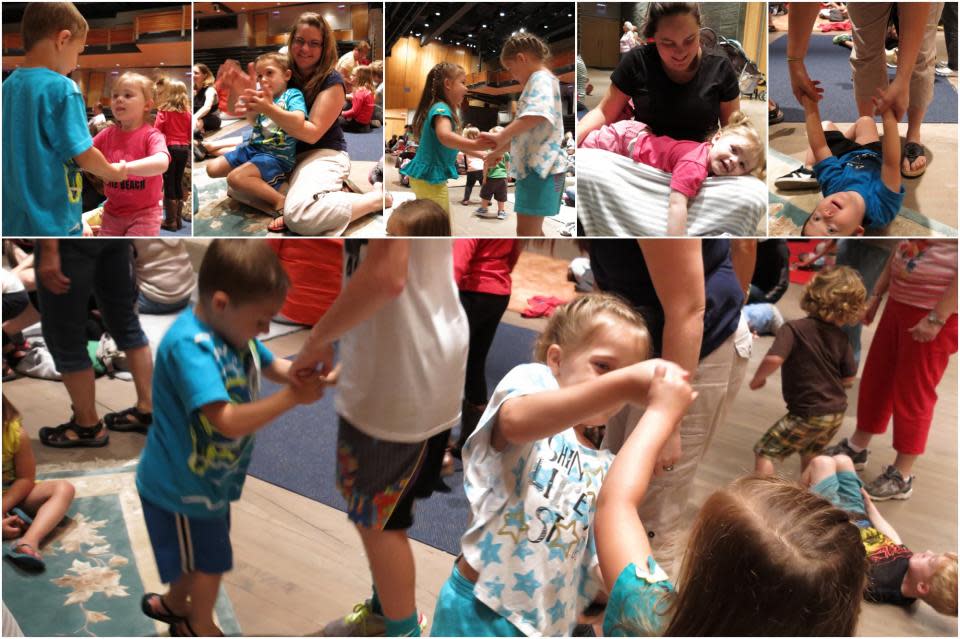 Dancing!
Unless it's Baby J. I discovered this week that it's a thing for 2-year-olds whose parents accompany daycare field trips to go nuts on said field trip. K's mom and older brother were with us; Baby J decided to show Q his "Power Ranger" skills and then joined forces with K to tackle him to the ground.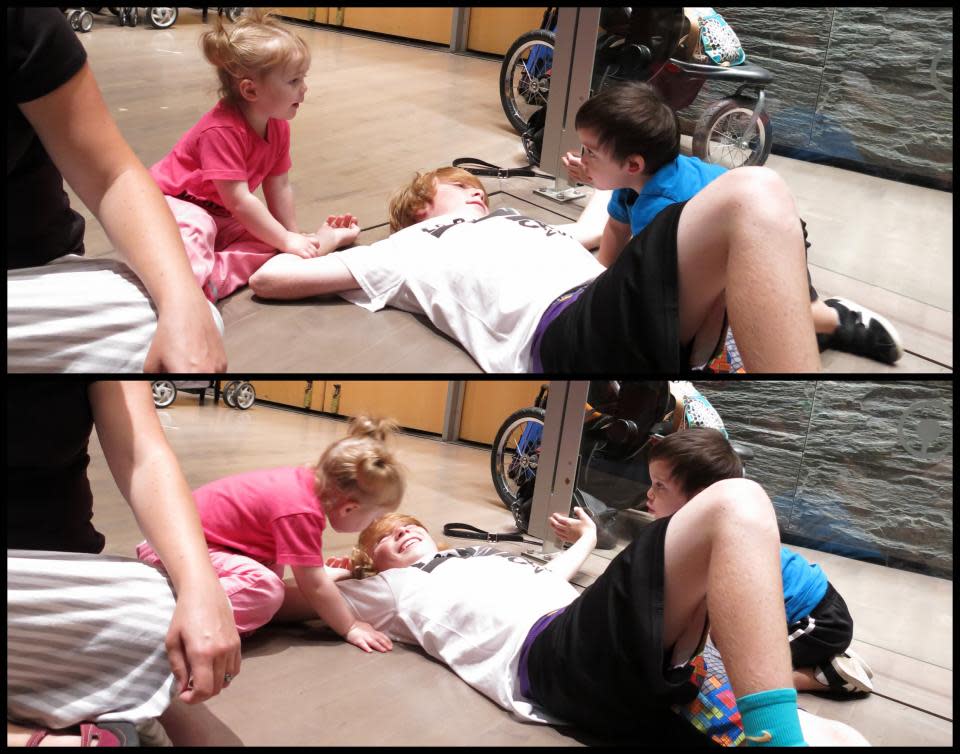 K and J plot to take Q down
After the performance, we talked to the drummers who let the kids play with the instruments. The kids were in heaven.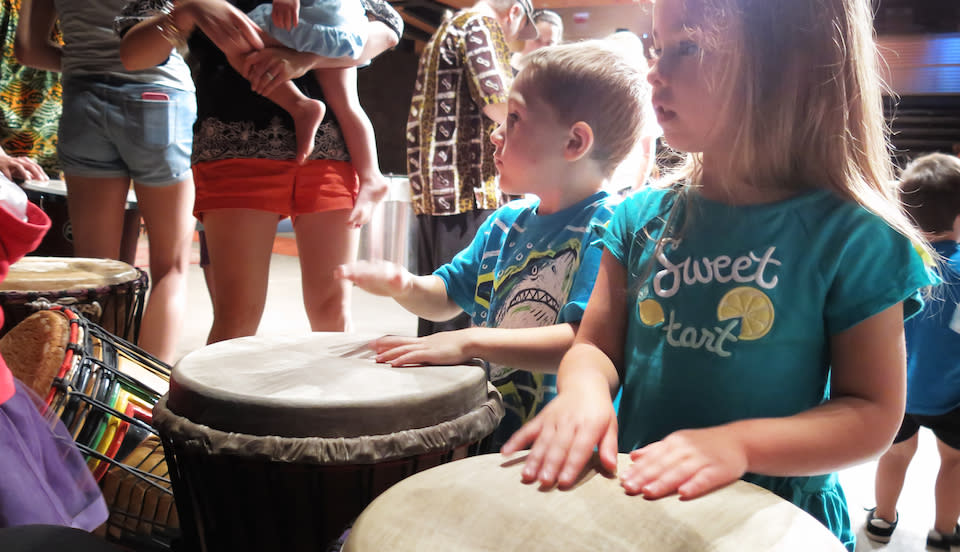 Banging the drums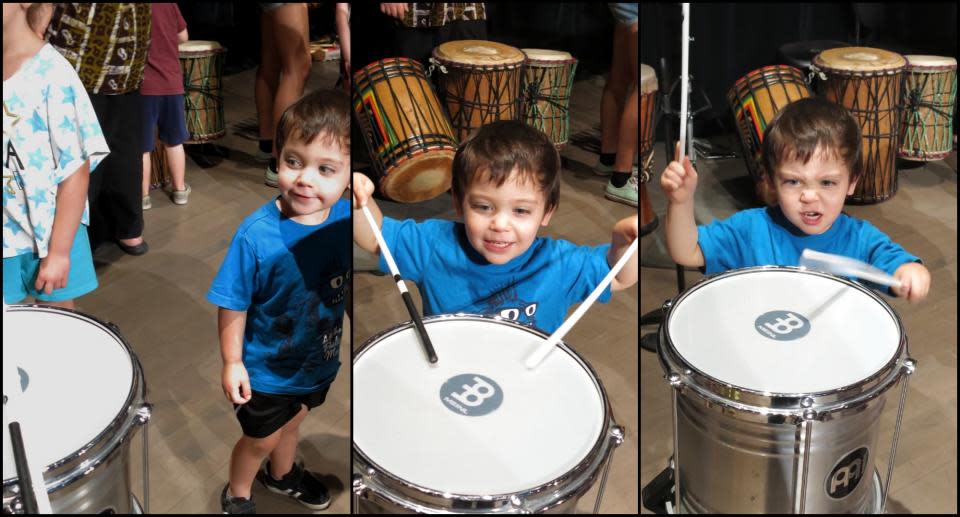 Baby J - Rockstar in Training
Since I had to go back to work after the performance, I didn't get to see what else the Glass Museum has for Little Gather audiences. According to Mieke Fay, local families with library cards can check out books immediately before and after the 11a.m. show. Representatives from the Southeast Steuben County Library bring books related to the week's performer or theme, and to glass, and have a remote checkout station. Families can also apply for library cards if they don't already have one.
Since the show is in the morning, it sets up a great day to have lunch in the GlassMarket Café and then spend the rest of the afternoon exploring. Often, the Museum has suggested activities in the galleries after the show that's related to that week's performance.
That sounds like a great day to me!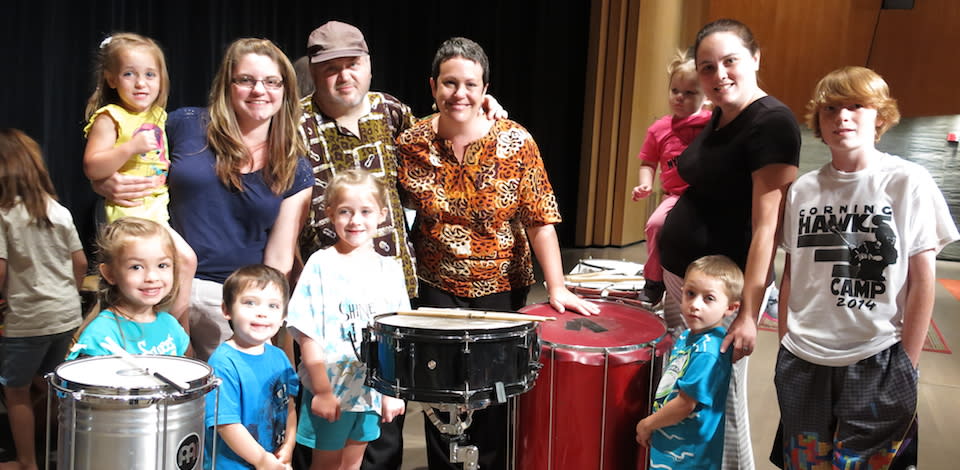 The kids with Gabriel and Tiffany from Diaspora Drumming
Standard Disclaimer: I have a 2-year-old child but that, in no way, makes me any kind of expert in anything parental. This "family blog series" is about me introducing the things I like about Corning and the Southern Finger Lakes to my child and his friends. When possible, I will consult real experts to talk about the things older small children like to do that mine can't do yet so as to provide a more well-rounded experience.