What are you looking for when you plan a trip? Adventure? Scenic beauty? Educational experiences? Family fun? Special holiday events? How about ease of getting around? Unless you are completely focused on one single interest it can be difficult to decide which of many available sights and activities to include in a vacation.
But what if you could combine several important items from your "Must See - Must Do" list into one trip? We have the very place - Corning & the Finger Lakes!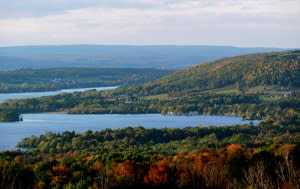 Lamoka Waneta Lakes
Scenic beauty? Check. Budget Travel magazine named the Finger Lakes "the most beautiful wine country destination in the world" in 2010.  And the beauty of Keuka Lake and the surrounding vineyard-covered hills is unsurpassed anywhere. Driving, bicycling - even hiking - through the hills and valleys brings visual delights unimagined back home.  Or try the ultimate in sightseeing with a flight over the Finger Lakes in one of Joe Costa's airplanes.  Costa Flying Service will take you above the clouds for a birds-eye view and low enough to see the workings of local wineries.  Kids love the trips, too, and with flights from just under 10 minutes to a full 2 1/2 hours there's something for everyone. 
Interesting educational experiences? Check. The Corning Museum of Glass is home to the most comprehensive collection of glass art and artifacts in the world. The Rockwell Museum of Western Art and the Glenn H. Curtiss Museum offer fascinating looks at culture and history you won't see anywhere else. The local historic districts and buildings on the National Register of Historic Places will take you back to a time when the Finger Lakes region was welcoming its first settlers, families and merchants.  A helpful note: a free shuttle bus will take you from the Corning Museum of Glass to the Rockwell Museum and points in between, including Corning's historic Gaffer District.  You can hop on and off at several different stops, taking in the shops and restaurants of downtown Market Street.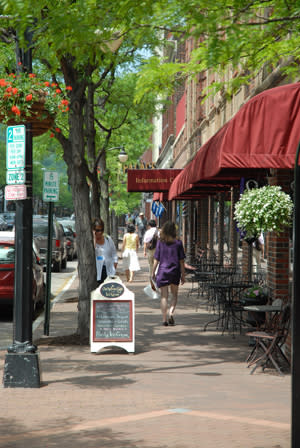 Market St
Adventure? Check. As you traverse the hills and woods of Steuben County you will see fast running streams, quiet ponds and tumbling waterfalls. Your professional guide from Ranger Outfitters will show you the best places for canoeing, kayaking, geocaching and even provide lunch or dinner on the trail. Or take the family and walk the Finger Lakes Trail, marking your "passport" at various spots along the hike. The Finger Lakes Trail System includes the main Finger Lakes Trail and all branch, loop, and side trails, a mere 958 miles of hiking!  Who knows, the occasional deer or flock of turkeys may cross your path.
Family fun? Check and double check. Maybe it's swimming, boating, tubing or water skiing on Keuka Lake.  If fishing strikes your fancy, beware - the fish practically jump onto your hook! Let the kids expend some of that energy with an afternoon of putt putt or laser tag. The Fun Park in Corning has both, along with a driving range to test your swing, a climbing wall to help build kids' strength and agility, bumper cars and boats, a nature trail, arcade games, and much more. The Park Avenue Sports Center offers the very fun Glow in the Dark Mini Golf plus batting cages, a driving range and a summer fave - "Water Wars".  Or visit one of several alpaca farms in the area.  The alpacas' charming demeanor and happy energy make them a visitor favorite.  Reach out and tough their soft, furry coats and see why Finger Lakes alpacas are so sought after for their wool.
Heiress
 While in the Finger Lakes put a little art in your life with some truly unique hands-on experiences. Hands-On Glass shows children as young as two how to blow glass and make a keepsake ornament. Rocky Hill Pottery takes you through the process, from throwing clay on an electric wheel all the way through kiln firing. Or take advantage of The Crafting Cottage's "Sundays in the Studio" to learn scrapbooking and cardmaking. Whether you love quilting, cooking, jewelry and beadwork, papermaking, antiquing or making your own spa treatments from local herbs, you can do it all right here in Corning & the Finger Lakes.
You will certainly want to include one of the major attractions of our region - the wineries.  Plan a day or two of touring the fabulous Finger Lakes wineries, from the charming old world ambience of Chateau Renaissance to the relaxed vibe of Lime Berry Wine Estates, from the spectacular views at Heron Hill to the eclectic appeal of Bully Hill.  Dr. Konstantin Frank Vinifera Wine Cellars is really the birthplace of the Vinifera vine, and Keuka Lake Vineyards is the area's youngest "boutique" winery.  The sherry and champagne caves at Pleasant Valley Wine Company beckon visitors to the First Bonded Winery in the U.S., while a stop at Ravines Wine Cellars will introduce you to dry, food-friendly wines made in the traditional French style.  Our wineries have been winning awards and winning loyal customers for nearly 150 years, with very good reason.

Wineglasses
Naturally, planning the perfect vacation - whether it's a long weekend or a full week or two - means finding the perfect accommodations. Whether you are a single traveler, a couple, or a big family complete with Fido, you'll want to stay in one of the many comfortable and affordable places available here.
Think of the pleasure of waking up in a lakeside bed and breakfast, hearing the water splashing gently against the dock. Or having breakfast on the deck overlooking the tranquil Chemung River Valley. Or making your inner child happy with a stay at a "B&C" (Bed & Chocolate) where you go to sleep with elegant chocolate on your pillow and wake up to chocolate biscotti and the smell of freshly brewed coffee.  You can rent an entire house in a charming lakeside village or make your vacation headquarters a magnificent neoclassic mansion.
You also have a wide choice of full service hotels and motels that can be as familiar as home to many travelers.  Some even cater to the family pet, but call ahead to be sure.
So...in addition to the packing list (tennis racket, swimsuit, sunblock, camera), you now have the beginning of a rather long list of interesting, fun things to do when you get here. If it seems a bit overwhelming or if you want help with your trip planning, do what other smart visitors to Corning & the Finger Lakes do - contact the Getaway Godmother at 866-946-3386. She will customize the perfect escape no matter where your true interests lie.