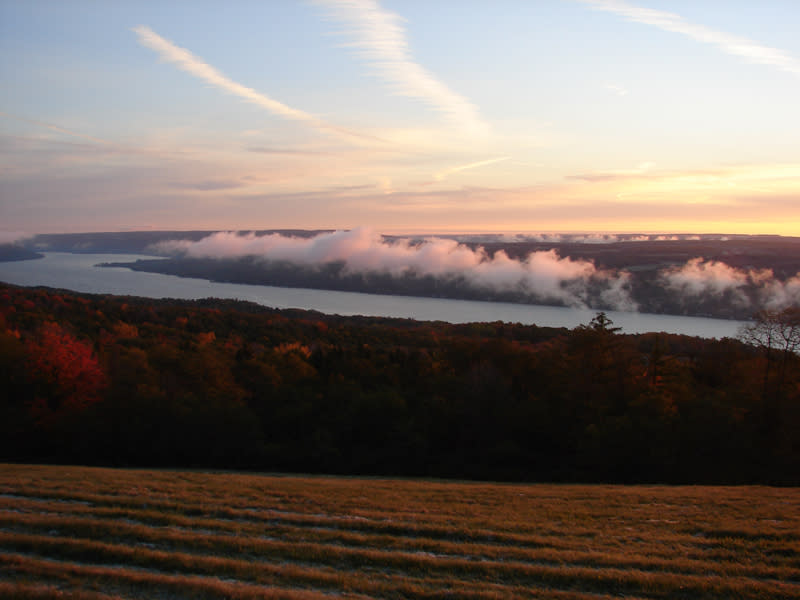 Keuka Sunrise in Hammondsport by Jake Cornelius
Outdoor photography has been one of my passions for years and here's something I can say with complete confidence:
Autumn in Corning and the Southern Finger Lakes is Perfect For Spectacular Fall Colors
Warm sunny days and cool nights like we have in Corning and the Southern Finger Lakes tend to bring about the most vibrant colors.
And remember, certain types of trees turn brilliant yellow and gold, while others become bright red and scarlet, and others still turn orange and purple. The types of trees you'll find here. We also have vibrant rolling hills and sun dappled gorges and scenic vistas overlooking vineyards and long slender lakes, framed by all that remarkable color: the oranges and reds and yellows and golds.
Now imagine having a variety of ways to experience those magnificent colors first-hand.
Best Locations in Corning and the Southern Finger Lakes for Capturing Fall Colors
From the Heart of the Forest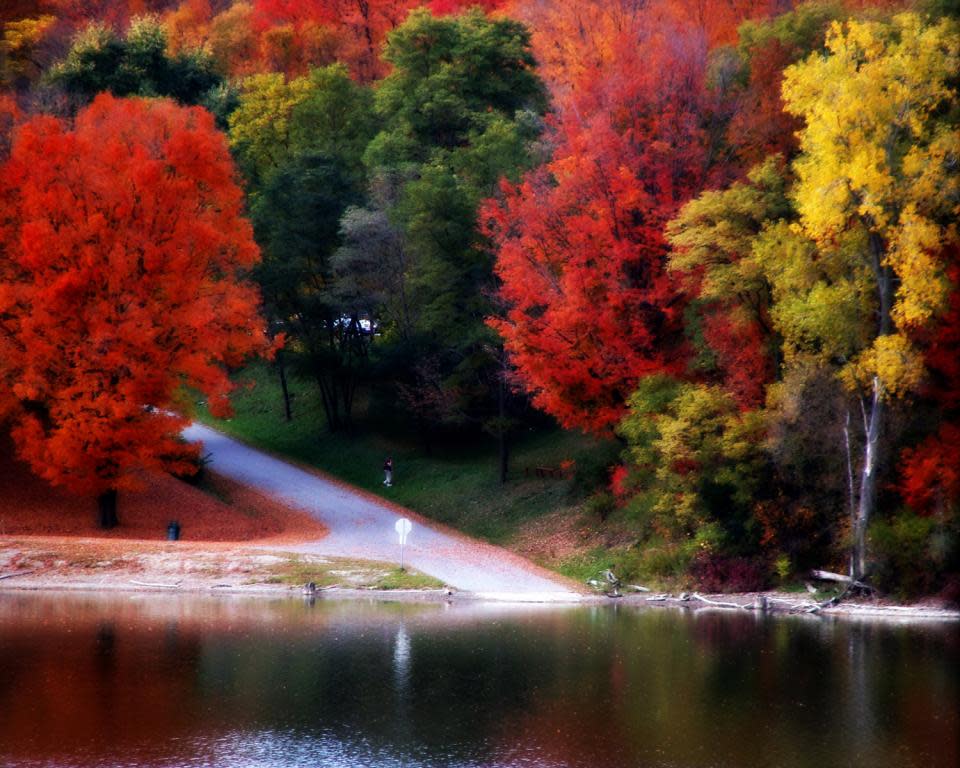 Fall Foliage at Kanakadea Park by Shelly McDaniels
The opportunity for breathtaking photographs abounds along the many hiking trails, and scenic byways, and small towns nestled among the foothills.
Hiking Trails - the Finger Lakes Trail, North Country Trail, and Great Eastern Trail all wind their way through the area.

State Forests and Parks - state parks and forests allow for intimate exploration, as many have hiking trails, picnic areas, and other recreational activities.

Bike Trails - with miles of Scenic Byways along hillsides and through valleys, you'll be able to enjoy the colors up close.
From the Water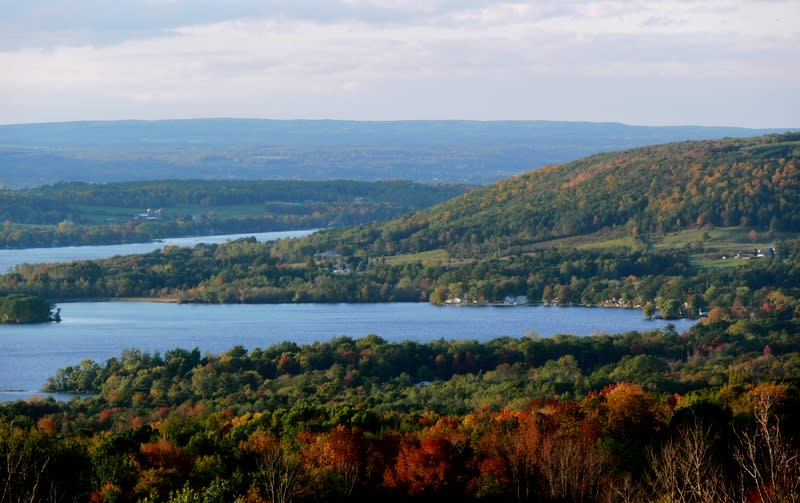 Lamoka and Waneta Lakes by Jake Cornelius
Paddle your way along the miles of streams and river in a canoe or kayak, take a tour with a wildlife guide, or leave the self-propelled excursions for someone else and jump on a jet ski or motorboat or sail along majestic Keuka Lake, or experience a sunset on the vineyards and polychromatic hillsides surrounding the water.
From the Comfort of Your Seat
...while enjoying exceptional wine or delicious meals with some of the most incomparable panoramic views at some of our restaurants, wineries and breweries.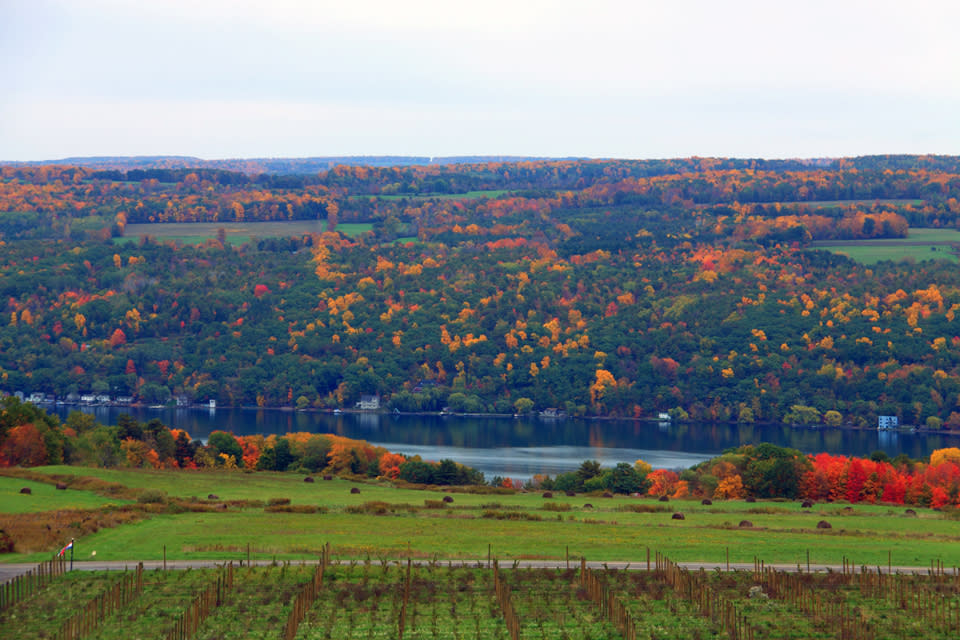 Fall View from Heron Hill Winery by Kathy Wesserling
From the Sky
Get a bird's-eye-view with your own private tour.
While all those people are crowded shoulder-to-shoulder in New England, you can take the money you didn't spend to fly there and use it for your own private aerial tour of Corning and the Southern Finger Lakes.
Talk about a special way to see and shoot the incredible foliage.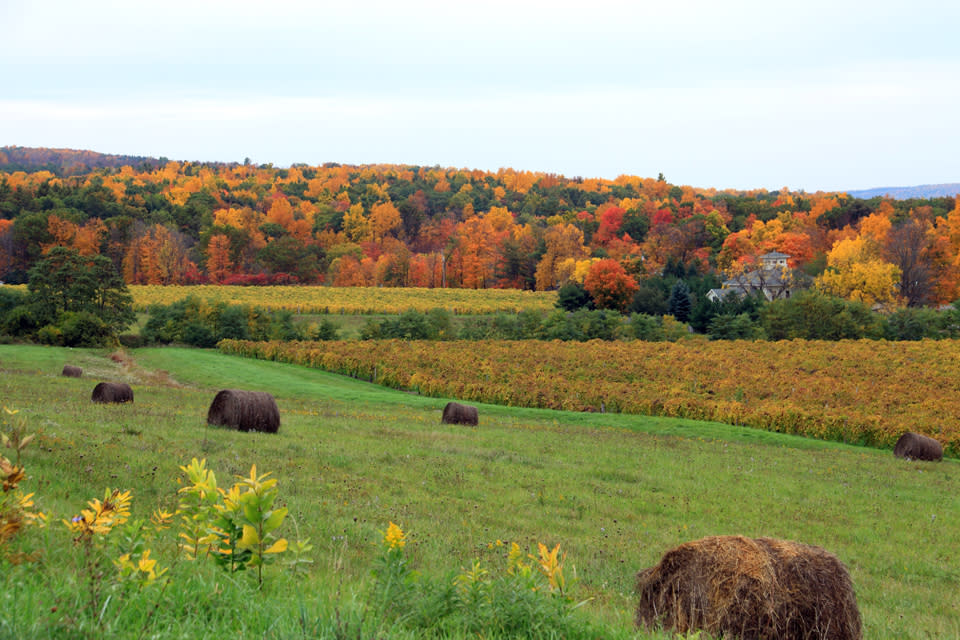 Fall Foliage in Corning and the Southern Finger Lakes by Kathy Wesserling
With a Slice of Small Town Americana
Our small towns are nestled among the hills and the forests offering solitude and serenity and numerous picturesque photographic experiences, as well as wonderful opportunities for shopping and dining and hands-on fun.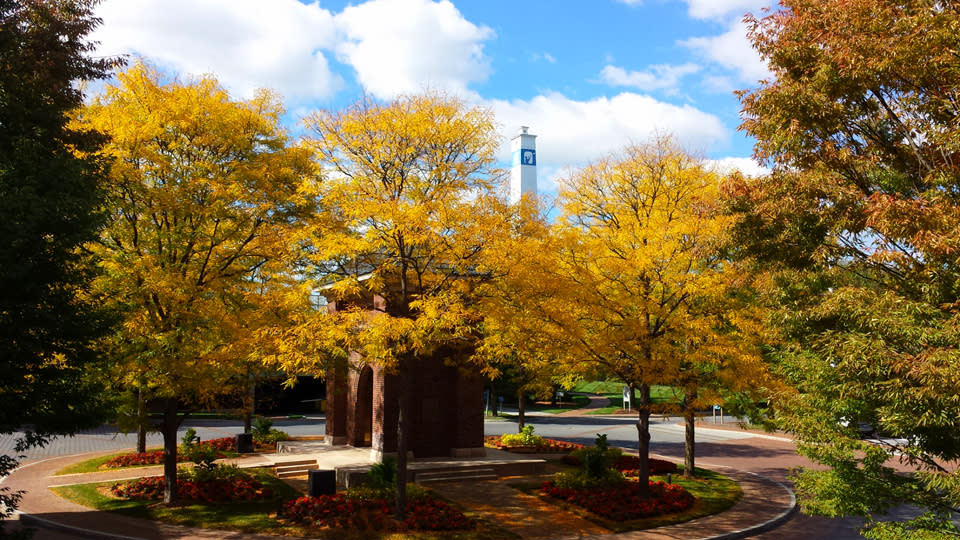 Autumn in Corning by Kevin Peterson
That's right. You don't have to go all the way to New England to experience the wonders of fall foliage.
Corning and the Southern Finger Lakes offers breathtaking scenery all year long, but there's something about the undulations of brilliantly colored hillsides and the patchwork of farms and vineyards and the shimmer of our long, narrow lakes and other waterways that makes a visit here all the more magical.