I'm not the most outdoorsy person you'll ever meet, but there are certain water-related activities I very much enjoy. My husband and I love kayaking. It's something we always try to work into our vacations. We've kayaked a peaceful lake in the Adirondacks, and another in the desolate mountains of Alaska. We're even planning a kayak/snorkel adventure during our upcoming Hawaiian vacation. But I must say, there was really something special about kayaking the gentle Chemung River right in my own backyard earlier this summer.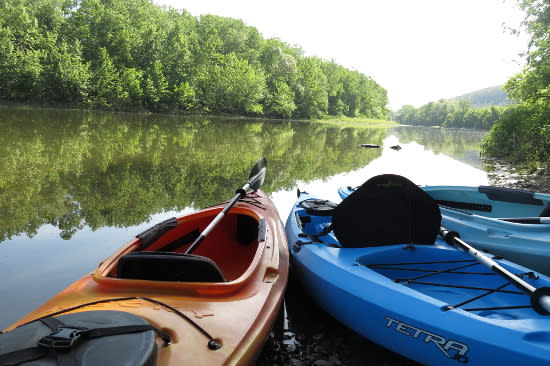 Southern Tier Kayak Tours
Life on the Water
Southern Tier Kayak Tours is a fantastic company that leads kayak tours throughout the Finger Lakes Region. Aaron and his wife Sarah are avid outdoor adventurers, and although they've kayaked throughout the country, they decided there was something special about the Finger Lakes, and started their business here.
"The area has a lot of hidden beauty that is overlooked by a number of folks," said Aaron Myers, owner of Southern Tier Kayak Tours. "Since moving (to Ithaca), we have come to realize that there are hardly any outfitters in the area offering guided kayak tours... It made sense to offer these types of tours where the 'average joe' could experience kayaking without traveling out of the area."
Aaron fell in love with paddling at a very early age. "I can remember family camping trips to many lakes where we would take out the canoe to fish or travel the back county," he said. Kayaking came later in his high school years. "I can vividly recall a boy scout summer camp where I went whitewater rafting and noticed the guides in kayaks. When I watched them 'dart' around on the river I said I want to try that. That summer I purchased my first kayak, enrolled in a beginner class and haven't looked back."
During the 14 years Aaron has been leading kayak tours, he has amassed over 2,000 days in field experience. Both he and Sarah have trained to become kayak instructors with the American Canoe Association, have worked with the Leave No Trace program to become trainers and educators, and are both Wilderness First Responders. To find out more about Aaron and Sarah, visit their About Us page on the Southern Tier Kayak Tours website.
"My favorite aspect of guiding is watching people's faces light up when then realize they can actually kayak down a river or lake. We have developed our tours specify for the beginner kayaker to experience what it's like to kayak for a day. Giving the general public this opportunity to 'play' in their backyard with the entire family under the guidance of professionals is something I don't take lightly."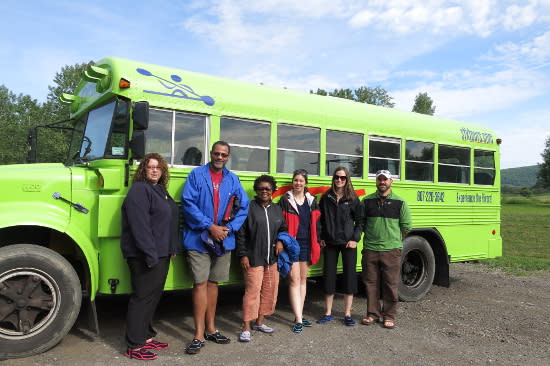 Southern Tier Kayak Tours
My Paddle Through the Palisades
When I kayaked with Aaron and Sarah earlier this summer, I got a whole new perspective on the place I've always called home. I pass by the Chemung River several times a week - usually zipping along the highway at 65mph. I'd always thought it was beautiful, but to be honest, I'd never really thought there was any kind of recreational fun to be had on it - other than for avid fisherman, which I certainly am not. But that day opened my eyes. As I stepped into my kayak and started paddling downstream, I realized there was this whole otherworldly quality to the quiet Chemung.
The "Paddle the Palisades" tour starts at Bottcher's Landing in Big Flats, and allows you to explore the river valley nestled between Corning and Elmira. The six-mile tour offers the chance to view wildlife, discover local history, and learn to kayak in a very peaceful environment. The tour begins with a safety orientation and paddling lesson, but once you know the basics, you get on the water and start exploring the spectacular scenery.
The palisades are high cliffs that were carved by glaciers, and now dominate the right side of the river. On my tour, we saw plenty of birds, but we were hoping to spot a fish or two. Right at the end, we gathered our kayaks together for a group picture, and just as the flash went off, a huge fish jumped out of the water behind the person taking the picture! It was the perfect ending to a wonderful morning on the water.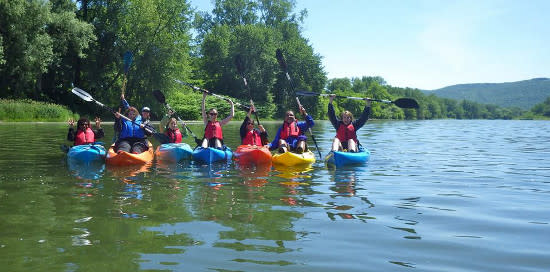 Southern Tier Kayak Tours
For more kayak tours and pricing, visit http://www.stktours.com/our-tours.php.