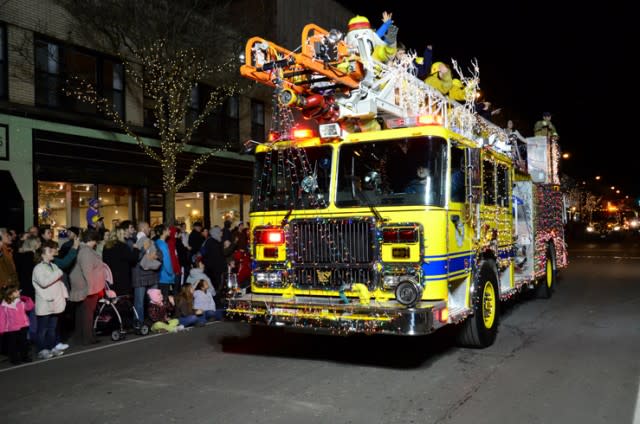 Parade of Lights
Just when you start to think some things never change...
For 18 years, I've watched the Parade of Lights make its way through Corning's Gaffer District the Saturday following Thanksgiving. I know I'm not alone. The Parade of Lights, much like Sparkle the following weekend, is an event that's steeped in tradition. Spectators have always enjoyed gathering along Market Street to watch everything - and everyone - in the parade decked out head-to-toe in twinkle lights. This year, however, a slight oversight threatened to cancel the entire event.
Road construction is a necessary headache for communities everywhere, but this year's closure of the State Route 352 bridge between Corning and Riverside resulted in a detour that required roads normally closed for the parade to remain open.
Given the choice between cancelling the event altogether and finding a solution, Corning's Gaffer District made an easy decision.
"Generations of families from around the country have built the Parade of Lights into their Thanksgiving weekend traditions for nearly two decades," said Coleen Fabrizi, Executive Director for Corning's Gaffer District. "We knew we had to get creative because, regardless of the obstacle, we are committed to continuing this important tradition for our community."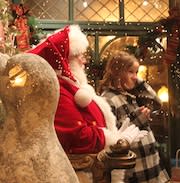 Crystal City Christmas
Thus, on Saturday, November 30, visitors and residents alike will take part in the first Stationary Parade of Lights. The "March Down Main Street" idea gets a whole new spin - the floats will remain in place, and the visitors will stroll to look at them. Many of the same groups, community organizations, and even marching bands that always participate in the parade will still be there, decked out in lights as usual. But this year, the parade will be parked, allowing for the necessary side streets to remain open. Market Street itself will be closed to vehicle traffic, providing a safe environment for pedestrians.
The evening's events begin at 4 p.m. with music and activities in Centerway Square. Corning's Gaffer District will welcome Santa to the Centerway Square stage at 6 p.m., followed by the lighting of the tree. Then the vehicles, floats, and parade participants will get in place, and light up simultaneously.
Fireworks light up the Crystal City
The parade will last for two hours, and during this time, visitors will be able to stroll at their pace to view the parade. Also new this year will be a People's Choice Awards, held in addition to the annual Judges' Awards. Spectators can vote for their favorite vehicle or float and enter to win a getaway package to the Crystal City.
The parade will end with a fireworks presentation at 8 p.m.
Although this isn't the normal parade that we have all come to love and expect, I personally think the new format is a very happy accident. It will give the visitors the opportunity to feel like they're participating in the parade. I can't wait to stand in Centerway Square, having just watched the tree come to life, then be able to witness the parade on Market Street suddenly light up the cold night. Would you expect anything less dazzling from America's Crystal City?