There are two types of people when it comes to winter. There are those who crave adventure. They can't wait for that first significant snowfall so they can rush outside and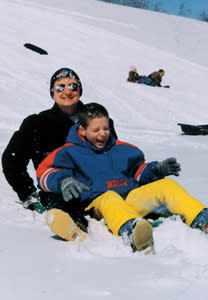 Winter
take part in all those classic winter activities. Whether they're flying down a steep slope or snowmobiling somewhere off the beaten path, these outdoor enthusiasts crave the exhilaration found in winter sporting activities. Then there are those who need to stay warm and dry. They firmly believe the bears have it right. Winter is prime time for hibernation!
I must admit I fall into that second category. An appetite for heart-pounding adventure, I certainly do not have. When I see falling snow, I don't get excited about the physical activities yet to come. While most people rush to the closet to get out their skis or begin shining their snowshoes (OK, I know they don't actually do that), my first thought is how sore I'll be after brushing all that heavy snow off my car. My idea of a snowy winter adventure is experimenting with a new kind of hot chocolate and making s'mores on the stove! If I get really inspired, I might even go outside and make a snowman.
Luckily, Corning & the Finger Lakes has plenty to keep both types of people happy during the winter months. This week, let's talk about the "outdoorsy" variety! Love that feeling of the wind in your hair as you breeze down a hill on your sled? Pinnacle State Park in Addison is a great place to sled the day away on the slopes, or spend it even cross country skiing through fields and along color-coded trails. Head over to Stony Brook State Park in Dansville for more of the same fun.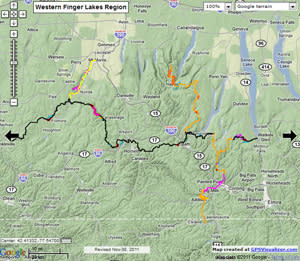 Trail
If it's hard-core cross country skiing you seek, why not take to the Finger Lakes Trail? Whether you want to spend an hour or several days on the trail, you'll never have to pass by the same place twice. With more than 950 miles of trail running from the Pennsylvania-New York border in Allegany State Park to the Long Path in the Catskill Forest Preserve, the Finger Lakes Trail is not for the faint of heart. Even take a branch to Niagara Falls! Take the trail from Hornell to Bath to Hammondsport, then head south to Painted Post and Addison. The Finger Lakes Trail weaves through so much of Steuben County! You'll certainly want to check it out for yourself.
Want to try snowshoeing? Spencer Crest Nature Center is a fantastic place to experiment! With trails ranging from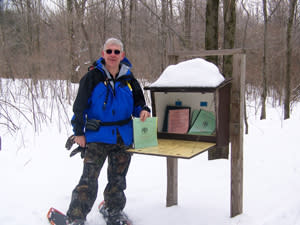 Winter
beginner to advanced, it's easy to have fun, whether you're new to the sport or are a seasoned pro!
Before you hit the trails this year, stop by Berger's Ski and Snowboard Shop in Corning's Gaffer District to get outfitted with proper clothing, outerwear, and all kinds of equipment. Whether you need new snowshoes, skis, or a good pair of goggles, Berger's wants to help you get what you need for a season of fun in the snow!
If you want a more leisurely activity, try ice fishing on a pond, or go ice skating at Nasser Civic Center in Corning. As you can see, there's plenty to keep that active, fun-loving, winter adventure-seeking individual occupied in Corning & the Finger Lakes. But, if you're like me and are looking for a somewhat cozier escape, check back for next week's blog!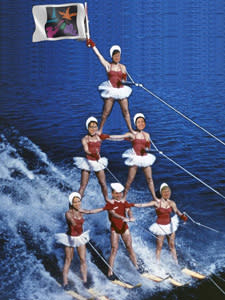 HolidayCard
Remember how I said I fell more into that second category? You know, shying away from adventure? Wanting to hole up in a museum or cozy winery perhaps? While that may be true, I do have one secret passion during the winter months - and it's a doozy! It was, after all, the inspiration for our office Christmas card this year! I very much enjoy forming a waterskiing pyramid on Keuka Lake in full holiday attire!
Clearly, I'm kidding! It wasn't my idea, nor did that adventure take place. My co-worker has some serious Photoshopping skills! Regardless, we sent out the card saying, "Taking togetherness to new heights for the holidays!" But you see? Possibilities for winter adventures are endless here in Steuben County!
Disclaimer: The Steuben County Conference & Visitors Bureau does not encourage the formation of waterskiing pyramids at home or while vacationing in Corning & the Finger Lakes - with the exception of individuals far more skilled than ourselves!