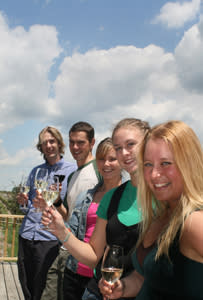 Dr. Franks
Spring has certainly sprung here in Corning & the Finger Lakes, letting us know that summer is right around the corner. The trees are in full bloom, flowers are poking up through the ground, and the vineyards are bursting with the promise of a successful harvest. From the beautiful scenery to the amazing attractions, there are so many reasons to visit the Finger Lakes during the spring season. During the month of May, though, there's an extra special Riesling to come... May is Riesling Month!
Here in Finger Lakes Wine Country, Riesling is one of those staples that has made our region famous the world over. "There is no doubt that Riesling has played a major role in the success of the Finger Lakes wine industry," said Erin Flynn, Marketing Manager at Dr. Konstantin Frank Vinifera Wine Cellars. "I think it's important to pay homage to this grape through Riesling Month as it is such an important part of the region's past and future." At Dr. Frank's, Riesling has been part of the success story since the early 1960s, when Dr. Frank proved to the world that European vines, called Vitis Vinifera, could be grown in the Finger Lakes Region.
"Riesling is the king of the Finger Lakes," reads Finger Lakes Wine Country's "Riesling Rocks in the Finger Lakes" webpage. "The microclimates around the four major lakes (Canandaigua, Keuka, Seneca and Cayuga) combined with warm summers and cool winters, create the perfect climate and growing conditions for Riesling." In recent years, Finger Lakes Rieslings have earned much acclaim from wine publications, such as Wine Spectator and Food & Wine, and have won many prestigious medals in national in international wine competitions.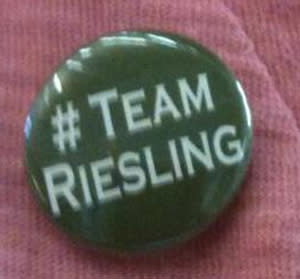 #TeamRiesling
Seems like the perfect reason to raise a glass in toast to a fantastic grape! Throughout the month of May, many wineries and tourism businesses are participating in this special promotion in honor of the award-winning Rieslings being produced in the Finger Lakes. You'll be able to enjoy special Riesling tastings with some of the area's leading winemakers, Riesling-inspired getaway packages, special offers and shipping deals, reads the "Riesling Rocks" webpage. Book a special Riesling Month getaway package and receive a complimentary Finger Lakes Wine Country Riesling Month passport.
Book the "Riesling Rocks" package at the Radisson Hotel Corning and stay in luxurious accommodations, enjoy an appetizer to share and two glasses of Finger Lakes Riesling wine in the Steuben Bar, and receive a #Team Riesling button and Riesling Month flyer.
"Having an entire month of promotions focused on Riesling promotions, tastings and events encourages visitors to take a trip to Finger Lakes Wine Country during a beautiful and relaxing time of the year," said Morgen McLaughlin, President of Finger Lakes Wine Country. "While Rieslings are available year-round at the wineries, it is nice to have a promotion that all types of tourism businesses participate in. People might be coming for the wine during Riesling Month, but we want them to experience all the region has to offer."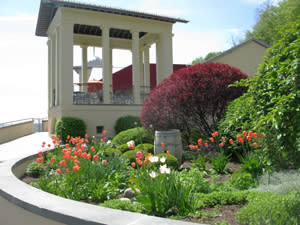 Heron Hill
Heron Hill Winery on beautiful Keuka Lake is offering a $5 "Riesling Tasting Flight." "We are excited to offer a vertical tasting of three years of Heron Hill Winery's Ingle Vineyard Riesling including the '04, '07 and '08 and two very special Late Harvest Rieslings from '02 and '04," said Tambi Schweizer, Tasting Hall Manager. "It will be very interesting to have the visitor try both series together and be able to see, feel and taste the differences.
"With Riesling being possibly the most versatile grape, I am thrilled that we can heavily promote Riesling as "the grape" of the Finger Lakes Region," said Schweizer. "Stop in to try the two verticals and see for yourself how special our Rieslings are. Cheers!"
Cheers, indeed! Make sure you take some time to celebrate Riesling Month. Come, taste our Rieslings and savor the flavor of Finger Lakes Wine Country.