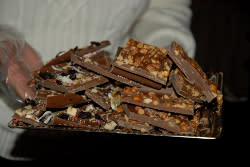 Beyond Baskets - Chocolate Trail
If you're anything like me, you've got a sweet tooth - and it's relentless! Let's face it. We live in a chocolate-filled world, where temptation abounds. Once in a while, it's OK to give in and indulge in the sweet pleasures of life, be it a huge piece of birthday cake, or a trip along the Chocolate Trail in Corning's Gaffer District.
Live life on the decadent side, and visit the more than 25 participating businesses to find plenty of sweet deals. You'll love discovering the chocolate delicacies, from chocolate menu items, to chocolate candles, soap, and even tobacco.
I always love walking into Connors Mercantile and seeing the display cases full of beautiful, gourmet truffles. I stand there gawking and drooling as I try to select which ones I'll enjoy later. Buy 5 chocolate truffles and get one free - what could possibly be better?
Another incredible chocolate experience I had recently was visiting Tony R's Steak & Seafood restaurant for dinner. My husband took me there for Valentine's Day, and even before I set foot in the door, I knew I was in for a special treat. The impressive display of desserts in the window was enough to lure anyone in off Market Street. The decadent chocolate cake for two called my name - and certainly did not disappoint! I highly recommend it.
To take advantage of all the chocolatey goodness available in Corning & the Finger Lakes, you're going to need to stay a few days. Why not book the Chocolate Trail package at the Fairfield Inn by Marriott in Corning? Overnight accommodations are included, and you'll be welcomed to the hotel by sweet treats and chocolate lovers' offers from shops and attractions like Poppleton Pastries, Beyond Baskets, and even The Corning Museum of Glass!

Connors Mercantile - Chocolate Trail
If you want to come on a special weekend to amplify your chocolate experience, make sure to come Friday, March 1, when the "Beer & Chili, Wine & Chocolate" event will be kickin' decadence into high gear at American Twin Harley-Davidson. From 7-10 p.m., you'll be able to sample food and beverages from local caterers, restaurants, breweries, and wineries. Enjoy live music and bid on your favorite auction items. The event is a fundraiser for the Erwin Child & Family Center. Tickets for the event are $30.
If you are still looking to sweeten up your getaway, head to the Keuka Lake Wine Trail and visit Ravines Wine Cellars, where you'll be able to sample wine, paired with gourmet chocolate. The Hedonist Wine & Chocolate Tasting pairs Ravines' famous European-style wines with chocolates and truffles created especially for Ravines by Hedonist Artisan Chocolates of Rochester. This combination of specialty chocolates and award-winning wine will surely stir the senses and please the palate - making for one sweet experience!
Craving a little something sweet yet? What are you waiting for? Plan your getaway to Corning & the Finger Lakes, and discover chocolate wonders in a land of free-flowing wine!