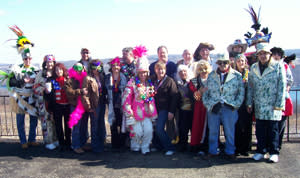 Mardi Gras at the Village Tavern in Hammondsport
It was a quiet day in March several years back when I explored New Orleans. The Mardi Gras beads had been thrown, the alcohol consumed, and parades had long since rolled by. If you wanted to see Carnival masks, you couldn't just look around - you actually had to go into a store or visit Mardi Gras World (which I really wanted to do, but didn't have time!) Yes, the Big Easy had settled down from its celebrations, but the energy of the recent activity lingered in the air like electricity.
Now, I'm sure it'd be very exciting - invigorating, even - to be on the streets of New Orleans this February 21. But that's just a little beyond the realm of possibility for me. As I'm sure it is for a lot of you. But that doesn't mean you have to miss out on the celebrations.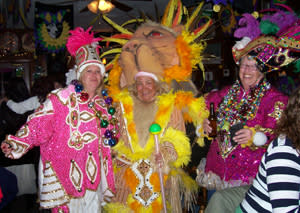 Mardi Gras at the Village Tavern in Hammondsport
On Thursday, February 16, attend the hottest party in town: 2300&º: Mardi Gras Snow Day. Celebrate Carnival season at The Corning Museum of Glass, where you'll be delighted by colorful glassmaking performances by museum glassworker, George Kennard. Dance the night away to live music by Curley Taylor & Zydeco Trouble, with additional music by the Dundee Steel Drum Band. Food and drinks (including Finger Lakes wine) will be available.
Every year, the Village Tavern in Hammondsport hosts a Mardi Gras wine tour. OK, I know what you might be thinking. A wine tour? How can this even remotely relate to the insanity that is Fat Tuesday in the South? But this is no ordinary wine tour. On Saturday, February 18, starting at 9 a.m., show up to the Village Tavern, decked out in the most elaborate Mardi Gras costume you can find, and enjoy a New Orleans-style breakfast. After you eat, receive your party favors and go wine tasting at a number of Keuka Lake wineries, including McGregor, Heron Hill and Dr. Frank's.
When you return to the Village Square, you bring the party with you! Participate in a lively Mardi Gras parade around the square. Toss your beads and candy at all the spectators. Now if that doesn't sound like a good time, I'm not sure what does!?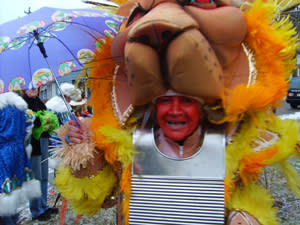 MardiGras Celebration in Hammondsport
Make reservations for this rip-roarin' party soon! Tickets go fast. The cost is $60 per person. For more information call 607-569-2528 or visit the Village Tavern Restaurant & Inn.
Sure, it may not be as wild as the parties down South. The weather might be a little cooler and the beads fewer in number. But the spirit you'll find in the Big Easy is the same one that'll be present in Hammondsport. Let the good times roll. Cheers!