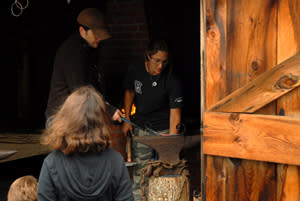 Whingblinger
As summer wanes, it's important to remind ourselves that that doesn't mean the fun is over. Corning & the Finger Lakes is a year-round destination and, as such, there's still so much left to do every day. As a matter of fact, the end of summer marks the beginning of some very cool opportunities for fun.
Enzo Ferrari did a lot of things before his name became synonymous with elegance and speed, power and grace. As interesting as his life seems to have been, including his years as a racecar driver, Ferrari's legacy is indelibly linked to the colorful curvy pizzazz of his automobiles. For each of the past ten years, Ferrari owners, enthusiasts, and fanatics have gathered in Corning to pay homage to the Art of Ferrari. This year, the annual Art of Ferrari event runs from 9/2-9/6 and offers Ferrari Club of America members, as well as the general public, several ways to see and to enjoy a variety of these magnificent machines including special races all weekend.
In addition to world-class attractions like The Corning Museum of Glass and the award-winning Finger Lakes wineries around scenic Keuka Lake, there are a number of other interesting attractions and events that are worth checking out.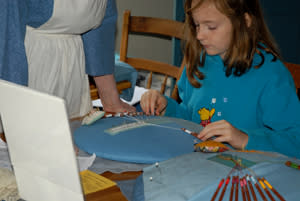 Whingblinger
Some events are made to last and the interestingly named Whingblinger at the Benjamin Patterson Inn Museum is one such event. This year marks the 30th anniversary of the Whingblinger Heritage Festival and the museum has decided to expand the event to two days (9/11 & 9/12) in celebration.
Both days will feature traditional craft demonstrators, music, and food, as well as Colonial re-enactors (aka costumed volunteers who demonstrate a number of activities that were common in the 1800's), a working blacksmith shop (where visitors are encouraged to try their hand at blacksmithing), a country store, raffles, wood carvers, children's activities, and visiting farm animals such as alpacas on Saturday and goats on Sunday. The event is a fun way of bringing history to life. In addition to re-enactors who do spinning and candle-dipping, they'll also have a gun maker, a beer maker, and a beekeeper. There will be a flea market on Saturday and an auction of finer items (crafts, antiques, and business donations) on Sunday. The festivities begin at 10:00am on Saturday, but get an eariler start on Sunday with a pancake breakfast (8:00am-10:00am) followed by a church service conducted by a Civil War era chaplain (10:00am-10:45am) in the Browntown schoolhouse.
Other events worth investigating the weekend of September 10th are the Annual Jazz & Harvest Festival in Corning's Gaffer District and the Auction on the Village Square in Hammondsport that serves as the grand finale to the wonderful summer-long art extravaganza Palettes of Keuka.
The Jazz & Harvest Festival features wine and beer tasting Friday evening (with over 20 area wineries and breweries represented) and live music in 18 different Market Street shops, as well as free live concerts in Centerway Square on Friday and Saturday (including a concert by Nashville artist John Berry). There's also a variety of other entertainment from a rock climbing wall to line dancing.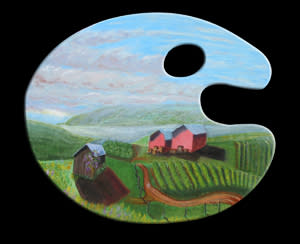 Paletts of Keuka
Up in Hammondsport on Saturday you can preview all 45 palettes from 10:00am-1:00pm in the Village Square, with the auction starting at 1:00pm. Half the proceeds from the auction go directly to the artists, while the other half goes into a special art fund used to sponsor art-related projects in the community (i.e. art scholarships, summer recreation programs, theater groups, the art poster contest that paid for the summer's music in the park series, etc). So the folks in Hammondsport have found a creative and fun way to not only enjoy community art, but to use it as a way to generate more art.
For additional information about these exciting events and more, call (toll-free) 1-866-WINE-FUN.