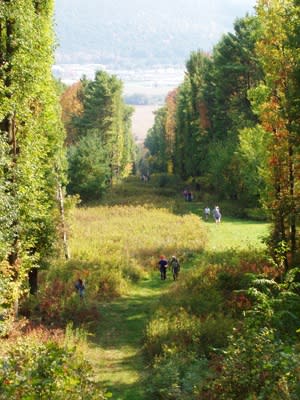 Finger Lakes Trail - photo by Jim Connors
It's summer! School's out, the water's warmer, the days longer, and the air feels a little easier to breathe.
I don't know about you, but I'm solar-powered and I seem to have this extra gear in summertime, this get out of the house and take it all in exuberance that transforms into pure energy. Here's something wonderful you may not even know about Corning & the Finger Lakes, something I'm discovering more and more about each day: there are over 65 "Let's Go Hike & Bike Trails" throughout the Finger Lakes and about 900 miles of cleared, blazed, and maintained hiking trails on the Finger Lakes Trail alone. What a great way to make the most summer!
There's a pretty impressive project underway right now in the area, as dedicated volunteers continue to build and blaze the Great Eastern Trail (GET), a 2,000 mile long-distance wilderness footpath that will eventually stretch from the Mossy Bank Lean-To all the way to the Florida/Alabama border. If you're a fan of ecotourism, which is becoming more and more popular it seems, you might be interested in being part of a trail-building crew where you can learn how to build a trail first-hand. Dates for upcoming work crews are July 13-14, September 18-19, and November 6-7.
There are other scenic and fun hiking trails in the area, including some at Spencer Crest Nature Center that are wheelchair accessible or others that take you up and down the hillside, along the bank of a secluded stream, and into a clearing where you can fish in the pond or picnic or just enjoy the sounds and scents of summer. Visit state Parks like Pinnacle State Park with its majestic views of the Canisteo River Valley and Stony Brook State Park where you can walk beside waterfalls and through gorges formed by glaciers.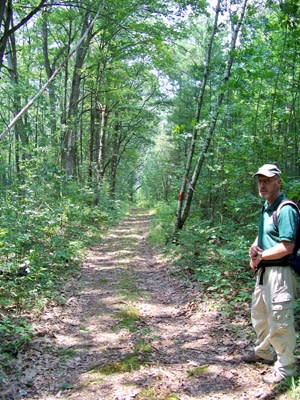 Great Eastern Trail - photo by Jacqui Wensich
Local hiker, Brett Smith, recently shared some of his experience with regards to hiking in Corning & the Finger Lakes. "Steuben County has provided me with so many great outdoor experiences," said Brett. "I have spent the majority of my free time exploring what the area has to offer. This area has something for every outdoor enthusiast."
"If you are looking for a day hike, I would recommend visiting one of our fantastic county parks, state parks or state forests. I have spent a lot of time wandering through the trails of McCarthy Hill State Forest, which can be accessed from the Pinnacle State Park in Addison, NY and which provides the opportunity for all-season excursions. The trails are kept in good condition and are well marked. With up to 8 miles of trails, this area provides a certain level of difficulty for the experienced hiker. If you are looking to further your outdoor experience, you may want to head in the direction of the Finger Lakes Trail System. The main Finger Lakes Trail currently totals 561 miles. There are also many branches and spur trails that bring the entire system total to 911 miles. The trail system is comprised of both public and private lands. You can find the Finger Lakes Trail in various spots throughout Steuben County. One of my favorite areas to pick up the FLT is at Kanakadea Park in Hornell. Kanakadea Park is a great place to hike and it also provides a great access point for the Finger Lakes Trail. Corning and the Finger Lakes provide opportunities for great outdoor experiences. As an outdoor enthusiast, I couldn't think of a better place to plan your next outdoor excursion!"
For more information about the many ways you can get outside and explore Corning & the Finger Lakes, or call 1-866-WINE-FUN.