Visiting Corning and the Southern Finger lakes there are a few things you can expect to do. You'll visit fun and interesting museums, spend time on and around Keuka Lake, dine in world class restaurants, and sample suburb wines and unbeatable brews in our wineries and breweries. These are all wonderful ways to explore the region, but what if you could do more than just see it, but experience it on a more hands-on level? Whether you are bringing your whole family, or it's an adult only getaway there are plenty of opportunities for hands-on experiences just waiting for you to try!
It's no secret the Corning is known for glass; The Corning Museum of Glass is a favorite for visitors and locals bringing thousands of visitors a year. At the museum, you can spend your visit browsing the largest glass collection in the world, checking out a hot glass show, and picking up a few pieces in the glass market. To really get a hands-on experience you'll want to visit The Studio. The Studio offers a chance for anyone, even those who have no experience, to make their own glass. Choose from a variety of techniques to try out like sandblasting, flameworking, fusing, and more. Try your hand at glass blowing or glass forming to create a glass flower or ornament. What's cooler than getting to make and take home your own piece of glass art from a glass art museum?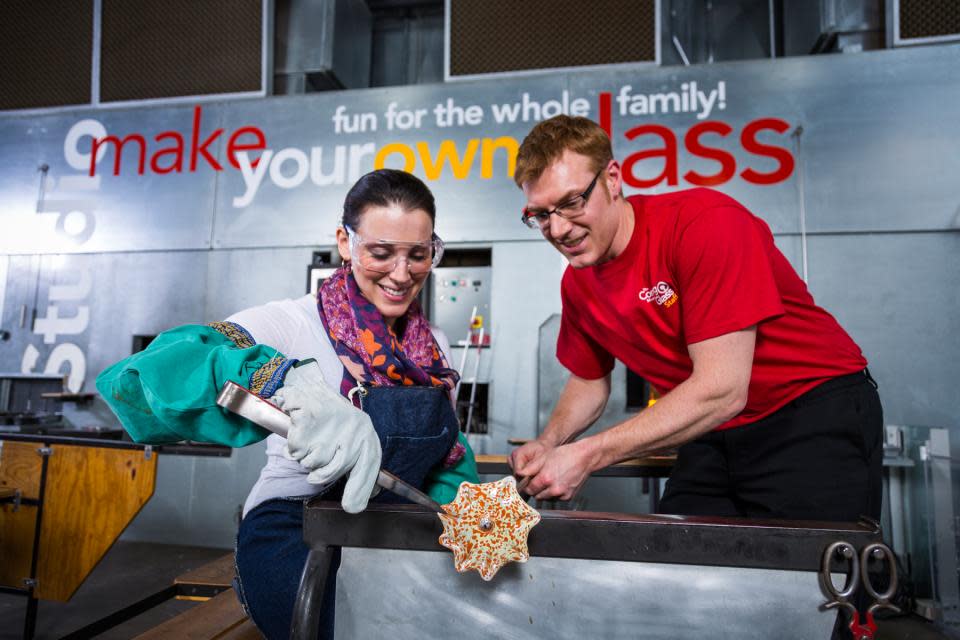 Make Your Own Glass courtesy of Corning Museum of Glass
Market Street in Corning's Gaffer District is a hub for great shopping and delicious restaurants. The Source at Factory No. 2 happens to be one of them. Inside this eatery, you'll find tasty foods made with the freshest local ingredients available, and for dessert try a chocolate made by their own chocolatier. Or how about chocolates made by you? That's right. The Source is letting you get crafty, and possibly a little messy, making your own chocolates. Groups of five can pick their molds that will shape their chocolate into fun designs, then start fillings them with dark, milk, or colored chocolates, top them off with sprinkles and other fun toppings and they are ready to set. In just a few minutes your candy is ready to take home, or eat right on the spot!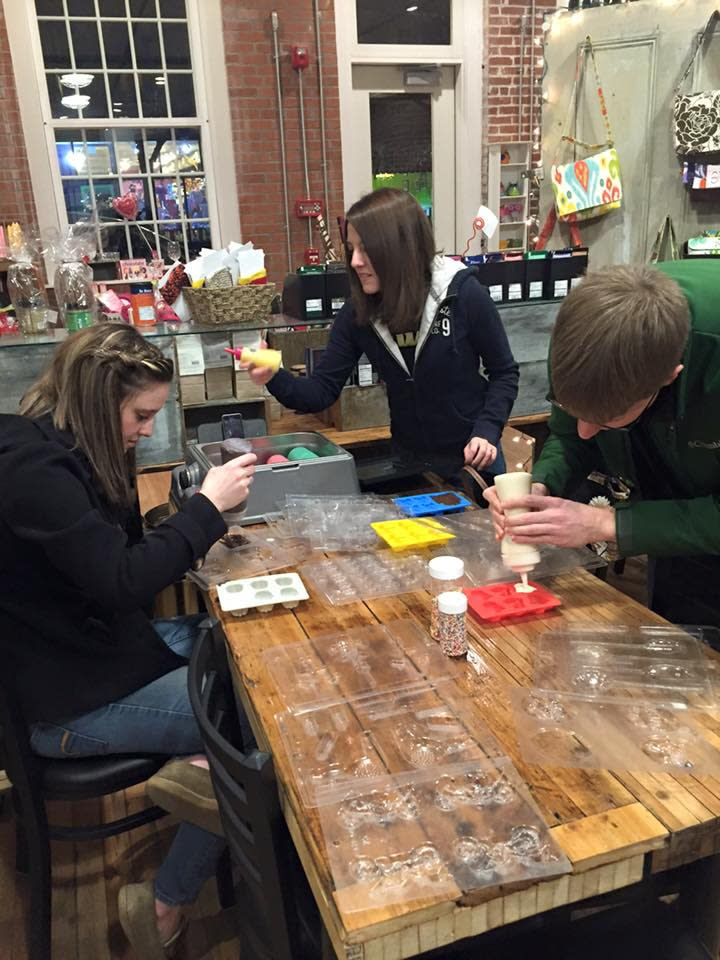 Chocolate Making courtesy of The Source
Chances are if you have been out to visit a winery or two, you've picked up a few bottles of your favorites. Bring them down to Wine and Design and get artsy while enjoying your Finger Lakes favorites. A pressure free, creative environment is the perfect place for a hands-on experience.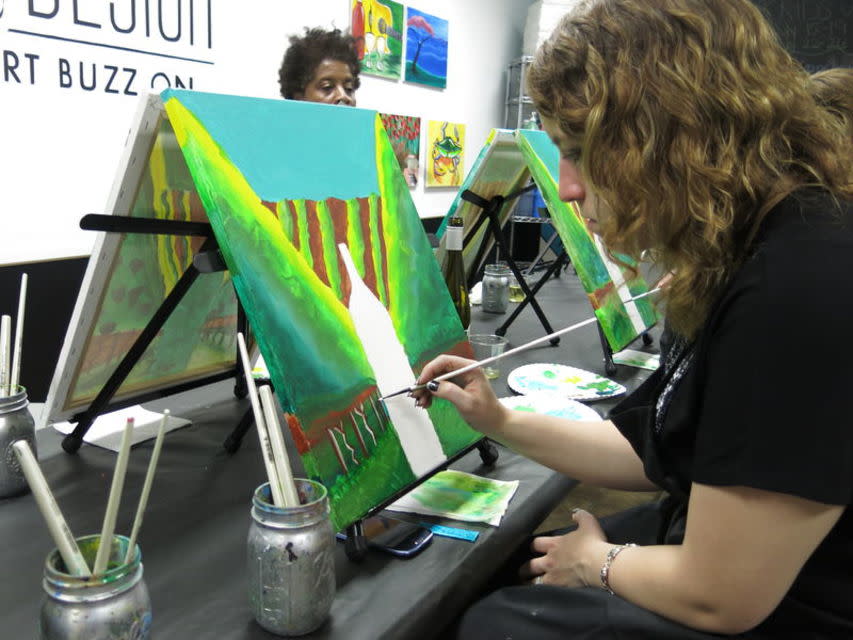 Wine and Design
If you're lucky enough you just might catch one of Cider Creek Hard Cider's popular hard cider making classes. Go behind the scenes with the mad scientist himself and create your very own cider. They supply all the important stuff that goes into making a cider a cider, you bring what you want to make it your own like fruits, juices, and spices. Be the best in class and have a chance to have your cider served in their tasting room. Make sure to follow their events to see when the next class pops up!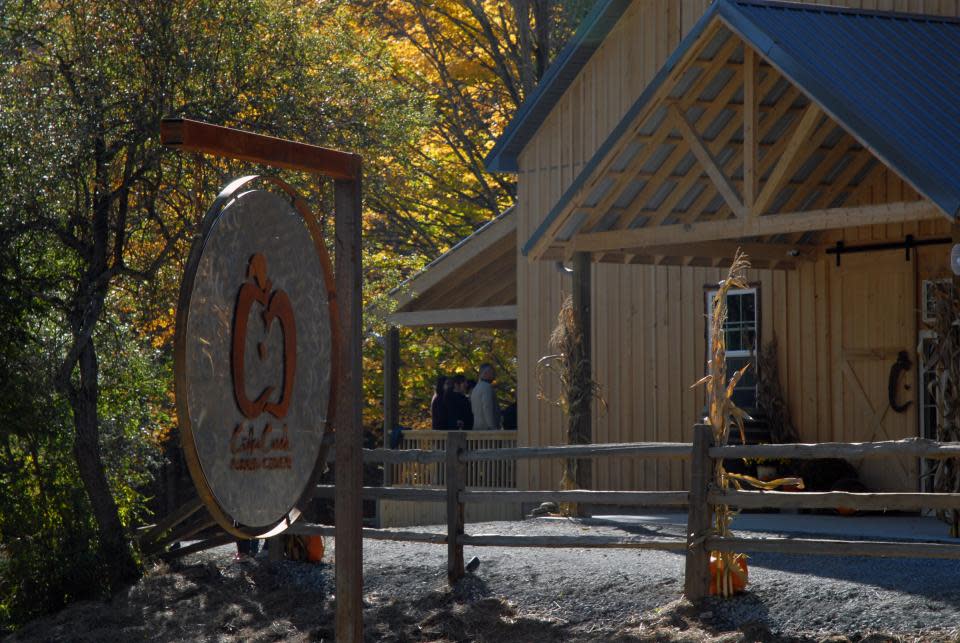 Cider Creek Hard Cider
Get a deeper more immersive experience in Corning and the Southern Finger Lakes and take part in a few of the hands-on activities that are offered here!