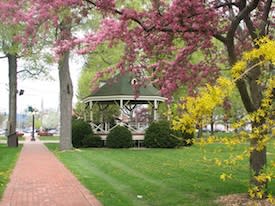 Bath, NY Spring
As hard as it is to believe, yesterday supposedly marked a turning point on the calendar. Spring has officially sprung. I laughed as I looked out the window and saw gigantic snowflakes falling from the heavens. This morning - on the second day of spring - I had to scrape a think layer of frost off my car. This is just wrong. Last year at this time, it was nearly 70 degrees! But this dreadfully long bout of cold weather has us dreaming of our warm-weather vacation plans. And now is a great time to book a package trip to Corning & the Finger Lakes.
Let me assure you, I love Upstate NY and have a hard time picturing myself living anywhere else. It's exquisite draped in new-fallen snow - yes, even in March. I'm over it by this point, but there's no denying its beauty. The seasons are a large part of why I love living here. It goes without saying that the fall colors are beyond amazing, cloaking the hillsides in hues of reds, oranges, and yellows. The summers here are warm and full of lakeside fun. But spring is perhaps my favorite time of all.
While you can't go wrong visiting Corning & the Finger Lakes any time of year, spring certainly has its charms. It's so amazing to see everything come back to life after a long winter. I love driving to Hammondsport and seeing those sleeping vineyards finally starting to stir. Looking down over the rolling grapevines, you catch a glimpse of Keuka Lake, sparkling with the promise of a fantastic summer season. It really is a heart-warming transition to witness. But beyond that, there are lots of exciting reasons to come here this spring. Let's explore a few, shall we?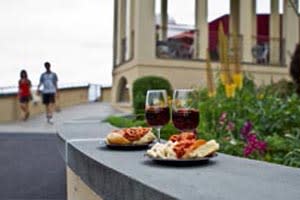 Heron Hill Winery
Steuben County just formed a brand new arts trail, and will be holding the first annual Arts in Bloom event on April 27 and 28. During this weekend event, art lovers will be able to explore the wonderful galleries and working studios throughout the county. Whether you're interested in glass, ceramics, painting, or mixed media, you'll meet local artists who share the same passions. For a complete list of galleries and artists involved, visit www.artsinbloom.net.
As if you needed an excuse to get out on the wine trail, there's a fantastic event called Keuka in Bloom on May 4-5. A signature event on the Keuka Wine Trail, Keuka in Bloom celebrates the height of springtime. You'll enjoy wonderful wines and herb-inspired food at each winery, and will also receive one flower and one herb, each in a 4-inch pot ready to plant. Tour all eight wineries to discover some fabulous wines, pick up some beautiful plants, and collect some yummy springtime recipes!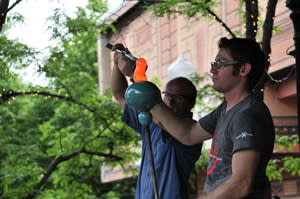 GlassFest
Perhaps the largest draw for spring in Corning & the Finger Lakes is GlassFest on Memorial Day Weekend. Coming to GlassFest in America's "Crystal City" is always a very special experience. Kick off the weekend on May 23 with a special 2300 degrees celebration at The Corning Museum of Glass. Enjoy live glass blowing demonstrations, live music, food and fun. The official ribbon cutting ceremony to mark the beginning of the 4th annual GlassFest will also happened at 2300. Over the next few days, you'll see more glassmaking demos, including the FlameOff flameworking competition between artists showing off their skill in the fire arts. On Friday night, enjoy a special wine and beer tasting experience in various Gaffer District businesses. "Rock the Park" both Friday and Saturday nights with live music, including a Journey tribute band and fireworks on Saturday.
As you can see, there are all kinds of fantastic events to look forward to this spring in Corning & the Finger Lakes! What are you waiting for? Plan your getaway today!